120 E. Kansas 620-886-5686

School/Sports News - July 27, 2015
---
Click Here for complete school news


Myers awarded Axline Scholarship
Morgan Myers has been selected to receive the 2015 Agnes Axline Memorial Scholarship. This scholarship is awarded to a female senior at Medicine Lodge High School, majoring in English, science, engineering, mathematics, or education. Morgan will receive $1,500 for the 2015-2016 academic year.
Morgan is the daughter of Michael and Juliana Myers. She was active in National Honor Society, 4-H, and softball. Her future plans include attending Pittsburg State University and majoring in mathematics.
Agnes Axline was born on February 1, 1916, and raised in Medicine Lodge, Kansas. She was a devoted and loving wife and mother and was an educator in the Kansas public school system for 35 years. Agnes and her husband, Robert, were life-long residents of Medicine Lodge. She retired from her career as a Kansas educator in 1973. However she continued to serve the Medicine Lodge schools as a volunteer, working with young children to within a few years of her death. Agnes passed on to her reward on April 12, 2002 at the age of 86. She is remembered fondly by her family and by her many friends, coworkers, and former students. Agnesís children have established this scholarship in her honor.
The Agnes Axline Memorial Scholarship is awarded to Morgan through the South Central Community Found, a regional foundation that manages charitable funds for seven South Central counties. For more information about the foundation, please call 620-672-7929.

Premiere Inside
School
Sports
Record
Local
Deaths
Opinion
KWIBS
Classifieds
Business Dir.
Subscribe
Ad Information
Staff
Contact Us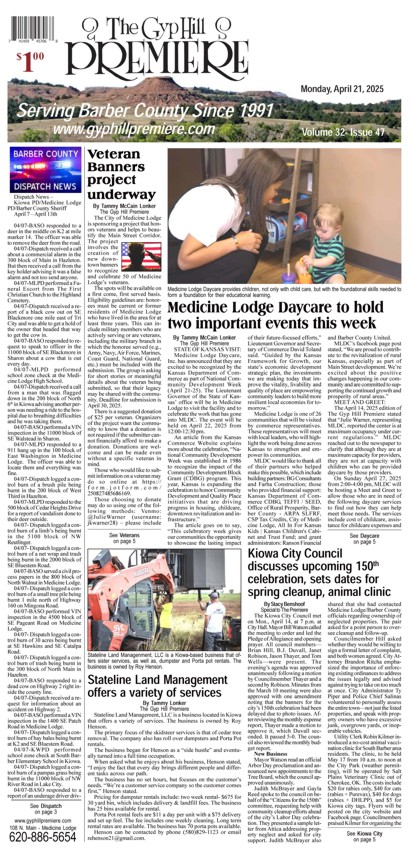 Warp Your Favorite Local Person. A Different Victim Each Week!!
For all School news subscribe to The Gyp Hill Premiere