120 E. Kansas 620-886-5686

School / Sports News - July 17, 2017
---
Dear parents of Kindergarten children,
We will be setting aside a day to give Kindergarten immunizations. We will have two nurses available, which will make things go more smoothly. In order to start kindergarten, your child will need 5 doses of DTaP (diphtheria, tetanus, and pertussis), 4 doses of IPV (polio), 2 doses of MMR (measles, mumps, and rubella), 2 doses of Varicella (chickenpox), and 3 doses of Hepatitis B. Most children will already have had the recommended doses of Prevnar (4 doses), Hib (4 doses), Hepatitis B (3 doses) and Hepatitis A (2 doses) that are required in childcare or preschool settings. Most children will only need to update the DTaP/IPV, and MMR/Varicella, which will only be 2 injections.
We will be offering the Kindergarten immunizations by appointment only in Medicine Lodge on Thursday, July 20 at the Health Department and in Kiowa at the Community Building on Monday, July 24. When you call for your appointment, have your insurance information in front of you so we can get the numbers, etc. from you. We will call the insurance company before you come so we will know what it will or will not cover. You will be able to pay a fee of $20 per immunization if you have no insurance at all or your insurance doesn't cover immunizations.
We would like to do the immunizations on those days, however, we know that sometimes those days won't work. If you are unable to schedule for those days, call the office, and we will get you scheduled in on a day that works for you. Please tell your children ahead of time, very matter-of-factly, where you are going and what you will be doing. It is easier for them when they know what will happen and can prepare a little bit. Thank you for caring for the health of your child. Children going in to Kindergarten also need a physical. This can be done either at our office or your provider. They are done by appointment at the Health Department for a fee of $15.
Please note our change of address to 211 E. Kansas, down the hill from our old office. We are in the Barber County Annex. If you have questions, please call at 886-3294 or 1-800-748-5788.
Sincerely, Anita Poland, R.N.
Click Here for complete school news
Premiere Inside
School
Sports
Record
Local
Deaths
Opinion
KWIBS
Classifieds
Business Dir.
Subscribe
Ad Information
Staff
Contact Us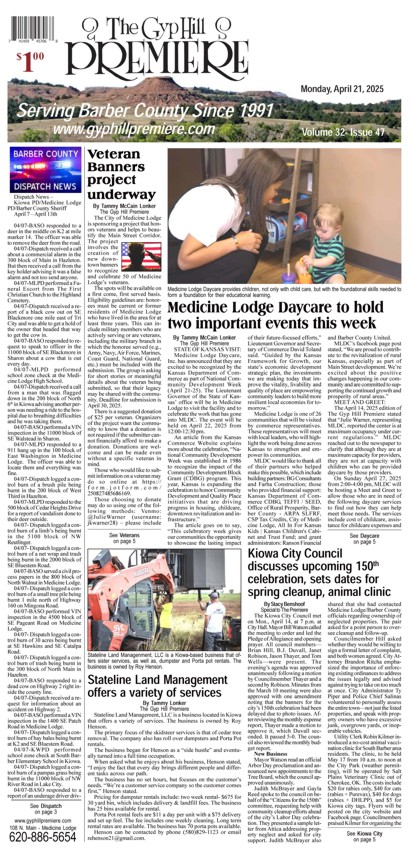 Warp Your Favorite Local Person. A Different Victim Each Week!!
For all School news subscribe to The Gyp Hill Premiere