120 E. Kansas 620-886-5686

School/Sports News - December 15, 2014
---
Click Here for complete school news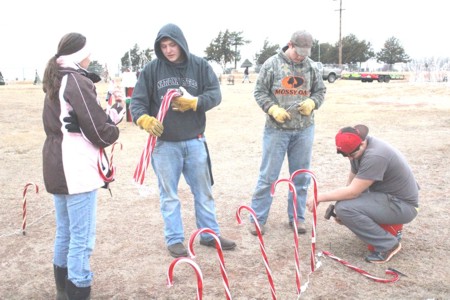 From left: Kristi Patton, Trevor Thompson, Sergio Marquez, and Dewey Doze putting the final touches on Candy Cane Lane.

Christmas lights at High School
The Christmas lights on the edge of the track at the High School are finally all up and lit! Now sponsored by the Medicine Lodge FFA chapter, the display had to be moved as the previous location is now occupied by Sonic.
Thanks to the donations from Jane Jacobs, the Medicine Lodge Chamber, David Colborn, Allen Waller, Herman Loeb Oil Company and 3W, all of the lights have been repaired. Several hours have gone in to fixing the lights and adding new ones; it took two Sundays setting the display up.
A big "Thank You" goes to the students and faculty who volunteered their time. Mr. Stull, FFA Advisor, stated, "Being that this is the first time that the display was at the high school; there were quite a few obstacles to overcome." He continued, " I hope this is a tradition that will continue for many years to come. I would like to see new light displays added in the coming years."

Premiere Inside
School
Sports
Record
Local
Deaths
Opinion
KWIBS
Classifieds
Business Dir.
Subscribe
Ad Information
Staff
Contact Us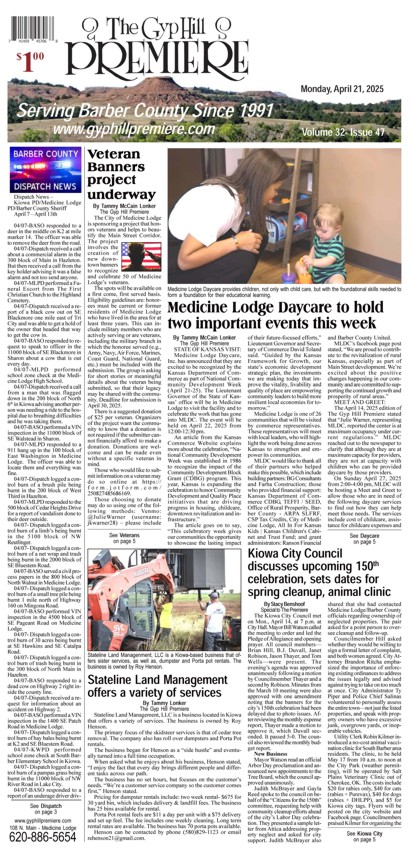 Warp Your Favorite Local Person. A Different Victim Each Week!!
For all School news subscribe to The Gyp Hill Premiere