Deaths - September 16, 2019
---


120 E. Kansas 620-886-5686
For all local news, subscribe to The Gyp Hill Premiere
Click Here For Complete Obituaries
Carmen Louise Singer
Carmen Louise Singer was born August 12, 1917 in Silverton, Colorado. She departed this life June 23, 2019 with her family by her side. Cremation has taken place. Peggy's funeral will be Wednesday, September 25, 2019 at 1:00 p.m. at the First Presbyterian Church, Medicine Lodge, Kansas. A reception will follow after which inurnment will occur at Highland Cemetery, Medicine Lodge. Memorials may be sent to: The City of Medicine Lodge Animal Shelter, 114 West First Avenue, Medicine Lodge, KS. 67101 or to St. Stephen's Episcopal Church, 463 Harwood Road, Hurst, Texas 76054.
Bernadine Katherine "Bea" Wessel
Bernadine Katherine "Bea" Wessel, 88, of Council Grove, Kansas passed away Saturday, September 7, 2019, at Morris County Hospital. She was born January 7, 1931. A visitation, celebrating Bea's life with family and friends was held from 6:00 – 8:00 PM, Thursday, September 12th, at Yazel-Megli-Zeiner Funeral Home. Memorial contributions may be made to First Baptist Church, which will go towards The Community Christmas Dinner or Council Grove Senior Center. A private family inurnment will be held at a later date.
Condolences can be left at www.ymzfh.com.

Peggy Louise (Hindman) Swensen
Peggy Louise (Hindman) Swensen passed away on June 17, 2019. She was born March 19, 1951. A Celebration of Life was held in Gilbert, AZ on July 20, 2019.



Premiere Inside
School
Sports
Record
Local
Deaths
Opinion
KWIBS
Classifieds
Business Dir.
Subscribe
Ad Information
Staff
Contact Us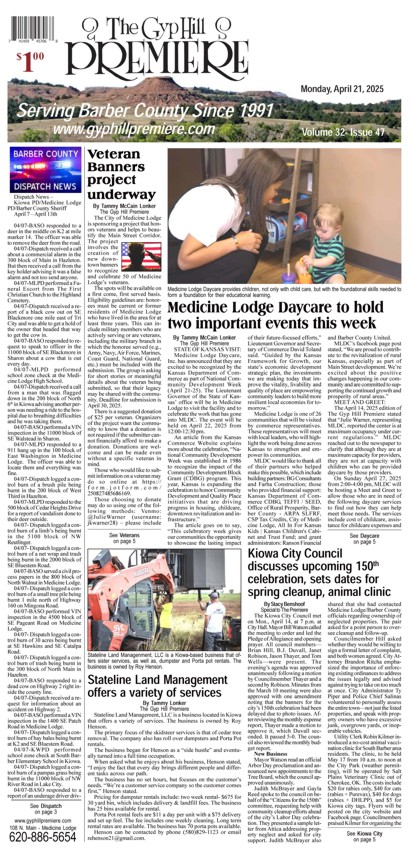 Warp Your Favorite Local Person. A Different Victim Each Week!!