Deaths - October 20, 2014
---


120 E. Kansas 620-886-5686
For all local news, subscribe to The Gyp Hill Premiere
Click Here For Complete Obituaries
Worth M. Reed
Worth M. Reed, 72, died Oct. 9, 2014, at Kingman.
He was born Jan. 31, 1942, at Moran, Kansas, the son of Kenneth and Nadine Foster Reed. A longtime Kingman resident , he was a former mechanic and retired from the USAF after serving during the Veitnam War.
Survivors include his step-mother Colleen Reed; brothers Dayle, Kerry, David and Brian; sisters Beverly Roots, Barbara Hefner, Betty Reed and Julia Hays. He was preceded in death by his mother and father; and sister Karen Reed.
Funeral services were Saturday, Oct. 18, 2014, at the Livingston Funeral Home, Kingman. Burial was in the Hoosier Cemetery.
Memorials may be made with the Wounded Warrior Project in care of the funeral home.

Kirby Dean Ricke
Kirby Dean Ricke, 61, died Oct. 11, at Almost Home in Great Bend. Born July 2, 1953, in Alva, Okla., he was the son of Theodore Dean and Darlene (Huffman) Ricke. A memorial service was held at 10:30 a.m. on Wednesday, October 15, at the Emmanuel Lutheran Church in Hoisington with Pastor Laura Smith officiating.
In lieu of flowers, memorials are suggested to Golden Belt Home Health and Hospice or USD 431 Education Foundation for the High School Music, Band, and Art Departments, in care of Nicholson-Ricke Funeral Home.

Valeria Gail Schiff
Valeria Gail Schiff, 45, of Medicine Lodge, KS, died Monday, October 13, 2014 at her residence.
She was born on March 22, 1969 in Morton, TX, the daughter of Leslie and Carolyn (Pullum) Oldham.
Funeral services were held on Friday, October 17, 2014 at 10:00 a.m. at the First Christian Church, Medicine Lodge, KS with Pastor Tom Walters officiating. Burial was in Highland Cemetery, Medicine Lodge, KS.
Memorials may be made to Quarters for Canines in care of the funeral home.
Condolences may be left at www.larrisonmortuary.com.

Premiere Inside
School
Sports
Record
Local
Deaths
Opinion
KWIBS
Classifieds
Business Dir.
Subscribe
Ad Information
Staff
Contact Us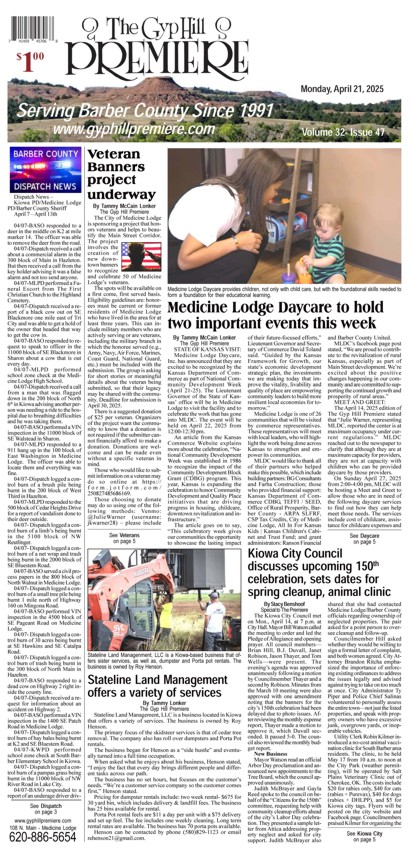 Warp Your Favorite Local Person. A Different Victim Each Week!!