Deaths - November 30, 2020
---


120 E. Kansas 620-886-5686
For all local news, subscribe to The Gyp Hill Premiere
Click Here For Complete Obituaries Click Here
Paul C. Vondracek
Paul Charles Vondracek was born October 12, 1930 at the family home near Corwin, Kansas. He passed away on November 17, 2020 at the age of 90. Cremation took place following the Mass and an inurnment will be held at a later date at the Riverview Cemetery in Kiowa, Kansas. The services will be uploaded to Paulís obituary page on our website. Memorials in memory of Paul may be made to either Catholic Charities, the American Legion or the Lordís Diner and may be sent in care of the funeral home. Prairie Rose Funeral Homes, 602 E. Main St., Anthony, KS 67003, is in charge of arrangements. www.prairierosefuneralhomes.com

Odetta Mae Keimig
Isabel - Odetta Mae Keimig, 96, passed away Thursday, November 19, 2020 at Parkwood Village in Pratt. She was born January 20, 1924 at her home Southwest of Isabel. Visitation was Tuesday from 9:00 a.m. - 8:00 p.m. at Larrison Mortuary, 300 Country Club Road, Pratt. Graveside services were held at 1:00 p.m., Wednesday, November 25, 2020 at St. John Lutheran Cemetery, Nashville with Pastor Dennis Fangmeyer presiding. Memorials may be made to Trinity Lutheran Elder Fund or St. John Lutheran Church Cemetery Fund in care of Larrison Mortuary. Online condolences may be made at www.larrisonmortuary.com.

Kenneth Dearl Webb
Graveside for Kenneth Dearl Webb was Tuesday, November 24, 2020 at 1:00 p.m. at Rose Hill Cemetery near Hazelton. Viewing was Monday, November 23, 2020 from 4:00 p.m. to 6:00 p.m. with family present and Tuesday, November 24, 2020 from 9:00 a.m. to 12:00 p.m. Arrangements were by Lanman
Funeral Home, Inc. of Kiowa. www.lanmanmemorials.com Facebook: Lanman Funeral Home Inc.
Kenneth Dearl Webb was called home to be with the Lord on November 19, 2020 while being a resident of Ambassador Manor Nursing Center in Tulsa, Oklahoma. Memorials may be made to the local VFW/American Legion Post of Kiowa through the funeral home.


Premiere Inside
School
Sports
Record
Local
Deaths
Opinion
KWIBS
Classifieds
Business Dir.
Subscribe
Ad Information
Staff
Contact Us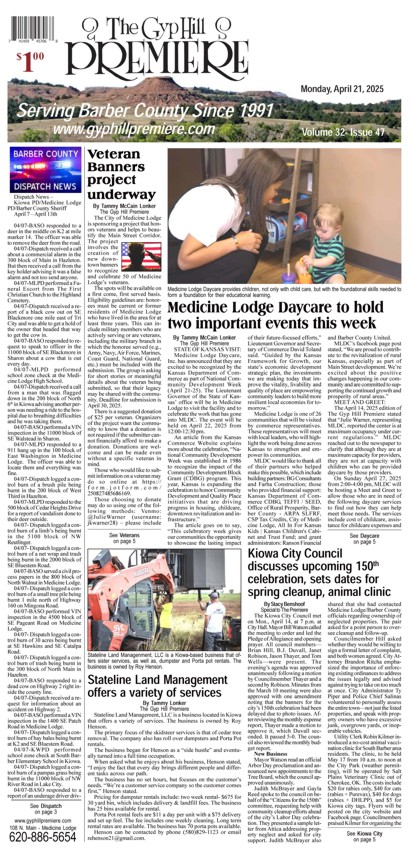 Warp Your Favorite Local Person. A Different Victim Each Week!!