Deaths - March 1, 2021
---


120 E. Kansas 620-886-5686
For all local news, subscribe to The Gyp Hill Premiere
Click Here For Complete Obituaries Click Here
Richard (Doug) Bowman
A memorial service for Richard (Doug) Bowman will be held Saturday, March 6th at 10:00 a.m. at the First Assembly of God Church, Medicine Lodge.

Bobbie Jean Freeman
Pratt - Bobbie Jean Freeman, 83, passed away Friday, February 19, 2021 at Pratt Health and Rehabilitaion. She was born October 17, 1937 in Sentinel, Oklahoma. Cremation has taken place. A family Celebration of Life will be held at a later date. Inurnment and graveside service were held at 1:00 p.m., Friday, February 26, 2021 at Sunnyside Cemetery, Sun City with Pastor Tom Walters presiding. Memorials may be made to Sunnyside Cemetery in care of Larrison Mortuary, 300 Country Club Road, Pratt. Online condolences may be made at www.larrisonmortuary.com.

Gwen Fay Spade
Gwen Fay Spade, 52, passed away on February 18, 2021. Gwen was born on October 3, 1968 to Floyd and Rosalie (Schmidt) Spade. She was preceded in death by her father. She is survived by her daughter Dani and Paul Rau; sisters Wanda Wheeler of Clearwater, KS, Dorene McNeil of Sherman, TX, Sandra Rice of Medicine Lodge, KS, Janet Nicholas of Wichita, KS, Molly Worstell of Gordonville, TX, Cindy Spade of San Francisco, CA, Karla Spade-Tolbert of Pottsboro, TX; grandchildren Paul Joseph Rau 4th, John Isaac Rau, Carter James Rau.
Memorial established with Survivor 2.0, Club Hope, 11931 W Central, Wichita, KS 67212. Rosary was on Wednesday, February 24, 2021 at 1:30 pm followed by Funeral Mass at 2:00 pm both at Sacred Heart Catholic Church, Colwich, KS.
Premiere Inside
School
Sports
Record
Local
Deaths
Opinion
KWIBS
Classifieds
Business Dir.
Subscribe
Ad Information
Staff
Contact Us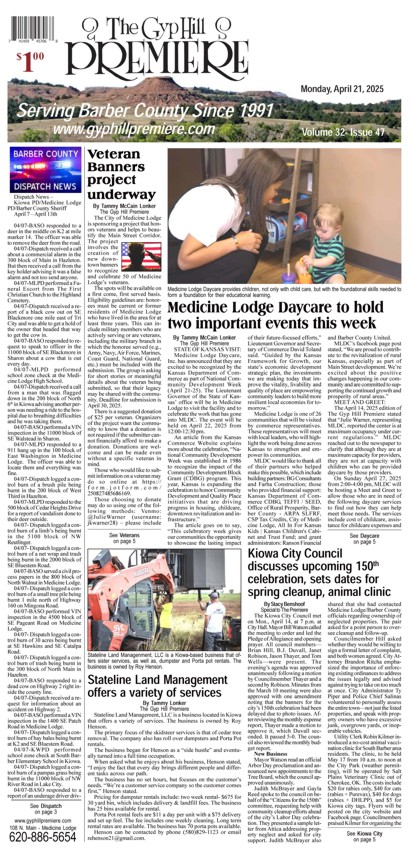 Warp Your Favorite Local Person. A Different Victim Each Week!!