Deaths - October 5, 2015
---


120 E. Kansas 620-886-5686
For all local news, subscribe to The Gyp Hill Premiere
Click Here For Complete Obituaries
Howard Duane Schnelle
Howard Duane Schnelle, age 85, passed away at Via Christi – St. Francis Hospital in Wichita, KS on September 17, 2015. Howard was born on March 18, 1930 to John Royal Schnelle and Marguerite (Stone) Schnelle in Medicine Lodge, KS. Funeral services were held at the First Baptist Church of Medicine Lodge, KS on September 22, 2015 with graveside services immediately following in Highland Cemetery at Medicine Lodge, KS.

Tom S. Smith
Graveside service for Tom S. Smith, 93, was Friday, September 25. 2015 at 10:30 a.m. at Hardtner-Elwood Cemetery in Hardtner, Kansas with arrangements by Lanman Funeral Home, Inc. of Kiowa.
Tom was born in Piedmont, Missouri to Orin L. Smith and Martha C. Couch Smith and passed from this life in Alva, Oklahoma on September 20, 2015.
Arden Franklin Johnson
Arden Franklin Johnson was born on February 10, 1921, the third of four sons, to Arthur and Minnie (Eller) Johnson in Rooks County, Kansas, and passed away September 20, 2015 at Homestead Health Center in Wichita, KS at the age of 94.Graveside services were held at Marvin Cemetery in Glade KS on September 28, 2015. A Memorial service was held on September 29, 2015, at West Side Church of God in Wichita, KS, with Pastor Forest Cornwell officiating.
Olliff-Boeve Memorial Chapel, Phillipsburg, KS was in charge of arrangements.

Eugene M. Garrett
Eugene "Gene" Michael Garrett, 80, of Medicine Lodge, KS died Monday, September 28, 2015 at his residence.
The Vigil Service was held at the Holy Rosary Catholic Church in Medicine Lodge, KS.
Mass of Christian Burial was held on Friday, October 2, 2015 with Father Firmin Kyaw officiating. Burial was in the Highland Cemetery, Medicine Lodge, KS. - www.larrisonmortuary.com.

Vivian F. Harbaugh
Vivian Ferne Harbaugh, 93, died Tuesday, September 29, 2015 at Harry Hynes Memorial Hospice in Wichita, Kansas. She was born October 6, 1921 to Kay and Gertrude Holder on a farm, 10 miles south of Norwich, Kansas.
The Memorial Service will be 10:00 A.M. Monday October 26, 2015 at the First Christian Church, Medicine Lodge, Kansas with Pastor Tom Walters and Pastor Paul Stephens presiding. Lunch will be provided preceding service in the Community Room of the church. Cremation has taken place. Inturnment of Pat and Vivian Harbaugh's ashes will be at the Highland Cemetery, Medicine Lodge, Kansas - www.larrisonmortuary.com

Premiere Inside
School
Sports
Record
Local
Deaths
Opinion
KWIBS
Classifieds
Business Dir.
Subscribe
Ad Information
Staff
Contact Us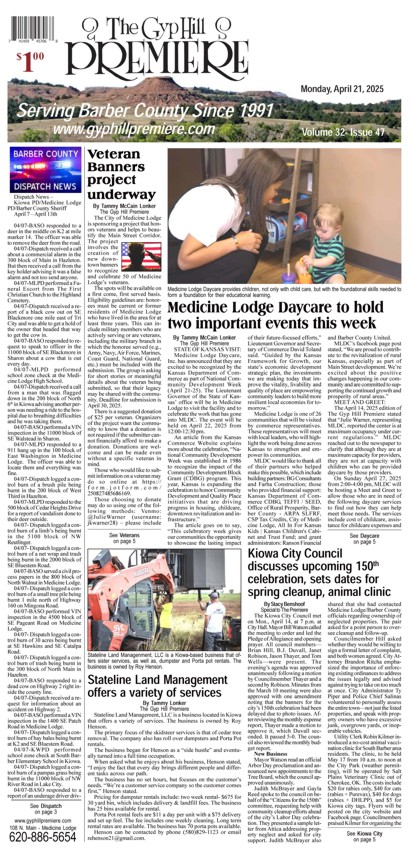 Warp Your Favorite Local Person. A Different Victim Each Week!!