Deaths - May 25, 2020
---


120 E. Kansas 620-886-5686
For all local news, subscribe to The Gyp Hill Premiere
Click Here For Complete Obituaries
Robert T. "Bob" Larson
Robert T. "Bob" Larson, 89, of Medicine Lodge, KS died Saturday, May 16, 2020 at Medicine Lodge Memorial Hospital.
He was born on November 18, 1930 in Cloud County, KS. Graveside services were held for immediate family only on Thursday, May 21, 2020 at Highland Cemetery, Medicine Lodge, KS with Pastor Tom Walters officiating. A public Celebration of Life service will be held at a later date. Memorials may be made to the United Methodist Church, Medicine Lodge, KS or the Barber County Cattlemen's Association in care of Larrison Funeral Home, 120 E. Lincoln, Medicine Lodge, KS 67104. Condolences may be left at www.larrisonmortuary.com.

Aaron Joshua Perks
It is with profound sadness we announce the passing of Aaron Joshua Perks, a beloved and cherished son, brother, uncle, and friend, on May 15, 2020 in Oklahoma City, OK at the age of 35 years, 9 months and 9 days.
His family, friends, and loved ones will gather at 2:00 p.m. Thursday May 21, 2020 at the Bible Baptist Church, where Pastor John Clapp will officiate the Memorial Service. A Graveside Service will follow at the Alva Municipal Cemetery under the direction of Marshall Funeral Home of Alva. Aaron Joshua Perks, son of Roy Earl and Susan Darlene (Abbott) Perks, was born August 6, 1984, in Kiowa, Kansas. Memorial contributions may be made in his memory to Marshall Funeral Home of Alva.
Premiere Inside
School
Sports
Record
Local
Deaths
Opinion
KWIBS
Classifieds
Business Dir.
Subscribe
Ad Information
Staff
Contact Us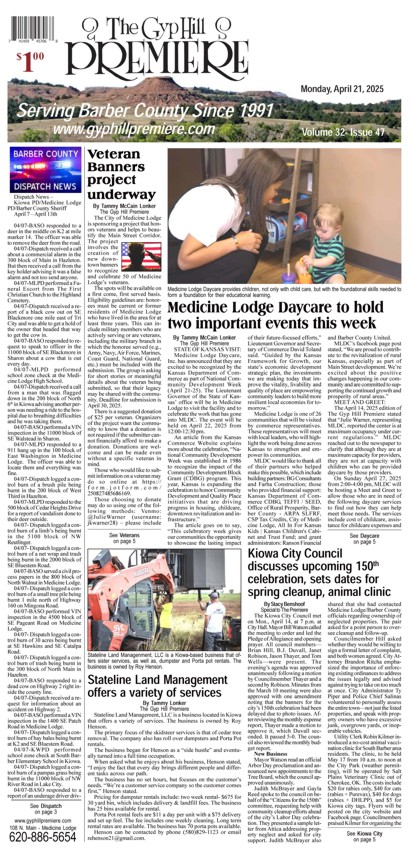 Warp Your Favorite Local Person. A Different Victim Each Week!!