Deaths - September 18, 2017
---


120 E. Kansas 620-886-5686
For all local news, subscribe to The Gyp Hill Premiere
Click Here For Complete Obituaries
Judie (Harding) Baker
Judie (Harding) Baker, 71, of Augusta, KS, passed away Sunday, September 3, 2017 in Wichita, KS. Service 2:00 pm Friday, September 8, 2017, at Headley Funeral Chapel, Augusta, KS. Private burial will follow at a later time at Elmwood Cemetery Augusta, KS. Judie was born in North Platte, NE on October 24, 1945, to the late Ellen (Hendershot) and Cliff Harding. She worked as a saleswoman at Lunger's Furniture, and later retired as the office manager of Cami R. Baker & Associates. Judie enjoyed gardening, golfing, interior decorating, and spending time with family and friends. She is survived by: daughter, Cami Baker of Augusta, KS; brother, John Harding, Sr. and wife Wanda of Medicine Lodge, KS; niece, Cindy Payne and husband Jesse of Augusta; nephews, Brad Harding of Augusta, KS, Jim Hannon of Dallas, TX, John Harding, Jr. of Wichita, KS. She was preceded in death by her sister, Cherry Epperson; brother Charles Harding; niece, Kristi Massingill. In lieu of flowers, memorial donations to Sunlight Children's Advocacy Rights Foundation (SCARF), 110 S Gordy St., El Dorado, KS 67042.
Winona A. McNamar
Winona Adell (Patterson) McNamar, 85, of Medicine Lodge, KS, died Friday, September 8, 2017 at Medicine Lodge Memorial Hospital, Medicine Lodge, KS. She was born on December 31, 1931 in Anthony, KS. Visitation was on Monday, September 11, 2017 from 1:00 p.m. to 8:00 p.m., with family present from 6:00 to 8:00 p.m. at Larrison Funeral Home, 120 E. Lincoln, Medicine Lodge, KS 67104. Funeral services were held on Tuesday, September 12, 2017 at 11:00 a.m. at the United Methodist Church, Medicine Lodge, KS with Pastor Paul Stephens and Pastor Tom Walters officiating. Graveside services followed at 2:30 p.m. at Forest Park Cemetery, Anthony, KS. Memorials may be made to the Barber County 4-H Foundation or the United Methodist Church, Medicine Lodge, KS in care of the funeral home. Condolences may be left at www.larrisonmortuary.com.
Premiere Inside
School
Sports
Record
Local
Deaths
Opinion
KWIBS
Classifieds
Business Dir.
Subscribe
Ad Information
Staff
Contact Us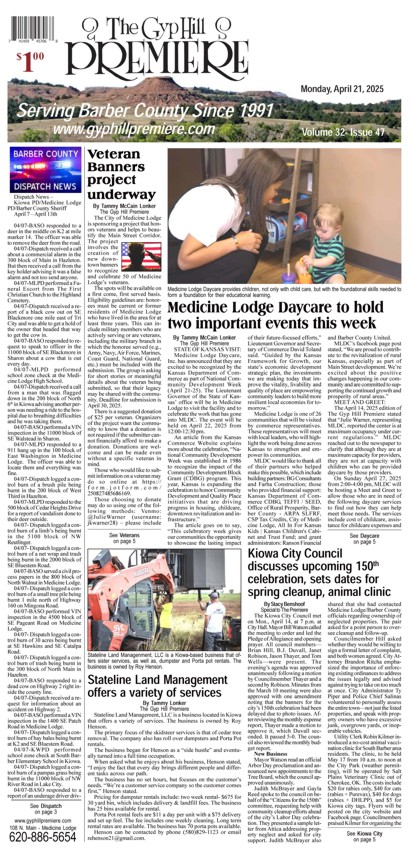 Warp Your Favorite Local Person. A Different Victim Each Week!!