Deaths - November 29, 2021
---


120 E. Kansas 620-886-5686
For all local news, subscribe to The Gyp Hill Premiere
Click Here For Complete Obituaries Click Here

William E. "Bill" Wheat
Age 91, of Monroeville, Pennsylvania, passed away on November 20, 2021. Friends were received on Sunday, November 28, 2021, from 2-5 p.m. at the GENE H. CORL FUNERAL CHAPEL INC. AND CREMATION SERVICES OF MONROEVILLE, 4335 Northern Pike (412-372-2100). Funeral services will be held at 11 a.m. on Monday, November 29, 2021, at Cross Roads Presbyterian Church, 2310 Haymaker Road, Monroeville. Interment following at Plum Creek Cemetery. Services can be viewed virtually at www.crossroadspresbyterian.com (click- our church- then memorial, in drop down menu). In lieu of flowers, contributions can be made to the Cross Roads Presbyterian Church Food Pantry. For more information, please visit www.corlfuneralchapel.com.

Darrel E. Trantham
1944 ~ 2021
Darrel Eugene Trantham, 77, died November 16th, 2021 in Attica, KS. The family asks memorial contributions be made to the Attica Christian Church or Attica Wellness Center, in care of Prairie Rose Funeral Home, 602 E Main St., Anthony, KS 67003. The family would love for everyone to share their memories of Darrel through his online guest book at www.prairierosefuneralhomes.com.

Pastor Phillip K. Wylie
Pastor Phillip K. Wylie, of Wellington, Kansas, passed away on Monday, October 18, 2021 at Ascension Via Christi St. Francis Hospital in Wichita, Kansas at the age of 69. He was born the son of Troy W. and Mary "Ruth" (Thompson) Wylie on August 29, 1952 in Snyder, Texas. Memorial services for Phil were held at 11:00 a.m, Saturday, October 30, 2021 in the First Christian Church, Memorial contributions can be given in his name to the Wellington Food Bank, 305 South Washington Avenue, Wellington, Kansas 67152. Contributions can be mailed or left with the funeral home. To share a memory, leave condolences, send flowers or sign his digital tribute wall visit www.cornejofuneralhome.com. Arrangements by Cornejo Funeral Home + Crematory, 1030 Mission Road, Wellington, Kansas.

Katherine G. Bird
September 6, 1952 - November 10, 2021
Kathy Bird passed away at her home surrounded by family on November 10, 2021 after a long battle with cancer.
Kathy was born in Medicine Lodge KS. A celebration of life is scheduled for December 4, from 2:00 PM - 5:00 PM at Redlands Community Center. There will be a service in Medicine Lodge, KS approximately June 4, 2022.


Premiere Inside
School
Sports
Record
Local
Deaths
Opinion
KWIBS
Classifieds
Business Dir.
Subscribe
Ad Information
Staff
Contact Us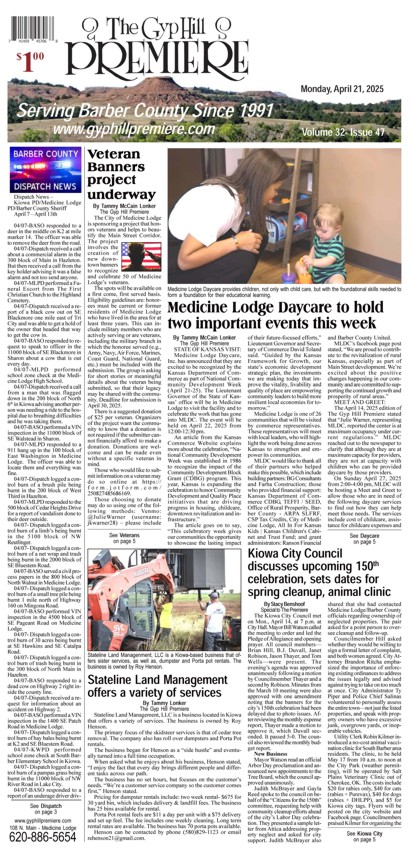 Warp Your Favorite Local Person. A Different Victim Each Week!!