Deaths - April 5, 2021
---


120 E. Kansas 620-886-5686
For all local news, subscribe to The Gyp Hill Premiere
Click Here For Complete Obituaries Click Here
Barbara Jean Hawkins
Barbara Jean Hawkins, 90, of Medicine Lodge, KS, died Wednesday, March 31, 2021 at Medicine Lodge Memorial Hospital, surrounded by family. She was born on January 26, 1931 in Zenda, KS. Visitation will be on Monday, April 5, 2021 from 11:00 a.m. to 7:00 p.m., with family present from 5-7 p.m. at Larrison Funeral Home, 120 E. Lincoln, Medicine Lodge, KS 67104. Funeral services will be held on Tuesday, April 6, 2021 at 10:00 a.m. at the United Methodist Church, Medicine Lodge, KS with Pastor Paul Stephens and Pastor Marilyn Fox officiating. Burial will be at Forest Park Cemetery, Anthony, KS. Memorials may be made to the Barbara Hawkins Education Scholarship Fund, in care of Larrison Funeral Home, 120 E. Lincoln, Medicine Lodge, KS 67104. Condolences may be left at www.larrisonmortuary.com.
Elizabeth Ellen
Warwick Grice
Funeral service for Elizabeth Ellen Warwick Grice was held on Saturday, April 3, 2021 at 2 p.m. at the United Methodist Church in Hardtner, Kansas. A private family farewell was held at Hardtner-Elwood Cemetery following the funeral. Arrangements were by Lanman Funeral Home, Inc. of Kiowa. www.lanmanmemorials.com Facebook: Lanman Funeral Home Inc. Elizabeth, daughter of Thomas H. Warwick and Gladys McCracken Warwick, was born February 17, 1924 in Medicine Lodge, Kansas. She passed from this life in Alva, Oklahoma on March 28, 2021, at the age of 97. In lieu of flowers, please consider contributing to the Barber County Fair, Medicine Lodge Memorial Hospital, or to the Hardtner Health Coalition (to go towards the American flag project at the cemetery) through Lanman Funeral Home, Inc. of Kiowa, Kansas.

Darwin Eugene Gates
March 12, 1958 ~ March 29, 2021
Darwin Eugene Gates age 63, of Hazelton, Kansas passed away Monday, March 29 in Wichita, at the Heart Hospital. Darwin was born, March 12, 1958. Funeral services were held at 10:00 a.m., at the Community Bible Fellowship, 2853 NE Curry Lane, Medicine Lodge, Kansas on Thursday, April 1 with Pastor Dwain Richert officiating. Interment was at the Rose Hill Cemetery, Hazelton, Kansas following services. Memorial contributions may be made to any of the following: Anthony Masonic lodge # 200, Cosmos Masonic lodge # 278, Pratt Masonic lodge # 265 or to the Freedom Gates Boys Ranch, in care of the Eldringhoff Funeral Home, 115 S. Bluff Avenue, Anthony, Kansas 67003. The family of Darwin has entrusted the care of their loved one to the Eldringhoff Funeral Home of Anthony.

Premiere Inside
School
Sports
Record
Local
Deaths
Opinion
KWIBS
Classifieds
Business Dir.
Subscribe
Ad Information
Staff
Contact Us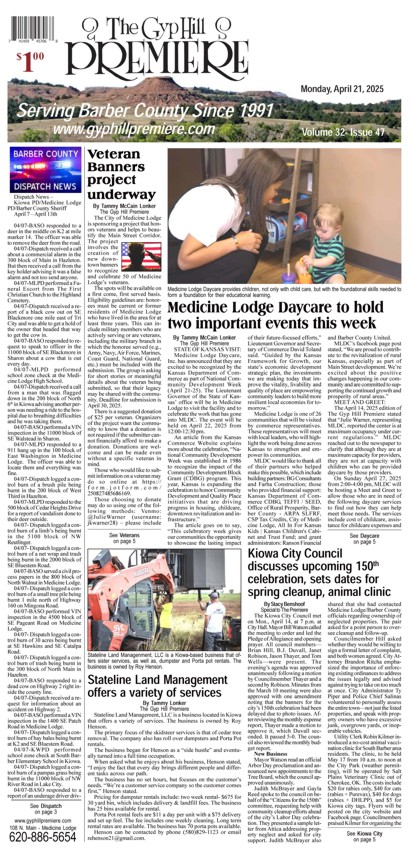 Warp Your Favorite Local Person. A Different Victim Each Week!!