Deaths - January 15, 2018
---


120 E. Kansas 620-886-5686
For all local news, subscribe to The Gyp Hill Premiere
Click Here For Complete Obituaries
Riley Greenwood
A longtime high school teacher and Medicine Lodge High School alumni, Riley Greenwood, passed away January 8, 2018. He died at his home on Ora Court in the Valley Meadows neighborhood of Valley Center. Viewing for Riley Greenwood was at the First United Methodist Church in Valley Center on Thursday, January 11th, 2018. Funeral services were held at the Pathways Church in Wichita on Friday, January 12th, 2018 and a graveside service was held immediately after. The family has established a memorial scholarship fund through the Valley Center Community Foundation. Gifts may be sent to: Riley Greenwood Scholarship, Attn: Valley Center Community Foundation, P.O. Box 218, Valley Center, Kansas, 67147.
Lottie J. Miller
99 Springs Kansas –Lottie J. Miller,80, passed away Wednesday, January 10, 2018 at her home in 99 Springs. She was born April 12, 1937. Funeral service was held at 2:00 p.m., Saturday, January 13, 2018 at Larrison Mortuary, 300 Country Club Road, Pratt with the Reverend Jim Hansel of Kinsley officiating. Burial was at Greenlawn Cemetery, Pratt. Visitation was held on Friday, January 12, 2018 with family present at Larrison Mortuary, Pratt. Memorials can be made to 99 Springs, Medicine Lodge care of Larrison Mortuary. Condolences may be left at www.larrisonmortuary.com.
Premiere Inside
School
Sports
Record
Local
Deaths
Opinion
KWIBS
Classifieds
Business Dir.
Subscribe
Ad Information
Staff
Contact Us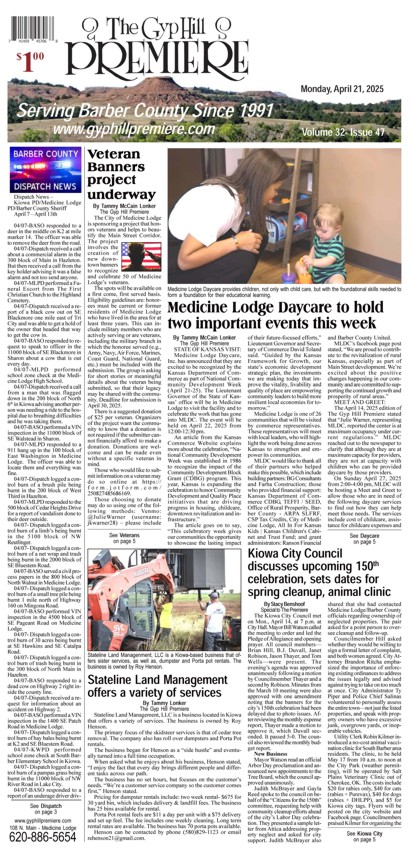 Warp Your Favorite Local Person. A Different Victim Each Week!!