Classifieds - September 28, 2020
---
CLASSIFIED ADVERTISING
Place your Classified Advertisement in The Gyp Hill Premiere and get it out to the world for free!!!
REAL ESTATE / STORAGE:
FORSYTH MINI STORAGE: OFFICE - 103 South Main Call: 886-5065 Medicine Lodge, KS All sizes of rental spaces for boats, etc. 904 N. Medicine Blvd.
New real estate
company in the area!
It's Henry Hudson - still giving the you the same personal great service you've come to expect from me. Give me a call at 620-933-6581 or 620-886-1605 and see how I can help you with your next real estate transaction. Winding Roads Real Estate, 119 East Third St. Pratt, KS. 15-4tc
---
HELP WANTED:
HELP WANTED
Barber County North USD 254 is now accepting applications for the following positions:

· Medicine Lodge High School Assistant Boys Basketball
· Medicine Lodge High School Assistant Girls Basketball
· Medicine Lodge High School Assistant Forensics
· Medicine Lodge Jr. High Yearbook Advisor
· Medicine Lodge Grade School SCKESC Paraprofessional
· Bus Driver or Substitute Bus Driver

If interested, please contact Superintendent Mark Buck at (620) 886-3370, Principal Adam Maloney at Medicine Lodge Jr. Sr. High School at (620) 886-5667 or Principal Ryan Cunningham at Medicine Lodge Grade School at (620) 886-5686
HELP WANTED: Nicholas Water Service LLC is now hiring experienced Class A &/or B drivers. Positions are for local over the road with an end dump, flatbed, or walking floor, as well as 80 bbl in oilfield. Home most every night OTR. Pay varies based on position and experience, great benefits, family owned with over 40 years of experience. Driver must be flexible and dependable to work where needed. Oilfield experience preferred, but willing to train the right applicant. Must have a Class A or B CDL with a Tanker Endorsement. 620-930-7511 14-4tc

Attica Long Term Care is looking for dependable, caring people for the following departments: Nursing, Dietary, Housekeeping and Human Resources. Applications available at Attica Long Term Care and ALTC website. For questions please call 620-254-7253 Ext. 106. E.O.E 13-tfc
Wanted – Direct Support Worker for individual with disabilities in Sharon KS. Personal care, Assistance in home, Run errands. Must be at least 18 years old. Call 620-501-3112 for more details. 14-3tc
HELP WANTED
The Barber County Health Department is taking applications for a full time Registered Nurse to work in the public health department. Job responsibilities will involve, but are not limited to, helping in the Covid-19 response, immunizations, the WIC program, the Family Planning program, venipuncture and shipping specimens to the lab, presenting health education programs as needed in the community, and attending trainings presented by the State agencies. Must be a graduate of an accredited nursing school, and currently registered as an RN with the state of Kansas. Must demonstrate ability of organizational and communication skills. The pay will be based on previous experience. Applications may be picked up at the Barber County Health Department, 211 E. Kansas, Medicine Lodge, KS. Questions may be directed to Pam Rickard, 620-885-3294. 16-4tc
HELP WANTED
Division Manager:
Directly responsible for the management of all programs and services provided within division of Arrowhead West. Minimum qualifications include BA from an accredited four-year college or university and at least five years of related experience, three of which must have been in a mid-management (supervisory) or higher level position. Degree requirement may be waived with 10 or more year's management/supervisory experience, with 5 or more of those years being in the human services. $43,108 - $60,710.

Position is located in Pratt, Kansas. Apply online at www.arrowheadwest.org.


---
NOTICES:
WANTED
SEWING MACHINE REPAIR & CLEANING SERVICE Now Available at Clark's Fabric Shop, Kiowa. Scissor Sharpening now offered. 620-825-4985. 49-tfc
HERITAGE CENTER RENTAL Call for prices: 620-886-5242
LOST: Blue Cannon Power Shut pocket camera. Lost somewhere between the Medicine River and South Barber High School. REWARD if returned. Please call Dan at 620-842-2734.

NOTICE TO BID
Bid Specs for equipment and installation of HVAC Air Cleaners in Barber County North Jr/Sr High School and Grade School.

Bids are to be submitted to Mark Buck at 100 East 1st or sent to supt@usd254.org on or before Oct. 9th, 2020 4PM. The Barber County North School District will meet Oct. 12th 2020 to discuss the bids. The School Board reserves the right to select one or none of the bids submitted.

For more information contact Mark Buck at
620-886-3370

---
GARAGE SALE:
---
FOR SALE
:
FOR SALE: FARM FRESH EGGS. $2.50/dozen at T.O. Hass Tire, Hwy 281. 620-886-5691 or 620-213-2698. 16-tfnc
---
GREETINGS:
A big Thank You to the Medicine Lodge High School for having a Community Service Day. Cheryl Theis, school counselor, her husband, Chris, teacher Jake Poland and students Morgan Durbin, Blessing Evans, Riley Jacobson, Lainey Coley, Talon Phipps, Erik Wells, and Brandon Fisher worked very hard that day to help Ellis and Trude Mayfield with trimming shrubs and bushes and general cleaning.
The only thing missing that day was giving all of them a big hug - blame COVID-19 for that.

Thank you so much,
Trude Mayfield
---
KANSAS CLASSIFIEDS:
Farm Equipment
LEASE YOUR FARM FOR HUNTING. PREPAID ANNUAL LEASE PAYMENTS.
$5M liability insurance. We handle everything for you. Base Camp Leasing
1-866-309-1507 www.basecampleasing.com Promo Code: 360

For Sale
Steel Cargo/Storage Containers available In Kansas City & Solomon Ks. 20s' 40s' 45s' 48s' & 53s' Call 785.655.9430 or go online to chuckhenry.com for pricing, availability & Freight. Bridge Decks. 40'x8', 48'x8'6", 90' x 8'6" 785.655.9430 chuckhenry.com

Help Wanted
Heavy equipment operators. Travel expenses paid. Great earning potential for skilled operators. Mid West work area. Apply at www.laforge.

Help Wanted
KanEquip is hiring Agricultural, ATV, Experienced Agricultural and Light Construction Technicians, Light Industrial and Outside Sales. Competitive pay and excellent benefits. Apply online at www.kanequip.com

Misc.
ARE YOU BEHIND $10k OR MORE ON YOUR TAXES? Stop wage & bank levies, liens & audits, unfiled tax returns, payroll issues, & resolve tax debt FAST. Call 855-462-2769

Misc.
DONATE YOUR CAR TO CHARITY. Receive maximum value of write off for your taxes. Running or not! All conditions accepted. Free pickup. Call for details. 844-268-9386

Misc.
Lowest Prices on Health Insurance. We have the best rates from top companies! Call Now! 855-656-6792.

Misc.
ATTENTION MEDICARE RECIPIENTS! Save your money on your Medicare supplement plan. FREE QUOTES from top providers. Excellent coverage. Call for a no obligation quote to see how much you can save! 855-587-1299

Misc.
BEST SATELLITE TV with 2 Year Price Guarantee! $59.99/mo with 190 channels and 3 months free premium movie channels! Free next day installation! Call 316-223-4415

Misc.
Get A-Rated Dental Insurance starting at around $1 PER DAY! Save 25% on Enrollment Now! No Waiting Periods. 200k+ Providers Nationwide. Everyone is Accepted! Call 785-329-9747 (M-F 9-5 ET)

Misc.
BATHROOM RENOVATIONS. EASY, ONE DAY updates! We specialize in safe bathing. Grab bars, no slip flooring & seated showers. Call for a free in-home consultation: 855-382-1221

Misc.
Medical Billing & Coding Training. New Students Only. Call & Press 1. 100% online courses. Financial Aid Available for those who qualify. Call 888-918-9985

Misc.
Recently diagnosed with LUNG CANCER and 60+ years old? Call now! You and your family may be entitled to a SIGNIFICANT CASH AWARD. Call 866-327-2721 today. Free Consultation. No Risk.

Misc.
NEW AUTHORS WANTED! Page Publishing will help you self-publish your own book. FREE author submission kit! Limited offer! Why wait? Call now: 855-939-2090






Premiere Inside
School
Sports
Record
Local
Deaths
Opinion
KWIBS
Classifieds
Business Dir.
Subscribe
Ad Information
Staff
Contact Us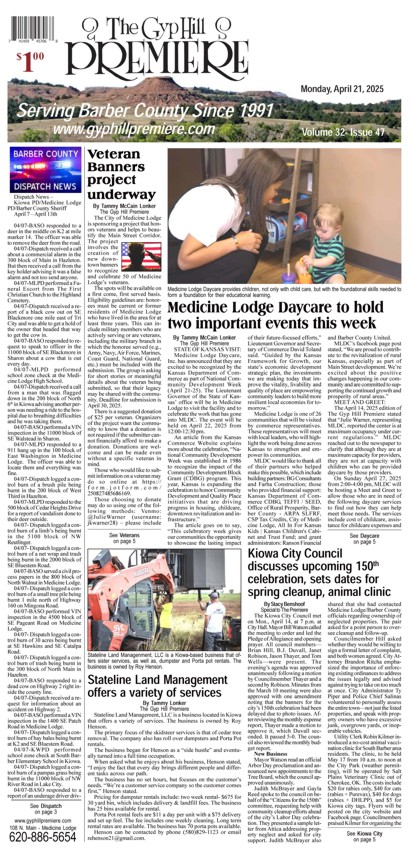 Warp Your Favorite Local Person. A Different Victim Each Week!!