Opinion / Religion - January 23, 2017
---
Minister's Minutes:
By Dave Skiles
Have you ever looked around you and thought, "Things are not how they are supposed to be?" As I look around the world, I see brokenness all around me. There are problems caused by poverty, relationships that are broken, cancer that steals so many lives prematurely. I think it is natural to think, "How could a good God let so much bad stuff happen?" I think that is actually a legitament question, but to blame all of our pain and suffering on God is a misunderstanding of who God is.
The Bible tells us that, when God created everything, He looked at it and called it good. Everything was as it should be. Perfect. No pain. No sadness. No sickness. When God created us, we were in perfect relationship with Him and everything in the world was as it should be. Everything was right. But we wanted to do our own thing—and that's where everything went wrong. We stepped out of that relationship. From then on, the world was broken. We were broken.
But there is good news! God has a plan to bring us back to Himself. Colossians 1:13 says, "For He (Jesus) has rescued us from the kingdom of darkness and transferred us into the kingdom of His dear son." That is good news indeed for those of us that are looking for a way to get right with God. He has already done the hard work of making it possible. Let me urge you today to look to Him to rescue you.
Premiere Inside
School
Sports
Record
Local
Deaths
Opinion
KWIBS
Classifieds
Business Dir.
Subscribe
Ad Information
Staff
Contact Us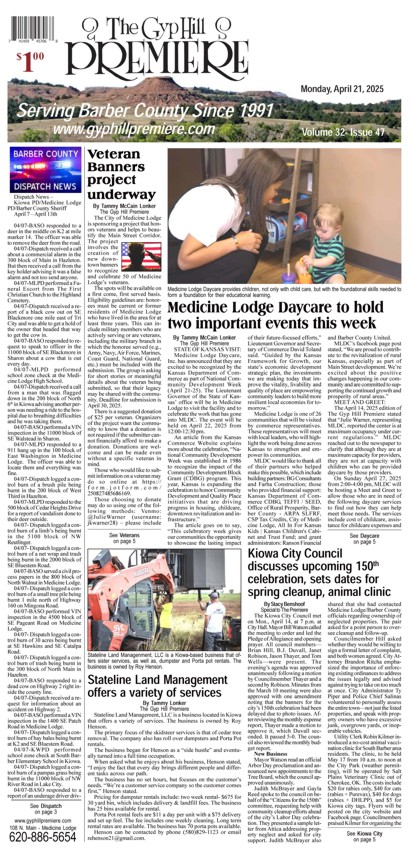 Warp Your Favorite Local Person. A Different Victim Each Week!!
Premiere letter policy
Due to the volume of letters to the editor and limited space available, The Gyp Hill Premiere has revised its letter policy effective immediately.
To be eligible for publication in this paper, a letter's content must meet the following criteria: 1) contain information of interest to the community that directly affects the City of Medicine Lodge, Barber County or its citizens; 2) contain information on local public policy; or 3) contain a response or correction of content published in this paper for purposes of clarification.
Letters in response to items published on the opinion pages may or may not be published, depending on their relevance to the community or content involved. Viewpoints expressed on these pages are the opinions of the authors, and do not reflect the viewpoints of The Gyp Hill Premiere or its staff.
Letters to the editor must be typed or neatly handwritten, contain a signature, return address and telephone number for verification purposes. Letters submitted via e-mail are also welcome, provided that they contain a valid reply-to address.
Letters will be published exactly as written, however The Gyp Hill Premiere reserves the right to edit letters for length, spelling, context or clarity as deemed necessary.
All letters are subject to review and will be published at the discretion of our editorial staff. Letters that contain offensive or defamatory language, libelous statements or content that is generally intended to defame will not be published.
Letters that contain obvious factual errors will not be published, however The Gyp Hill Premiere is not responsible for validating the content of letters.
We also reserve the right not to publish letters that do not meet our publication deadline of noon on Friday.
A copy of this policy is available at The Gyp Hill Premiere office at 110 N. Main Street during normal business hours.