Opinion / Religion - September 26, 2016
---
The Book Edge
By April Hernandez
Lincoln Library Fact: We hold a Book Club every fourth Thursday of the month. For October we will be reading The Readers of Broken Wheel Recommend by Katarina Bivald. Come join us!!
Story Hour: This week the theme was cats. Robin read Bears in Bed while our Story Hour guest reader Lena Young read If You Give a Cat a Cupcake and Skippyjon Jones Lost in Space. The children made cat puppets with paper bags provided by White's Grocery.
Jan's Time for Trivia: Which Italian novel for children has been adapted in over 240 languages?
New in the Library:
Adult Fiction:
The Ballroom by Anna Hope. At Sharston Asylum in England in 1911, men and women are housed separately. Separated by bars and concrete except for Friday nights when they come together in the Ballroom to mingle. John Mulligan and Ella Fay strike up a courtship during these Friday nights and John writes to Ella during the week. What will happen when one of them is given the opportunity to leave Sharston for good?
Young Adult Fiction:
Bounce by Megan Schull. Frannie Hudson wonders what it would be like to be in a different family. One where her sister likes her and her brother doesn't ignore her. One day she makes the wish and wham, she is. The only problem is that every day she wakes up in a different new family. As her new life becomes overwhelming, Frannie wonders if she will ever make it back home.
Juvenile Fiction:
Ghost by Jason Reynolds. Ghost has been running for all the wrong reasons. If he can stay focused and expand on his enormous talent, he has a chance to be the best sprinter in the city. With the help of Coach, an ex-Olympic Medalist who blew his shot by using drugs and is determined others will not lose theirs, Ghost may have a chance.
Happenings at the Library: Adult Coloring Club is the 3rd Monday of each month. Come relax and create with us.
Visit us @ medicinelodgelibrary.com
View our catalog @ medicinelodgelibrary.follettdestiny.com
Like us on Facebook @ Lincoln Library
Premiere Inside
School
Sports
Record
Local
Deaths
Opinion
KWIBS
Classifieds
Business Dir.
Subscribe
Ad Information
Staff
Contact Us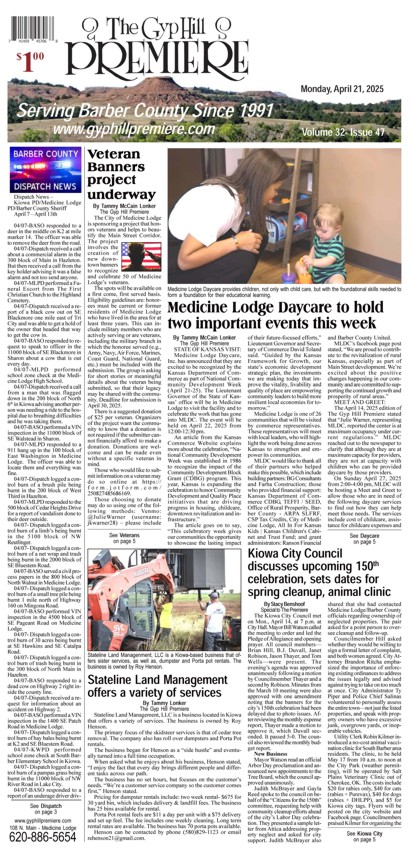 Warp Your Favorite Local Person. A Different Victim Each Week!!
Premiere letter policy
Due to the volume of letters to the editor and limited space available, The Gyp Hill Premiere has revised its letter policy effective immediately.
To be eligible for publication in this paper, a letter's content must meet the following criteria: 1) contain information of interest to the community that directly affects the City of Medicine Lodge, Barber County or its citizens; 2) contain information on local public policy; or 3) contain a response or correction of content published in this paper for purposes of clarification.
Letters in response to items published on the opinion pages may or may not be published, depending on their relevance to the community or content involved. Viewpoints expressed on these pages are the opinions of the authors, and do not reflect the viewpoints of The Gyp Hill Premiere or its staff.
Letters to the editor must be typed or neatly handwritten, contain a signature, return address and telephone number for verification purposes. Letters submitted via e-mail are also welcome, provided that they contain a valid reply-to address.
Letters will be published exactly as written, however The Gyp Hill Premiere reserves the right to edit letters for length, spelling, context or clarity as deemed necessary.
All letters are subject to review and will be published at the discretion of our editorial staff. Letters that contain offensive or defamatory language, libelous statements or content that is generally intended to defame will not be published.
Letters that contain obvious factual errors will not be published, however The Gyp Hill Premiere is not responsible for validating the content of letters.
We also reserve the right not to publish letters that do not meet our publication deadline of noon on Friday.
A copy of this policy is available at The Gyp Hill Premiere office at 110 N. Main Street during normal business hours.