Opinion / Religion - August 3, 2015
---
Minister's Minutes
By Paul Stephens
United Methodist Church
You are a person God loves.
In fact, that is your truest identity.1
"One whom God loves" – That's you! That's who you are.
We are encouraged, or I should say, dis-couraged, to believe all kinds of other things about ourselves or about God, but the reality is, we are ones whom God loves – every one of us.
We tend to think God loves "good people," and well, we know we haven't really been that good, so we buy into the lie that says, "God couldn't really love me. Not me."
Or, we know that the world loves winners, and well, we're not exactly "winning at life" right now (or maybe never have), and so we think and feel, "God doesn't love me."
But both of those are lies that want to draw us away from our core identity: We are people who are loved by God – every one of us.
Brennan Manning, in his book, Abba's Child (p.22), says that God loves us as we really are, not as we think we should be. (Nor as we wish we could be, nor as we might one day become). God loves us as we really are – right now. Warts and all, losses and all, failures and all - even sins and all.
Jesus said that prostitutes and hated tax collectors were entering into the kingdom of God ahead of the supposedly righteous. Why? Because they were beginning to believe that God really did love them, and they were moving toward God (Matthew 21:31-32).
I am glad to be in Medicine Lodge, and I invite every one of you to come and visit any of the churches in town and grow in knowing and living in your truest identity...
You are one who is loved by God!
1 – This devotional is based on parts of the book, Abba's Child, by Brennan Manning, NavPress, Colorado Springs, CO, 2002.
Premiere Inside
School
Sports
Record
Local
Deaths
Opinion
KWIBS
Classifieds
Business Dir.
Subscribe
Ad Information
Staff
Contact Us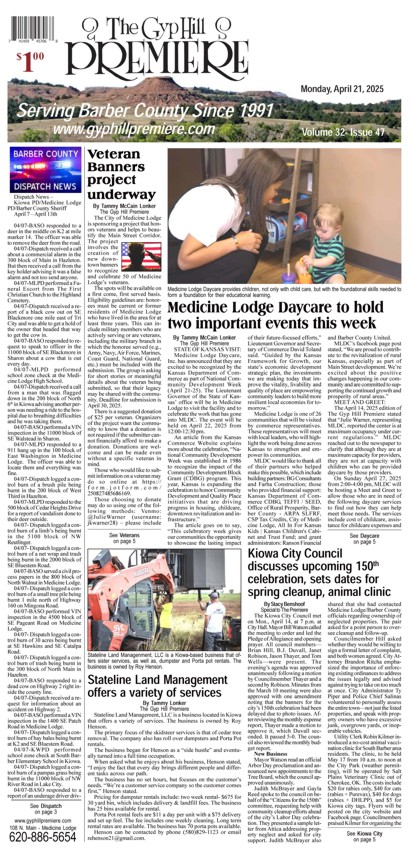 Warp Your Favorite Local Person. A Different Victim Each Week!!
Premiere letter policy
Due to the volume of letters to the editor and limited space available, The Gyp Hill Premiere has revised its letter policy effective immediately.
To be eligible for publication in this paper, a letter's content must meet the following criteria: 1) contain information of interest to the community that directly affects the City of Medicine Lodge, Barber County or its citizens; 2) contain information on local public policy; or 3) contain a response or correction of content published in this paper for purposes of clarification.
Letters in response to items published on the opinion pages may or may not be published, depending on their relevance to the community or content involved. Viewpoints expressed on these pages are the opinions of the authors, and do not reflect the viewpoints of The Gyp Hill Premiere or its staff.
Letters to the editor must be typed or neatly handwritten, contain a signature, return address and telephone number for verification purposes. Letters submitted via e-mail are also welcome, provided that they contain a valid reply-to address.
Letters will be published exactly as written, however The Gyp Hill Premiere reserves the right to edit letters for length, spelling, context or clarity as deemed necessary.
All letters are subject to review and will be published at the discretion of our editorial staff. Letters that contain offensive or defamatory language, libelous statements or content that is generally intended to defame will not be published.
Letters that contain obvious factual errors will not be published, however The Gyp Hill Premiere is not responsible for validating the content of letters.
We also reserve the right not to publish letters that do not meet our publication deadline of noon on Friday.
A copy of this policy is available at The Gyp Hill Premiere office at 110 N. Main Street during normal business hours.