Opinion / Religion - February 20, 2017
---
Ministers Minutes:
"JUST LOVE."
Valentine's Day has come and gone. A specific day out of the year when we make a special effort to tell others by our words and actions that, "I LOVE YOU." So does that mean we do not need to show others that we care and love them the other 364 days out of the year? Of course not. Our love for others should be displayed every day….not just on Valentine's Day. Likewise, our love for Christ and His church and His people and those who do not know Him should also be displayed every day…not just on Sunday.
I hear people say all the time, "Preachers, churches, pastors don't preach on sin anymore, they don't preach on hell anymore, they are afraid to step on anyone's toes anymore." In some cases maybe that is true but I am just as concerned that people who go to church, people who call themselves Christians, and people who can quote scripture from the Bible don't seem to show God's love much anymore! The Word of God talks about a lot of subjects including sin and heaven and hell but it also talks a lot about love too. Before we start screaming scriptures at people….how about we try showing them the love of Christ first. Let's do more than memorize and quote these scriptures on love. Let's live them out daily!
1. "If you love those who love you, what credit is that to you? Even sinners love those who love them. Luke 6:32
2. By this everyone will know that you are my disciples, if you love one another." John 13:35
3. "Love the Lord your God with all your heart and with all your soul and with all your mind and with all your strength." The second is this: Love your neighbor as yourself." There is no commandment greater than these." Mark 12:30:31
4. "And now these three remain: faith, hope and love. But the greatest of these is love." 1 Corinthians 13:10
5. "For God so loved the world that he gave his one and only Son, that whoever believes in him shall not perish but have eternal life." John 3:16
As you read this article maybe you are thinking to yourself, "I want to show others that I am a real Christian. I want to make a difference. I want to make an impact on my family members." What should I do first? What should I do most? What should I do today and every day? How about……Just Love!
Pastor Rodney Worsham
First Assembly of God Church
Premiere Inside
School
Sports
Record
Local
Deaths
Opinion
KWIBS
Classifieds
Business Dir.
Subscribe
Ad Information
Staff
Contact Us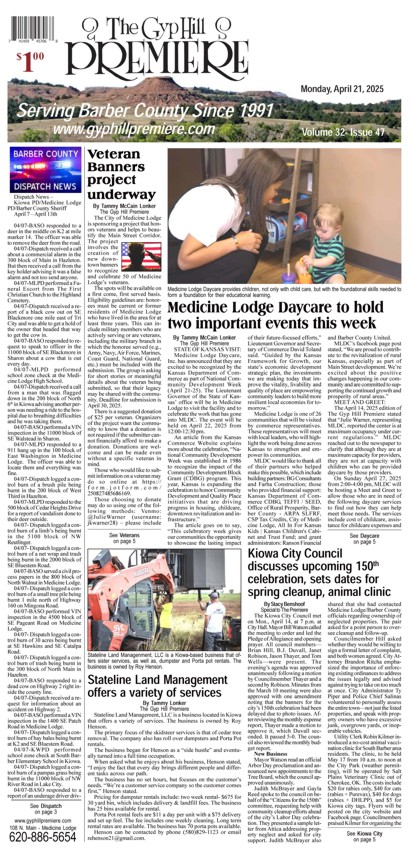 Warp Your Favorite Local Person. A Different Victim Each Week!!
Premiere letter policy
Due to the volume of letters to the editor and limited space available, The Gyp Hill Premiere has revised its letter policy effective immediately.
To be eligible for publication in this paper, a letter's content must meet the following criteria: 1) contain information of interest to the community that directly affects the City of Medicine Lodge, Barber County or its citizens; 2) contain information on local public policy; or 3) contain a response or correction of content published in this paper for purposes of clarification.
Letters in response to items published on the opinion pages may or may not be published, depending on their relevance to the community or content involved. Viewpoints expressed on these pages are the opinions of the authors, and do not reflect the viewpoints of The Gyp Hill Premiere or its staff.
Letters to the editor must be typed or neatly handwritten, contain a signature, return address and telephone number for verification purposes. Letters submitted via e-mail are also welcome, provided that they contain a valid reply-to address.
Letters will be published exactly as written, however The Gyp Hill Premiere reserves the right to edit letters for length, spelling, context or clarity as deemed necessary.
All letters are subject to review and will be published at the discretion of our editorial staff. Letters that contain offensive or defamatory language, libelous statements or content that is generally intended to defame will not be published.
Letters that contain obvious factual errors will not be published, however The Gyp Hill Premiere is not responsible for validating the content of letters.
We also reserve the right not to publish letters that do not meet our publication deadline of noon on Friday.
A copy of this policy is available at The Gyp Hill Premiere office at 110 N. Main Street during normal business hours.