Opinion / Religion - September 18, 2017
---
It's a very thin line between dream and nightmare

By Jessica Wright

The Gyp Hill Premiere

I would like to take this week to bring light to a disease that is not only rare, but near and dear to my heart. My very first pregnancy occurred when I was 18 years old and still a Senior in High School. I found out a couple weeks after my birthday in 2009 that I was expecting and as anyone can imagine, I was utterly petrified.

I was asked by members of my family if I was going to "take care of it" which was incredibly surprising to me as this particular family member was a very Christian woman. I never in a million years thought that I would ever hear those words come from her mouth. I adamantly expressed that no, I would not be taking care of it in that sense, rather I was determined to do everything in my power to be the best mother possible to this unexpected miracle growing in my belly.

So, this began my journey. My mother and I went and had the pregnancy confirmed at our health department and then we made my 10 week appointment with my OB in Pratt. That appointment was slated for late December. I caught a lot of side glare from various people in the community however; I turned and looked the other way. Was I proud of my actions? No, I never imagined that I would be in that situation at that age. I was determined to make the best of the situation and do whatever I could. My eventual elation at being a mother was about to take a turn for the worse.

During Christmas Break, I had begun to feel a bit under the weather and was advised of the run of the mill morning sickness tricks and tips. However, beginning Christmas Eve, this morning sickness turned into anything but run of the mill. I began having nausea and vomiting that persisted all day despite trying all of the tricks sent my way. At my first doctor appointment, my doctor suggested I try vitamin B12. However, that was an epic failure as anything I tried to eat or drink, no matter how bland, refused adamantly to stay in my stomach. I brought in the New Year in a hospital, connected to intravenous liquids in an effort to stay hydrated.

Considering that I was pregnant and my primary physician was in Pratt, Medicine Lodge's hospital was unable to treat my symptoms on a broader plane. They were wonderful and administered IV fluids in the ER however, they suggested for future treatment I go to Pratt, where my doctor was more accessible. My appointments weren't your standard monthly appointments at this time. My mom was an angel and called them relentlessly, trying to get me help. The next time I saw my doctor, he diagnosed me with Hyperemesis Gravidarum.

Hyper eme-what? Yeah, that's the exact same thing that I asked him. Mind you, this was seven years ago and Hyperemesis Gravidarum (HG) is still a widely under-researched and misunderstood disease. HG is a pregnancy complication that is characterized by severe nausea, vomiting, weight loss electrolyte disturbance, and dehydration. In my case, I suffered all of these symptoms, losing 30 pounds in a two and a half month time frame. Only about 2% of women suffer from HG.

The exact causes of HG are unknown. There are many risk factors, including first pregnancy, multiple pregnancies, obesity, prior family history of HG, and many more. Treatments very according to the severity of individual cases and many times treatments are administered while admitted in the hospital. While what we know as morning sickness has been prevalent since 2000 B.C., the first clear case of HG was in 1852. It was previously known as a cause of death in pregnancy however; with proper treatment it is very rare.

I was hospitalized at least 10 times between January and February 15

th. The last hospitalization was at Wesley in Wichita in a high risk pregnancy ward. The last ditch effort for me was a nasogastric tube which, to say the least, was the most psychologically damaging experience of that trip. Unfortunately, the NG tube was not viable and did not work.

In January, before this last visit to Wichita, I found out that I was having a girl. I named her Charlotte Rose. She was my shining light in the darkness and the promise of great things to come. I had lovingly picked out colors for her room, sage green, a comfortable color that would go with all the adorable Winnie the Pooh memorabilia from my own childhood and the Pooh merchandise already bought for my daughter by my grandparents, my mom, and my aunt and uncle. I had imagined all of the things that I could teach my daughter. I wanted her to be a force of nature, secure in her faith, in herself, and in her family. I imagined helping her pick out her prom dresses and her wedding dress and eventually giving her away to someone worthy of her.

It's a thin line between a dream and a nightmare. This entire situation was escalating at a rate that I could not keep up with. I was on Zofran, Phenergan, Compazine, Reglan, Dramamine, Diphenhydramine, and many other antiemetics. Antiemetics are drugs that are designed to curb nausea. They even had me on antiemetics that were usually reserved for Chemotherapy patients. Nothing worked. HG continued to make my life very miserable. I could not keep anything down. I tried ice chips, broth, Pedialyte popsicles, and warm liquid Jello.

Towards the end, I couldn't walk down to the basement where my room was located. So, I slept on a pallet on the floor in the living room, just three feet away from the bathroom. At the last appointment, we found out that Charlotte was no longer developing. Neither of us was getting any nourishment. The bottom line was that we were dying, as simple as that. My doctor had one last suggestion and as a result Charlotte went to see God in Heaven on February 27

th, 2010.

That thin line that I mentioned above, it is very thin. All of my hopes and dreams for a life with my daughter were shattered. However, I was alive. Since then I have had three incredible boys, with pregnancies that were HG free; pregnancies that my friends have been envious of. However, a steep price was paid for those seemingly effortless, normal pregnancies.

HG is something I wouldn't wish on my worst enemy. Seven years later and I still have flashbacks. I still have bad days and I still feel like I failed her. That is why it is so important to me to raise awareness of this disease. If I can help one woman get the help she needs or the diagnosis she needs, I will do all I can. By informing people and helping women who are going through the same thing, Charlotte lives on. In many cases, PICC lines are used to administer medication and nourishment. These weren't available to me but it makes me happy to know that this is being taken more seriously than it was when I went through it.

The Hyperemesis Education and Research Foundation is available for moms-to-be, family, and healthcare professionals to gather information and tools. HER is currently in collaboration with UCLA and USC, studying the genetics of HG. The HER Foundation is a non-profit organization dedicated to educating others on the management of HG. Their goal is to increase awareness of available medical care and the potentially devastating consequences if not treated. To find out more information, visit www.helpher.org.

If you or someone you know suffers from HG, relay this information. Simply validating what they are going through does wonders and finding the medical treatment they need for their case is of paramount importance.
Premiere Inside
School
Sports
Record
Local
Deaths
Opinion
KWIBS
Classifieds
Business Dir.
Subscribe
Ad Information
Staff
Contact Us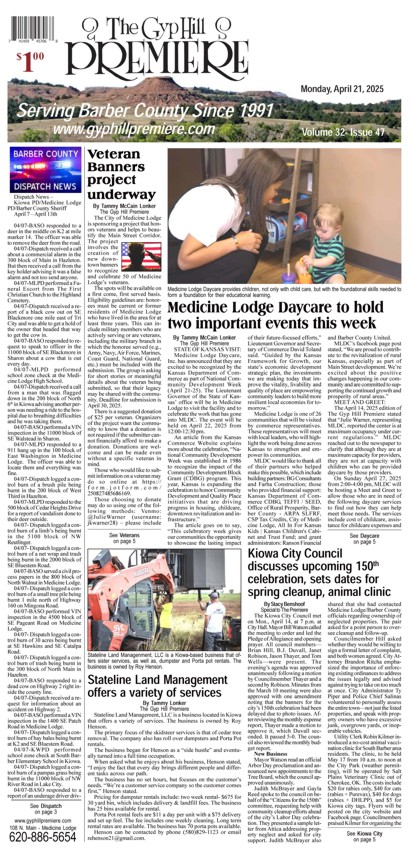 Warp Your Favorite Local Person. A Different Victim Each Week!!
Premiere letter policy
Due to the volume of letters to the editor and limited space available, The Gyp Hill Premiere has revised its letter policy effective immediately.
To be eligible for publication in this paper, a letter's content must meet the following criteria: 1) contain information of interest to the community that directly affects the City of Medicine Lodge, Barber County or its citizens; 2) contain information on local public policy; or 3) contain a response or correction of content published in this paper for purposes of clarification.
Letters in response to items published on the opinion pages may or may not be published, depending on their relevance to the community or content involved. Viewpoints expressed on these pages are the opinions of the authors, and do not reflect the viewpoints of The Gyp Hill Premiere or its staff.
Letters to the editor must be typed or neatly handwritten, contain a signature, return address and telephone number for verification purposes. Letters submitted via e-mail are also welcome, provided that they contain a valid reply-to address.
Letters will be published exactly as written, however The Gyp Hill Premiere reserves the right to edit letters for length, spelling, context or clarity as deemed necessary.
All letters are subject to review and will be published at the discretion of our editorial staff. Letters that contain offensive or defamatory language, libelous statements or content that is generally intended to defame will not be published.
Letters that contain obvious factual errors will not be published, however The Gyp Hill Premiere is not responsible for validating the content of letters.
We also reserve the right not to publish letters that do not meet our publication deadline of noon on Friday.
A copy of this policy is available at The Gyp Hill Premiere office at 110 N. Main Street during normal business hours.