Opinion / Religion - December 9, 2013
---
Dear Kevin,
I want to extend my heartfelt "Thank You" to everyone who helped with the November 25, 2013 Blood Mobile! This was the first time that the drive was held at the Catholic Church, and the welcome mat was certainly out for this worthwhile community event! We really enjoyed working with the Ladies of the Holy Rosary Church and they did an excellent job preparing and serving the delicious soup. Some even volunteered to help on the floor tending to the donors and their help was greatly appreciated! A special "thank you" to Frankie Land and Terry Doekaran, MPS for lining up the canteen volunteers from their church and community.
We had 58 donors come to give and from those 47 productive units of blood were collected. I wasn't made aware of any first time donors or any who could have received pins. If we missed anyone, we'll try and play "catch-up" next time.
Some Junior Honor Society students helped unload the truck and set up the site, so if you see Bailee Gabriel, Riston Landwehr, or MeCate Thomas give them a high-five and say "thank you" for being a great person!!
Ecowater provided the juice and cups, as always, and our local banks, and Jim Sharp, covered our food expenses! Thanks to all of you for your donations to the Medicine Lodge Blood Mobile.
We had some very able-bodied young men come at a minute's notice to help load the truck, in the dark, and the Red Cross was very thankful for that extra help so they could get on the road to their next stop. Thank you Rob and Taylor Paxton and Jeff Paxton for stepping up to the plate and doing what needed to be done. You are truly community servants!
The next blood drive will be at the High School on Monday, January 27, 2014. Please consider making a blood donation at that time. You can call the Red Cross to make an appointment, if they don't call you, or you can just walk-in anytime between 12:00 and 6:00.
Again, thanks to all of the volunteers for their help in making it possible for our community to host several blood drives each year!
Sincerely,
Mary Lou Hinz
Community Blood Drive Chairperson
Dear Editor:
Barber County is very fortunate to have The Heritage Center, also known as the Greater Barber County Historical Action Association (GBCHAA). The Heritage Center has a Gallery to present and preserve our most precious past and to remind us to be thankful to our ancestors and their efforts for what they accomplished. We all need to cherish and appreciate what has brought us to the present. There is also a large Community Room which is used for a wide variety of events such as meetings, banquets, weddings, and The Arts (plays, concerts, etc.). What would we do without it now and where would we have to go to find comparable facilities? We are privileged to have it close by; we need to appreciate it and help keep it up and available. It is very accessible, affordable and unfortunately, much taken for granted.
Many thanks go out to those 20 to 30 hard working citizens who had a vision for this GREAT need. The Heritage Center came about with the help of State Tax Credits and being established as a 501(c)(3) corporation, generous donors, diligent work, three Martina McBride Concerts and Auction, and because of the efforts of all those working together, enough money was raised to build on the site we now see on the hill at Highway 160 and Isabel Road. A huge thanks to all those whose hard work and volunteered time has made The Heritage Center what it is today. A special thank you goes out to those who helped us with the grants we have received.
Now 8 years have passed by (and 5 to 6 years before that) and our hard working group is down in numbers. The elderly have passed on or are unable to participate any longer due to health reasons. In order to keep the establishment at our access, we need MANY more citizens to be willing to help us. This is a plea to all of those who care about heritage and history and preserving what we have worked so hard to create to come and help us.
We need to keep this Community Room available. It would be difficult to find another space this large and nice for many miles around. We offer so much to this area. We have added many amenities to the building for the convenience of those using it. We now have stage presence, sound, lighting, and a screen for plays and meetings. We have an Endowment established with South Central Community Foundation; we give two scholarships to high school seniors yearly. We offer entertainment two to three times a year and the annual Halloween Hayrack rides and Bingo every Thursday provide activities for the community. These fundraisers allow us to meet our expenses such as insurance, etc. This all takes time, hard work, fortitude and vision. Having more members would be advantageous in every way in helping those of us who are getting a little older and it would help lighten the responsibilities for all involved.
I must confess that I am becoming very frustrated and fearful of the future of the facility; it looks bleak. A dozen people at our age cannot keep this up. We need more members; we need you and your help. Please join us!!! We have monthly meetings on the 2nd Tuesday at 7:00 p.m. at our building. The annual dues are just $10.00.
We all need to stop, think, and be aware of how important it is to preserve the local history for future generations; please give this some serious thought.
Thank you for taking the time to read this "letter to the editor" and please, please, please consider joining the GBCHAA. Everyone who is interested is welcome; your ideas, presence, and efforts will be appreciated by many for years to come.
For more information, please call me at (620) 294-5421 or (620) 930-8046.
Sincerely,
Eileen Schmidt, Treasurer
Sharon, Kansas
Mortgage Registration Fee Places Unfair Tax Burden on Borrowers
Did you know that Kansas is one of only nine states who impose a fee, which Kansas courts have declared a tax, on purchasers of real estate when they take out a loan to finance that purchase? A person who has cash to purchase a home or land isn't required to pay the tax. Additionally, borrowers that utilize government sponsored lenders, such as Farm Credit, are not subjected to the mortgage registration tax. In other words, the mortgage registration tax is not fairly applied to all borrowers, let alone to those who use cash to make their purchase. In Kansas, purchasers of real estate requiring financing from a community bank, savings and loan, or credit union must pay a tax of $0.26 per $100 of indebtedness. On a typical $150,000 home loan it adds an additional $390 to the borrower's closing costs. On a farm or commercial real estate purchase it can literally add thousands of dollars to the borrower's closing costs. Almost all of the tax, $0.25 per $100 borrowed, goes directly to the general fund of the county where the property is located.
This begs the question; why does Kansas tax policy discriminate against certain individuals who need to borrow money to purchase real estate? This tax singles out a small segment of the population for unfair tax treatment. It isn't a coincidence that 41 states across the nation don't impose this tax. A mortgage registration tax penalizes those who seek to invest in their community and grow equity for their future.
The mortgage registration tax should not be confused with the mortgage recording fee that is also paid by the borrower. The mortgage recording fee is also payable at closing and was specifically established to cover the costs associated with recording mortgage documents. The mortgage registration fee (K.S.A 79-3102) that we are working to repeal is a tax in addition to the mortgage recording fee (K.S.A. 28-115). Since both are required to be paid before the mortgage is filed, a borrower essentially pays twice to record the same mortgage.
The Kansas Bankers Association is part of a coalition working to eliminate this unfair tax to bring equity to Kansas borrowers. Fair tax policy is possible and now is the time to level the playing field for all Kansans.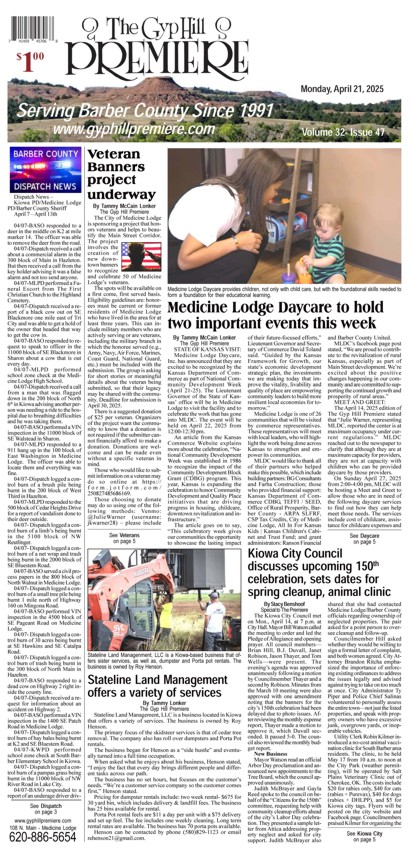 Premiere Inside
School
Sports
Record
Local
Deaths
Opinion
KWIBS
Classifieds
Business Dir.
Subscribe
Ad Information
Staff
Contact Us

Warp Your Favorite Local Person. A Different Victim Each Week!!
Premiere letter policy
Due to the volume of letters to the editor and limited space available, The Gyp Hill Premiere has revised its letter policy effective immediately.
To be eligible for publication in this paper, a letter's content must meet the following criteria: 1) contain information of interest to the community that directly affects the City of Medicine Lodge, Barber County or its citizens; 2) contain information on local public policy; or 3) contain a response or correction of content published in this paper for purposes of clarification.
Letters in response to items published on the opinion pages may or may not be published, depending on their relevance to the community or content involved. Viewpoints expressed on these pages are the opinions of the authors, and do not reflect the viewpoints of The Gyp Hill Premiere or its staff.
Letters to the editor must be typed or neatly handwritten, contain a signature, return address and telephone number for verification purposes. Letters submitted via e-mail are also welcome, provided that they contain a valid reply-to address.
Letters will be published exactly as written, however The Gyp Hill Premiere reserves the right to edit letters for length, spelling, context or clarity as deemed necessary.
All letters are subject to review and will be published at the discretion of our editorial staff. Letters that contain offensive or defamatory language, libelous statements or content that is generally intended to defame will not be published.
Letters that contain obvious factual errors will not be published, however The Gyp Hill Premiere is not responsible for validating the content of letters.
We also reserve the right not to publish letters that do not meet our publication deadline of noon on Friday.
A copy of this policy is available at The Gyp Hill Premiere office at 110 N. Main Street during normal business hours.