Opinion / Religion - October 27, 2014
---
Dear Editor:
Pat Roberts Voted NO to the 2014 Farm Bill. In 2012 Pat voted to cut $700 billion from Medicare! He didn't even show up to vote for the Veterans Bill. In fact he's missed 73% of his full committee hearings and 65% of his Senate Ag Committee Hearings. He even skipped his committee hearing last month on Ebola! We pay him for representation and he's not showing up to hearings. If he does show up, he's voting against Kansans best interest! How can any rural area support Roberts when he voted NO to the Farm Bill!!
The Facts about Greg Orman: He's been a Republican and a Democrat, but he's spent most of his life as an Independent. He has donated to candidates from both Parties, but he's given more to Independent groups trying to fix our broken political system. He opposes "Obamacare" and Amnesty. In fact, his immigration plan is very similar to McCain's and Jeb Bush's. Greg is a gun owner and a supporter of the second amendment. Pat admits he doesn't own a GUN!
Attacking your opponent and lying about their positions and their record is what people have come to expect from Washington politicians. It amazes me slander and libel don't seem to exist in the political arena where anything goes whether true or not! Greg is counting on the intelligence and independent spirit of the people of Kansas to win this election. Greg vows to work for the people of Kansas, and not play partisan games.
Greg is the only candidate who has a real record of private sector job creation. He's had to deal with rising healthcare costs, balancing budgets, and the impact of new regulations. Running a business is about solving problems every day!
This election should be about the best candidate for KS, Not party politics. Greg Orman will work with both sides of the aisle for Kansas. Thank you for your service to Kansas Pat, but Greg has my vote on November 4.
Regards,
Miranda Allen, Kiowa, KS

Dear Editor:
With all the political advertising focused on what's wrong with the other guy, voters ought to think about how certain policies affect them. In that regard, there are several issues that are most important to maintaining rural Kansas.
1) Education. Ask a teacher, board member, principal or superintendent in your community if current policies and funding are hurting our local schools.
2) Medical care. Ask your hospital administrator how many hundreds of thousands of dollars have been forfeited by failing to expand Medicaid. Those dollars could have provided care for the near poor while improving the hospital's bottom line.
3) Look at your property tax statement. While local units of government are being starved, they have been forced to increase property tax and/or sales tax just to provide basic services.
I will vote to protect and preserve our rural institutions. If they fail, our communities fail. Please consider these matters and remember to VOTE.
Alan C. Goering.
Premiere Inside
School
Sports
Record
Local
Deaths
Opinion
KWIBS
Classifieds
Business Dir.
Subscribe
Ad Information
Staff
Contact Us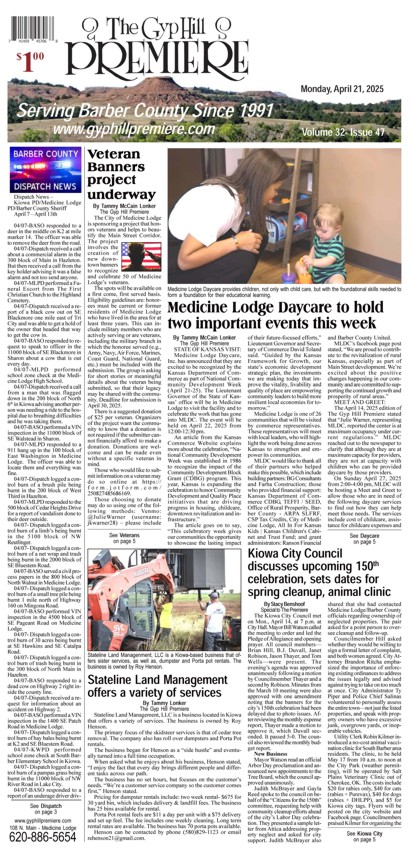 Warp Your Favorite Local Person. A Different Victim Each Week!!
Premiere letter policy
Due to the volume of letters to the editor and limited space available, The Gyp Hill Premiere has revised its letter policy effective immediately.
To be eligible for publication in this paper, a letter's content must meet the following criteria: 1) contain information of interest to the community that directly affects the City of Medicine Lodge, Barber County or its citizens; 2) contain information on local public policy; or 3) contain a response or correction of content published in this paper for purposes of clarification.
Letters in response to items published on the opinion pages may or may not be published, depending on their relevance to the community or content involved. Viewpoints expressed on these pages are the opinions of the authors, and do not reflect the viewpoints of The Gyp Hill Premiere or its staff.
Letters to the editor must be typed or neatly handwritten, contain a signature, return address and telephone number for verification purposes. Letters submitted via e-mail are also welcome, provided that they contain a valid reply-to address.
Letters will be published exactly as written, however The Gyp Hill Premiere reserves the right to edit letters for length, spelling, context or clarity as deemed necessary.
All letters are subject to review and will be published at the discretion of our editorial staff. Letters that contain offensive or defamatory language, libelous statements or content that is generally intended to defame will not be published.
Letters that contain obvious factual errors will not be published, however The Gyp Hill Premiere is not responsible for validating the content of letters.
We also reserve the right not to publish letters that do not meet our publication deadline of noon on Friday.
A copy of this policy is available at The Gyp Hill Premiere office at 110 N. Main Street during normal business hours.