Opinion / Religion - February 8, 2016
---
The Book Edge
By April Hernandez
Lincoln Library Fact: Lincoln Library has a new Young Adult area. We will be adding new books to the collection, so come in and see the changes. You can stay and read, study, relax, work on a puzzle, or play a board game.
Story Hour: The theme this week was Groundhog Day. The Groundhog did not see his shadow so Spring should be right around the corner. Robin read Goodnight and Judy read Itís Ground Hog Day and Gregoryís Shadow. The kids sang Rise and Shine Little Groundhog! And watched the finger play, Two Little Groundhogs. Craft this week was a peeking groundhog puppet. The Library had groundhogs everywhere!!!
New at the Library:
Adult Fiction
Beyond the Silence by Tracie Peterson and Kimberley Woodhouse. Lillian Porter gets an opportunity to move West when she accepts a nanny position. She becomes concerned when she hears rumors that her new employer, Woodward Colton, was responsible for the death of his wife. The man Lillian is coming to know does not seem like a killer and his long time housekeeper, Mrs. Goodman, is firmly on his side.
Lillianís charge, Jimmy, has not spoken since he witnessed his motherís death. She tries to coax him out of his shell as the Colton farm is vandalized. Will Mrs. Goodman and Jimmy be able to save Lillian from tragedy?
YA Fiction
Library of Souls by Ransom Riggs. The conclusion to the story that began with Miss Peregrineís Home for Peculiar Children. Jacob is traveling through time in order to save other peculiar children. He and his companions travel from modern-day London to the most wretched slum in Victorian England. Here the fate of all peculiar children will be decided. Wonderful blend of fantasy and never-before-published vintage photography.
Junior Non-Fiction
The Robot Book by Bobby Mercer
Have you always wanted your own robot? Bobby Mercer, author and physics teacher, shows you how to repurpose common objects into 20 inexpensive easy-to-build robots. All projects contain a materials list and detailed step-by-step instructions with photos. The science behind each robot is explained, including concepts such as friction, weight and mass, center of gravity, kinetic and potential energy, electric circuitry, and DC vs. AC current. An interesting and fun way to learn about science and technology.
Help Your Kids with Computer Coding by DK Publishing. Introduces children to the world of computer coding which is one of the fastest-growing industries and highest paying college degrees. Gets your childís brain thinking in new ways and helps fill a gap in educational programming.
Library Happenings: We have Story Hour every Tuesday at 10:00 am and donít forget to call to set up your Technology Tutoring appointment. Janís Trivia will premiere in The Book Edge the first week in March. Come in during March and bring your answer to Janís question. All correct answers will be entered into a monthly drawing to win a book or other library related material.
Visit us online at www.medicinelodgelibrary.com
Like us on Facebook @ Lincoln Library
Premiere Inside
School
Sports
Record
Local
Deaths
Opinion
KWIBS
Classifieds
Business Dir.
Subscribe
Ad Information
Staff
Contact Us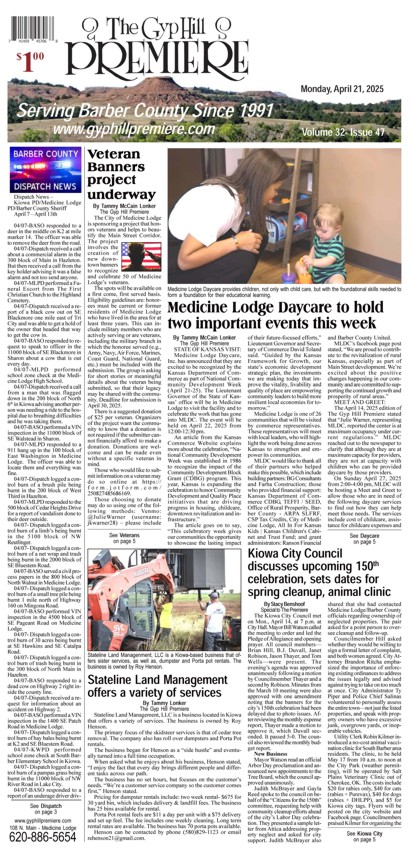 Warp Your Favorite Local Person. A Different Victim Each Week!!
Premiere letter policy
Due to the volume of letters to the editor and limited space available, The Gyp Hill Premiere has revised its letter policy effective immediately.
To be eligible for publication in this paper, a letterís content must meet the following criteria: 1) contain information of interest to the community that directly affects the City of Medicine Lodge, Barber County or its citizens; 2) contain information on local public policy; or 3) contain a response or correction of content published in this paper for purposes of clarification.
Letters in response to items published on the opinion pages may or may not be published, depending on their relevance to the community or content involved. Viewpoints expressed on these pages are the opinions of the authors, and do not reflect the viewpoints of The Gyp Hill Premiere or its staff.
Letters to the editor must be typed or neatly handwritten, contain a signature, return address and telephone number for verification purposes. Letters submitted via e-mail are also welcome, provided that they contain a valid reply-to address.
Letters will be published exactly as written, however The Gyp Hill Premiere reserves the right to edit letters for length, spelling, context or clarity as deemed necessary.
All letters are subject to review and will be published at the discretion of our editorial staff. Letters that contain offensive or defamatory language, libelous statements or content that is generally intended to defame will not be published.
Letters that contain obvious factual errors will not be published, however The Gyp Hill Premiere is not responsible for validating the content of letters.
We also reserve the right not to publish letters that do not meet our publication deadline of noon on Friday.
A copy of this policy is available at The Gyp Hill Premiere office at 110 N. Main Street during normal business hours.