Opinion / Religion - April 21, 2014
---
Iím hooked on Pawn Stars. Itís a show on the History Channel about a Las Vegas pawn shop. I used to think that a pawn shop was simply a den of thieves, but the program shows that it can be a legitimate business, although in Las Vegas you probably donít want to know what these people need the money for. The family members that run the pawn shop are a bit crude, but likable. They try to offer a price where they can double their money, although it doesnít always work out. The lure is that you never know what will come through the door.
The pawn stars will sometimes call in an expert on items theyíre not sure about. The expert will invariably ask, "What are your concerns about the item?" The obvious answer is two-fold, "Is it authentic, and whatís it worth?" Valuable items are sometimes counterfeited. Occasionally, the expert will be so impressed with an item that he will say, "Donít let this item walk, buy it." In other words, pay him what he wants; you may never get another chance to buy anything like it.
Similarly, we are all faced with the same two questions concerning the Lord Jesus Christ. Is He the authentic Son of God and Savior of the world, and if so, what is He worth? Thankfully, we have more than one expert witness. The Apostles were eyewitnesses of His Glory, and all went to their deaths proclaiming the Gospel. Furthermore, we all know Christians who, though not perfect, possess an obviously genuine faith. But by far the greatest witness is the Holy Spirit of God. He not only reveals Godís Truth to us, He indwells us for the ongoing power to live it.
Certainly, there are those who do not believe in the authenticity of Jesus Christ and the message of the Gospel, but far worse are those who would believe, yet are unwilling to give Him their lives, and in effect let Him walk out the door. Thereís no guarantee, my friend, that youíll ever get another chance. Those who plan on repenting at midnight usually die at eleven. A friend of mine, under great conviction, once said, "If I donít do it now, I might never do it." She was wonderfully saved, and today serves Christ faithfully.
Mike Henry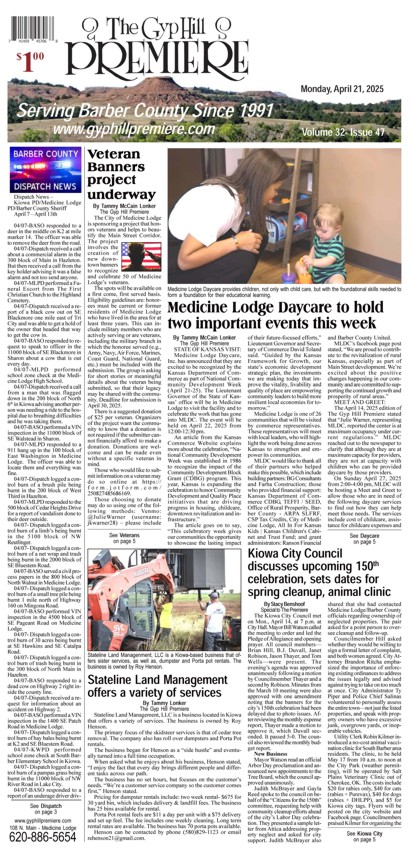 Premiere Inside
School
Sports
Record
Local
Deaths
Opinion
KWIBS
Classifieds
Business Dir.
Subscribe
Ad Information
Staff
Contact Us

Warp Your Favorite Local Person. A Different Victim Each Week!!
Premiere letter policy
Due to the volume of letters to the editor and limited space available, The Gyp Hill Premiere has revised its letter policy effective immediately.
To be eligible for publication in this paper, a letterís content must meet the following criteria: 1) contain information of interest to the community that directly affects the City of Medicine Lodge, Barber County or its citizens; 2) contain information on local public policy; or 3) contain a response or correction of content published in this paper for purposes of clarification.
Letters in response to items published on the opinion pages may or may not be published, depending on their relevance to the community or content involved. Viewpoints expressed on these pages are the opinions of the authors, and do not reflect the viewpoints of The Gyp Hill Premiere or its staff.
Letters to the editor must be typed or neatly handwritten, contain a signature, return address and telephone number for verification purposes. Letters submitted via e-mail are also welcome, provided that they contain a valid reply-to address.
Letters will be published exactly as written, however The Gyp Hill Premiere reserves the right to edit letters for length, spelling, context or clarity as deemed necessary.
All letters are subject to review and will be published at the discretion of our editorial staff. Letters that contain offensive or defamatory language, libelous statements or content that is generally intended to defame will not be published.
Letters that contain obvious factual errors will not be published, however The Gyp Hill Premiere is not responsible for validating the content of letters.
We also reserve the right not to publish letters that do not meet our publication deadline of noon on Friday.
A copy of this policy is available at The Gyp Hill Premiere office at 110 N. Main Street during normal business hours.