Opinion / Religion - August 13, 2018
---
Mike's World View

by Mike Henry

I

Iíve never been very impressed with the "Iím not a Christian because of all the hypocrites" argument. I think itís just an excuse. If your faith is based on how Christians treat you, then itís only a matter of time before you quit.

Now, it is important that we see something of the life-changing power of the Gospel in the lives of others, but to hold every Christian to a standard of perfection relative to me is both unwise and unrealistic. Our Christian faith should rest on the sure foundation of the Word, the finished work of Christ, and the promises of God.

I have had Christian friends, family, and parishioners greatly disappoint me (lie, cheat, steal, gossip, backbite, etc.) through the years, but my faith is not based on their behavior. My faith is rooted and grounded in a personal relationship with Jesus Christ. Remember the old hymn "I Must Tell Jesus"?

I daresay that 90% of the Christians Iíve known in my life, from a variety of churches, are genuine, and I would trust them with everything I have. Thatís a beautiful thing. The other 10% are either lacking in spiritual maturity or lacking The Holy Spirit.

We must understand that Christian maturity is a process. Just this week I had to apologize to my wife for a harsh word. We should all be making progress, but perfection awaits the life to come.

We should never use the sins of others as an excuse for our own. Mom used to scold us boys, saying, "You donít worry about your brother; you worry about yourself." Mom was right.
Premiere Inside
School
Sports
Record
Local
Deaths
Opinion
KWIBS
Classifieds
Business Dir.
Subscribe
Ad Information
Staff
Contact Us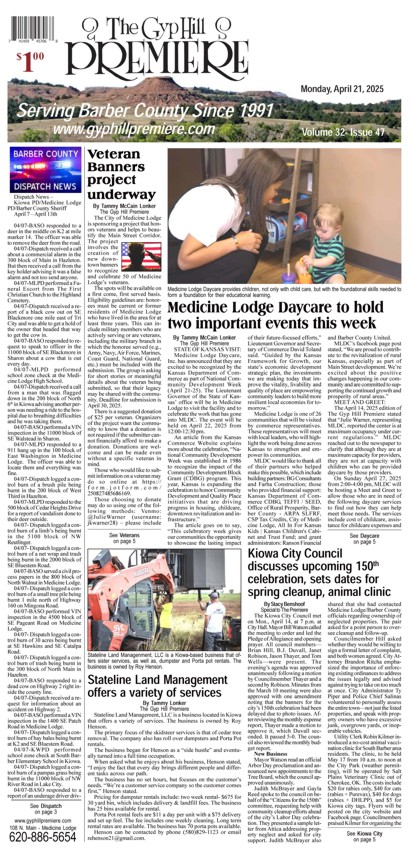 Warp Your Favorite Local Person. A Different Victim Each Week!!
Premiere letter policy
Due to the volume of letters to the editor and limited space available, The Gyp Hill Premiere has revised its letter policy effective immediately.
To be eligible for publication in this paper, a letterís content must meet the following criteria: 1) contain information of interest to the community that directly affects the City of Medicine Lodge, Barber County or its citizens; 2) contain information on local public policy; or 3) contain a response or correction of content published in this paper for purposes of clarification.
Letters in response to items published on the opinion pages may or may not be published, depending on their relevance to the community or content involved. Viewpoints expressed on these pages are the opinions of the authors, and do not reflect the viewpoints of The Gyp Hill Premiere or its staff.
Letters to the editor must be typed or neatly handwritten, contain a signature, return address and telephone number for verification purposes. Letters submitted via e-mail are also welcome, provided that they contain a valid reply-to address.
Letters will be published exactly as written, however The Gyp Hill Premiere reserves the right to edit letters for length, spelling, context or clarity as deemed necessary.
All letters are subject to review and will be published at the discretion of our editorial staff. Letters that contain offensive or defamatory language, libelous statements or content that is generally intended to defame will not be published.
Letters that contain obvious factual errors will not be published, however The Gyp Hill Premiere is not responsible for validating the content of letters.
We also reserve the right not to publish letters that do not meet our publication deadline of noon on Friday.
A copy of this policy is available at The Gyp Hill Premiere office at 110 N. Main Street during normal business hours.