Opinion / Religion - June 27, 2016
---
Protecting Our Independence
Edward Cross, President
Kansas Independent
Oil and Gas Association
July is a special month for many Americans. Most of us will eagerly take a break from our busy summer schedules to once again celebrate Independence Day. There will be much fanfare with fireworks, parades, picnics, and other patriotic events celebrating our countryís independence from Great Britain in 1776. But when the festivities have ended, only a few will have reflected upon the true meaning of independence and the role it has played in shaping our nationís character.
Our founding fathers made it clear in the Declaration of Independence that all men were entitled to certain unalienable rights. Among those rights are life, liberty, and the pursuit of happiness. It is easy to take for granted those rights and freedoms we share as Americans. However, it is important that we understand and appreciate the hard work and sacrifice that our forefathers made in order for us to enjoy the luxury of freedom. Freedom and independence are cornerstones in the foundation of our countryís heritage. The independent ideology of the American people is a fundamental element of our society and a key to our nationís prosperity. We must protect that independence at all cost.
One important freedom we must protect is our free enterprise system. American business, and certainly the oil and gas industry, was founded upon the ideology of independence and free-market principles. Those principles allow business to be governed by the laws of supply and demand without government interference and excessive regulation. The dynamic free market has led to innovation and wealth creation, and has established an economic environment where hard work is rewarded.
But now, amidst economic turmoil, it seems free-market capitalism and independence are under attack. Governmentís heavy-handed intervention into businesses and industries is unprecedented. It is alarmingly obvious that the increased governmental control is dragging on the economy. Where will it stop?
The oil and gas industry seems to always be in the crosshairs of government. Even when our industry is on its knees in a low oil and natural gas price market, we are constantly battling excessive environmental regulation, drilling restrictions, and crippling tax proposals to fund politically expedient, yet questionably viable, federal energy policy initiatives. Increasing taxes and regulations results in fewer jobs because businesses spend their resources on tax burdens and regulatory compliance instead of job creation. When tax expenditures and regulatory costs increase more than the real economy, the results are destructive to economic growth. The wrong governmental policy framework generates wrong policy and that is what we have been seeing in Washington. We are not likely to see significant economic growth until we see change in basic policy. A new Administration could give our economy a quick and substantial boost by encouraging, rather than blocking, the development of Americaís vast energy resources, and by stopping the propagation of endless regulations that burden business and, by imposing needless costs, make us all poorer. Even if those dubious energy and regulatory policy decisions were to become law, the revenues would not come close to satisfying the Presidentís appetite for bigger government.
In his 1946 Independence Day speech, John F. Kennedy said, "Eternal vigilance is the price of liberty." Those words were never so true. Being mindful of the erosion of our independence and free-market system through excessive regulation and government interference cannot be over emphasized. We must, now more than ever, remain steadfast in our resolve to protect and preserve the precious independence that has molded our nationís character.
Premiere Inside
School
Sports
Record
Local
Deaths
Opinion
KWIBS
Classifieds
Business Dir.
Subscribe
Ad Information
Staff
Contact Us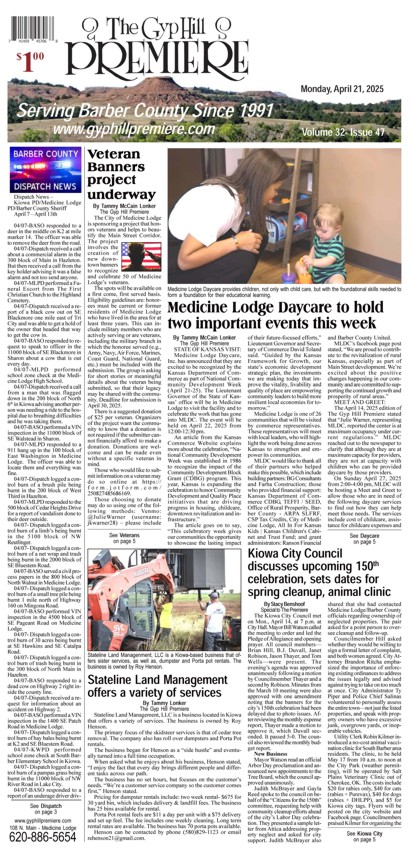 Warp Your Favorite Local Person. A Different Victim Each Week!!
Premiere letter policy
Due to the volume of letters to the editor and limited space available, The Gyp Hill Premiere has revised its letter policy effective immediately.
To be eligible for publication in this paper, a letterís content must meet the following criteria: 1) contain information of interest to the community that directly affects the City of Medicine Lodge, Barber County or its citizens; 2) contain information on local public policy; or 3) contain a response or correction of content published in this paper for purposes of clarification.
Letters in response to items published on the opinion pages may or may not be published, depending on their relevance to the community or content involved. Viewpoints expressed on these pages are the opinions of the authors, and do not reflect the viewpoints of The Gyp Hill Premiere or its staff.
Letters to the editor must be typed or neatly handwritten, contain a signature, return address and telephone number for verification purposes. Letters submitted via e-mail are also welcome, provided that they contain a valid reply-to address.
Letters will be published exactly as written, however The Gyp Hill Premiere reserves the right to edit letters for length, spelling, context or clarity as deemed necessary.
All letters are subject to review and will be published at the discretion of our editorial staff. Letters that contain offensive or defamatory language, libelous statements or content that is generally intended to defame will not be published.
Letters that contain obvious factual errors will not be published, however The Gyp Hill Premiere is not responsible for validating the content of letters.
We also reserve the right not to publish letters that do not meet our publication deadline of noon on Friday.
A copy of this policy is available at The Gyp Hill Premiere office at 110 N. Main Street during normal business hours.