Opinion / Religion - May 13, 2013
---
This may surprise you, but I hope Iran gets a nuclear weapon. Itís probably the only sure way to keep the U.S. from invading yet another Arab country and getting involved in another ill-advised war.
Iran wouldnít be the first "evil empire" to get a nuclear weapon, and they havenít blown up the world yet. I would remind you that the only nation to ever use the atom bomb on civilian populations was the United States, although I believe it was justified at the time.
The leaders of Iran may be crazy, but theyíre not stupid. I donít think they would commit national suicide for a nuclear shot at Israel. They would most likely use a nuke only to "saber-rattle" and, more importantly, prevent a U.S. invasion. Who can blame them for that? It could actually help bring a "cold war" style peace in the Middle East. Donít forget that Israel and the United States have vastly superior nuclear weapons aimed at Iran.
America has spent far too much blood and treasure in the "snake pit" of the Middle East. We need to develop our own energy in North America and let the Arabs fight among themselves. We also need to abandon the naÔve notion that democracy will work in Islamic nations. Pro-American dictators (those who take our foreign aid) seem to work best, at least until we help depose them.
Does a nation as morally, spiritually, and financially bankrupt as America have any business telling other nations what to do? A little humility and self-examination might be in order.
I am not an isolationist. I believe there are things that we can and should do globally, like supporting Israel. Iím convinced, however, if we were wiser, we could accomplish more by doing less. This will not happen until we elect someone like Rand Paul as president.
Mike Henry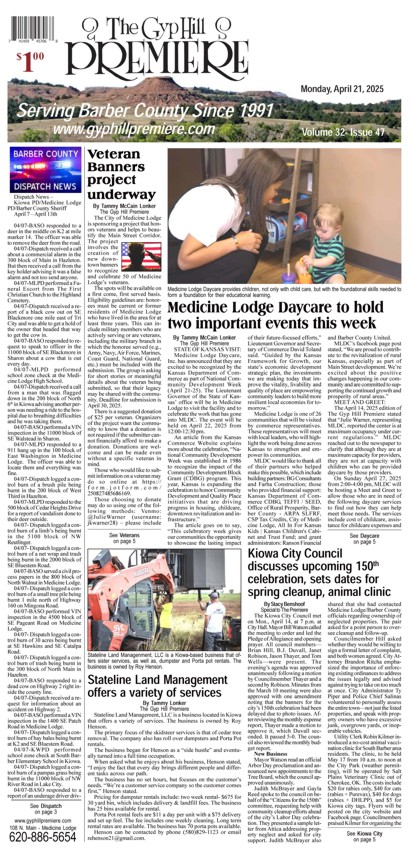 Premiere Inside
School
Sports
Record
Local
Deaths
Opinion
KWIBS
Classifieds
Business Dir.
Subscribe
Ad Information
Staff
Contact Us

Warp Your Favorite Local Person. A Different Victim Each Week!!
Premiere letter policy
Due to the volume of letters to the editor and limited space available, The Gyp Hill Premiere has revised its letter policy effective immediately.
To be eligible for publication in this paper, a letterís content must meet the following criteria: 1) contain information of interest to the community that directly affects the City of Medicine Lodge, Barber County or its citizens; 2) contain information on local public policy; or 3) contain a response or correction of content published in this paper for purposes of clarification.
Letters in response to items published on the opinion pages may or may not be published, depending on their relevance to the community or content involved. Viewpoints expressed on these pages are the opinions of the authors, and do not reflect the viewpoints of The Gyp Hill Premiere or its staff.
Letters to the editor must be typed or neatly handwritten, contain a signature, return address and telephone number for verification purposes. Letters submitted via e-mail are also welcome, provided that they contain a valid reply-to address.
Letters will be published exactly as written, however The Gyp Hill Premiere reserves the right to edit letters for length, spelling, context or clarity as deemed necessary.
All letters are subject to review and will be published at the discretion of our editorial staff. Letters that contain offensive or defamatory language, libelous statements or content that is generally intended to defame will not be published.
Letters that contain obvious factual errors will not be published, however The Gyp Hill Premiere is not responsible for validating the content of letters.
We also reserve the right not to publish letters that do not meet our publication deadline of noon on Friday.
A copy of this policy is available at The Gyp Hill Premiere office at 110 N. Main Street during normal business hours.