Opinion / Religion - February 19, 2018
---
Happiest Heart Day
By Jessica Wright
After years of being out of school, I forgot how big of a deal Valentineís Day is for kiddos. Now, donít get me wrong. I love Valentineís Day and I try my hardest to make sure my littlest valentines feel loved and special as well as my big valentine. I get the valentines, make sure the kids get them completed, and try to make them special. I have not bought a box of valentines for myself to give away in probably 15 years. That changed this year as I bought a box of valentines to give to the kiddos in my class.
I loved it. The kids are already so special to me, so I greatly enjoyed being able to get them a little something. What I wasnít expecting was also getting a bag of valentines myself! Iím still a new fixture so I wasnít expecting anything at all. Probably the cutest thing I received was a card that said, "Roses are red, violets are blue, what a good teacher you are!" I had the biggest grin on my face when I saw that.
Then, towards the end of the day, chaos. There were tons and tons of goodies for the kids throughout the school. Not to mention the Valentineís Day parties! I left the school that day absolutely exhausted but so incredibly grateful. As we get older, we get cynical when it comes to love. Valentineís day turns into a couples kind of situation and we forget that everyone can be our valentine. The kids shared their love equally that day, with everyone. That, I think, is what we should strive to do every day.
My kids were excited to share all of their valentines with me and Corbin went as far as making sure Lennox got to partake in the festivities as well. Wyatt made an adorable handprint heart and stated in his valentine to me that he loved me because I took him on a cruise ship. This of course, did not happen, but it was adorable all the same. Lennox was generous with his hugs, and the entire family enjoyed a dinner that none of us had to cook: wings and pizza from Pizza Hut.
Letís all try to see things through a childís eyes. Love freely and often because you never know who could use that love the most. Have a wonderful week everyone!!
Premiere Inside
School
Sports
Record
Local
Deaths
Opinion
KWIBS
Classifieds
Business Dir.
Subscribe
Ad Information
Staff
Contact Us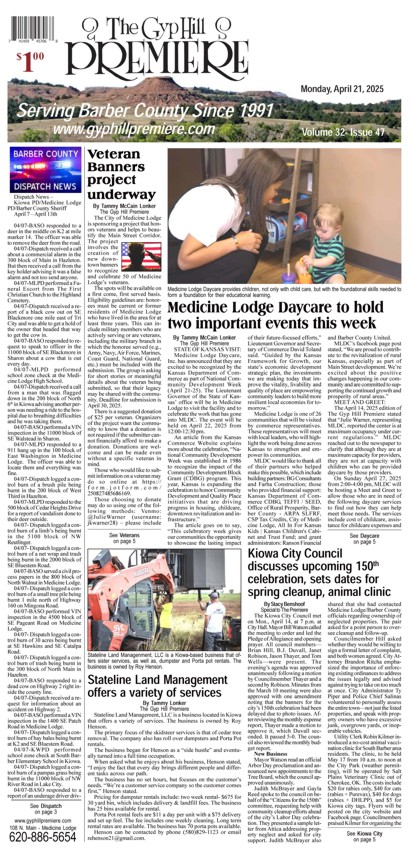 Warp Your Favorite Local Person. A Different Victim Each Week!!
Premiere letter policy
Due to the volume of letters to the editor and limited space available, The Gyp Hill Premiere has revised its letter policy effective immediately.
To be eligible for publication in this paper, a letterís content must meet the following criteria: 1) contain information of interest to the community that directly affects the City of Medicine Lodge, Barber County or its citizens; 2) contain information on local public policy; or 3) contain a response or correction of content published in this paper for purposes of clarification.
Letters in response to items published on the opinion pages may or may not be published, depending on their relevance to the community or content involved. Viewpoints expressed on these pages are the opinions of the authors, and do not reflect the viewpoints of The Gyp Hill Premiere or its staff.
Letters to the editor must be typed or neatly handwritten, contain a signature, return address and telephone number for verification purposes. Letters submitted via e-mail are also welcome, provided that they contain a valid reply-to address.
Letters will be published exactly as written, however The Gyp Hill Premiere reserves the right to edit letters for length, spelling, context or clarity as deemed necessary.
All letters are subject to review and will be published at the discretion of our editorial staff. Letters that contain offensive or defamatory language, libelous statements or content that is generally intended to defame will not be published.
Letters that contain obvious factual errors will not be published, however The Gyp Hill Premiere is not responsible for validating the content of letters.
We also reserve the right not to publish letters that do not meet our publication deadline of noon on Friday.
A copy of this policy is available at The Gyp Hill Premiere office at 110 N. Main Street during normal business hours.