Opinion / Religion - January 21, 2019
---
Mike's World View by Mike Henry
Pontius Pilate cynically asked the question of the ages: "What is truth?" The irony of the ages was that the very embodiment of Truth stood before him.
Ever since our first parents ate of the tree of the knowledge of good and evil we have had difficulty discerning good from evil. In fact, sometimes we get it completely wrong. The Old Testament prophets repeatedly warned, "Woe to those who call good evil and evil good." That problem is still with us today. Those who promote and celebrate all manner of deviant sexual behavior today, as well as the gruesome dismembering of innocent little babies in the womb, are called good, and those who believe in the soul-saving power of the Gospel and the righteousness of Jesus Christ are called evil.
Jesus came to clear up the confusion over good and evil. The truth of the matter is that we all are worse sinners than we ever imagined. If you donít believe it, read Matt. 5:21-48. Even so, God still loves us enough to die for us on a cruel cross and make the perfect sacrifice for our sin. That, my friend, is the Truth of the ages. There is a catch, however; believing means you must stop calling evil good and fully embrace the righteousness of Jesus Christ.
To my unbelieving friend I would say, "Thanks for your opinion on good and evil; itís novel and interesting, but I think Iíll stick with the timeless truths of the Word of God."
Iím afraid there are many Pilates today who cynically ask, "What is truth?" when the Truth is right before them in Godís Holy Word, the Bible. The final irony is that you and I must judge Jesus on this side of eternity, and He in turn will judge us on the other side. I think we need His offer of mercy and grace.
Check out: Isa. 5:20, I John 1:5-10, Matt. 16:13-17, II Cor. 5:10-11
Premiere Inside
School
Sports
Record
Local
Deaths
Opinion
KWIBS
Classifieds
Business Dir.
Subscribe
Ad Information
Staff
Contact Us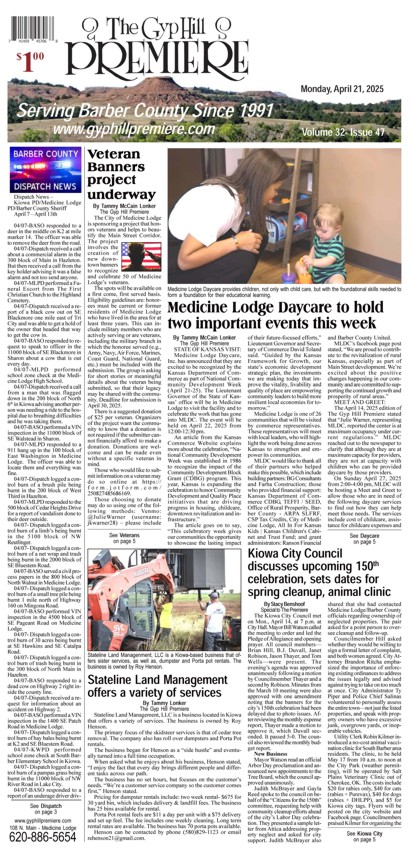 Warp Your Favorite Local Person. A Different Victim Each Week!!
Premiere letter policy
Due to the volume of letters to the editor and limited space available, The Gyp Hill Premiere has revised its letter policy effective immediately.
To be eligible for publication in this paper, a letterís content must meet the following criteria: 1) contain information of interest to the community that directly affects the City of Medicine Lodge, Barber County or its citizens; 2) contain information on local public policy; or 3) contain a response or correction of content published in this paper for purposes of clarification.
Letters in response to items published on the opinion pages may or may not be published, depending on their relevance to the community or content involved. Viewpoints expressed on these pages are the opinions of the authors, and do not reflect the viewpoints of The Gyp Hill Premiere or its staff.
Letters to the editor must be typed or neatly handwritten, contain a signature, return address and telephone number for verification purposes. Letters submitted via e-mail are also welcome, provided that they contain a valid reply-to address.
Letters will be published exactly as written, however The Gyp Hill Premiere reserves the right to edit letters for length, spelling, context or clarity as deemed necessary.
All letters are subject to review and will be published at the discretion of our editorial staff. Letters that contain offensive or defamatory language, libelous statements or content that is generally intended to defame will not be published.
Letters that contain obvious factual errors will not be published, however The Gyp Hill Premiere is not responsible for validating the content of letters.
We also reserve the right not to publish letters that do not meet our publication deadline of noon on Friday.
A copy of this policy is available at The Gyp Hill Premiere office at 110 N. Main Street during normal business hours.