Opinion / Religion - December 5, 2016
---
The Book Edge
By April Hernandez
Lincoln Library Fact: The Library is offering a free Christmas Craft Craze class given by Ruth Shelite. The class will be held on December 20 from 1:00 pm to 2:30 pm in the Library meeting room. Come join Ruth and make Christmas ornaments to hang on your tree. Class space is limited to 20 so come into the Library and sign up early. Children must be in first grade and above to participate without a parent.
StoryTime: The theme was Mice. Robin read I Can Splash! Judy read A Little Bit of Love, If You Give a Mouse a Cookie, The Gruffalo, Stanley in the Dark, and Such a Little Mouse. Judy and the children acted out Hickory, Dickory, Dock using our mouse clock. They also did the fingerplay Five Little Mice. Each child took home a Hickory, Dickory, Dock coloring page.
Janís Time for Trivia: In Dickensí A Christmas Carol, what character was originally going to be called "Little Fred"?
New at the Library:
Adult Fiction:
No Manís Land by David Baldacci. The fourth book in the John Puller series. John must investigate his motherís disappearance thirty years ago when his father who is suffering from dementia is accused of killing her.
Young Adult Fiction:
Heartless by Marissa Meyer. A prequel to Aliceís Adventures in Wonderland. This book takes us back to when the Queen of Hearts was a young girl and all she wanted was to bake and fall in love. She falls in love with the Court Jester but fate has other plans.
Juvenile Fiction:
Rush Revere and the Presidency by Rush Limbaugh. Visit the first three Presidents of the United States and their wives. Relive the important decisions that shaped our new country while time-traveling with Rush Revere.
Library Happenings: StoryTime December 6th & 13th at 10 am. Adult Coloring Club December 19 at 5:30 pm. Christmas Craft Craze December 20 at 1 pm.
Visit us @ www.medicinelodgelibrary.com
View our catalog @ www.medicinelodgelibrary.follettdestiny.com
Like us on Facebook @ Lincoln Library
Premiere Inside
School
Sports
Record
Local
Deaths
Opinion
KWIBS
Classifieds
Business Dir.
Subscribe
Ad Information
Staff
Contact Us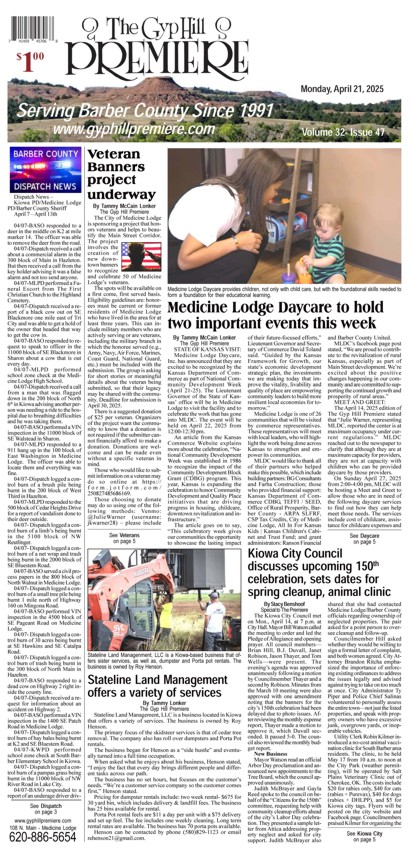 Warp Your Favorite Local Person. A Different Victim Each Week!!
Premiere letter policy
Due to the volume of letters to the editor and limited space available, The Gyp Hill Premiere has revised its letter policy effective immediately.
To be eligible for publication in this paper, a letterís content must meet the following criteria: 1) contain information of interest to the community that directly affects the City of Medicine Lodge, Barber County or its citizens; 2) contain information on local public policy; or 3) contain a response or correction of content published in this paper for purposes of clarification.
Letters in response to items published on the opinion pages may or may not be published, depending on their relevance to the community or content involved. Viewpoints expressed on these pages are the opinions of the authors, and do not reflect the viewpoints of The Gyp Hill Premiere or its staff.
Letters to the editor must be typed or neatly handwritten, contain a signature, return address and telephone number for verification purposes. Letters submitted via e-mail are also welcome, provided that they contain a valid reply-to address.
Letters will be published exactly as written, however The Gyp Hill Premiere reserves the right to edit letters for length, spelling, context or clarity as deemed necessary.
All letters are subject to review and will be published at the discretion of our editorial staff. Letters that contain offensive or defamatory language, libelous statements or content that is generally intended to defame will not be published.
Letters that contain obvious factual errors will not be published, however The Gyp Hill Premiere is not responsible for validating the content of letters.
We also reserve the right not to publish letters that do not meet our publication deadline of noon on Friday.
A copy of this policy is available at The Gyp Hill Premiere office at 110 N. Main Street during normal business hours.