Opinion / Religion - September 25, 2023
---
"University" was accurately descriptive in a prior era. Our higher educational institutions these days need another descriptor. Perhaps a newly invented one would be appropriate. How about "Divisiversity"? A place so diverse and sensitive where knowledge is shared not to make good sense of it all or unify, but where info is used to indoctrinate what is nonsensical, causing inevitable divisiveness in future leaders placed in positions of power and persuasion. So, instead of KU it becomes more honestly KD-Kansas Divisiversity. Now, the Ivy League would effectively have the biggest Ds because they leave bigger footprints behind while stomping what is good with each new class of indoctrinated students, full of Wokeism, Marxism, CRT, transgenderism, climatism and other very destructive gobbledygookisms. When the LORDGOD and His Word, the language of Truth, are no longer welcome, there can be no University truthfully achieved. Maybe the Ivy League needs renamed the Serpent League, or the League of Apple's Firstbite. The current situation is so unnecessary, but necessarily a consequence when LORDGOD and His language of Truth are disinvited. Romans 1 stuff. Nothing new. Old as sin. Good thing truth is older than time and always ready. Turn to the Truth and things will be righted eventually. We need SAVIOR JESUS!
Kiowa Southern
Baptist Church
7th and Main
Sunday School 10:00 a.m.
Worship Time 11:00 a.m.
AWANA 5:00-6:30 p.m.
Phone 620-825-4512
Brian Nielson - Pastor

Premiere Inside
School
Sports
Record
Local
Deaths
Opinion
KWIBS
Classifieds
Business Dir.
Subscribe
Ad Information
Staff
Contact Us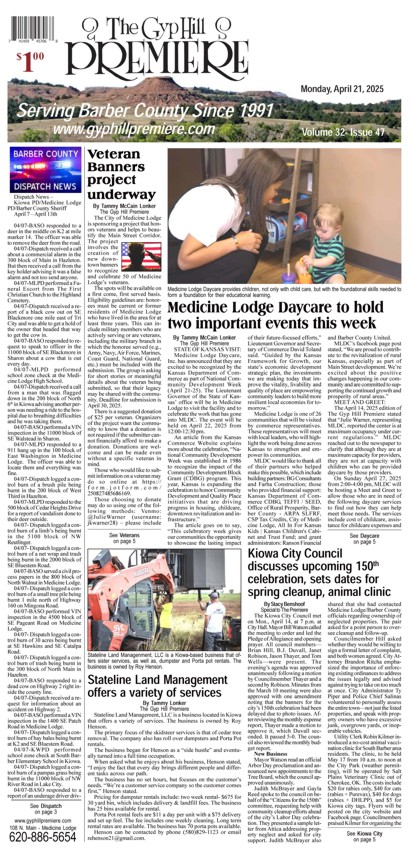 Premiere letter policy
To be eligible for publication in this paper, a letter's content must meet the following criteria: 1) contain information of interest to the community that directly affects the area of Barber County or its citizens; 2) contain information on local public policy; or 3) contain a response or correction of content published in this paper for purposes of clarification.
Letters in response to items published on the opinion pages may or may not be published, depending on their relevance to the community or content involved. Viewpoints expressed on these pages are the opinions of the authors, and do not reflect the viewpoints of The Gyp Hill Premiere or its staff.
Letters to the editor must be typed or neatly handwritten, contain a signature, return address and telephone number for verification purposes. Letters submitted via e-mail are also welcome, provided that they contain a valid reply-to address.
Letters will be published exactly as written, however The Gyp Hill Premiere reserves the right to edit letters for length, spelling, context or clarity as deemed necessary.
All letters are subject to review and will be published at the discretion of our editorial staff. Letters that contain offensive or defamatory language, libelous statements or content that is generally intended to defame will not be published.
Letters that contain obvious factual errors will not be published, however The Gyp Hill Premiere is not responsible for validating the content of letters.
We also reserve the right not to publish letters that do not meet our publication deadline of noon on Thursday.
A copy of this policy is available at The Gyp Hill Premiere office at 108 N. Main Street during normal business hours.