Opinion / Religion - August 24, 2015
---
Ministerís Minutes
Godís love can
create a scandal

By Paul Stephens
United Methodist Church
Jesusí love for people can be deemed outrageous and scandalous sometimes by church folks.
Brennan Manning, in his book, Abbaís Child, references Hans Kung, saying that Jesus was not hated and despised by the religious folks because he cared about the sick and the poor or the hurting. Lots of people care in these situations.
But one of the things that did really hack off some of the religious folks in Jesusí day was JESUSí LOVE FOR OBVIOUS MORAL FAILURES. They thought, How can Jesus love and show favor to THOSE people? But he did!
Jesus loved all people. Even those who were living obviously immoral lives.
He loved them. Genuinely. Helpingly. Showing kindness. He was even known as their friend, actually enjoying sitting down at a meal and eating with them.
God loves everybody. Including people living immoral lives. Manning writes, ďBecause the shining sun and the falling rain are given both to those who love God and to those who reject God, the compassion of the Son embraces those who are still living in sin.Ē
God hopes they will come back. Jesus hopes they will come back. God keeps loving them, hoping that they will.
Jesus loved prostitutes. He was their friend. He loves you too. He is your friend, whatever your life is like. And he loves you, even when we at the church donít get it right. Even if it seems scandalous to some, Jesus will still love you.
Because his love is not based on how good we are. Itís based on how good he is. And no scandal is gonna change his mind about you.
He loves you.


Premiere Inside
School
Sports
Record
Local
Deaths
Opinion
KWIBS
Classifieds
Business Dir.
Subscribe
Ad Information
Staff
Contact Us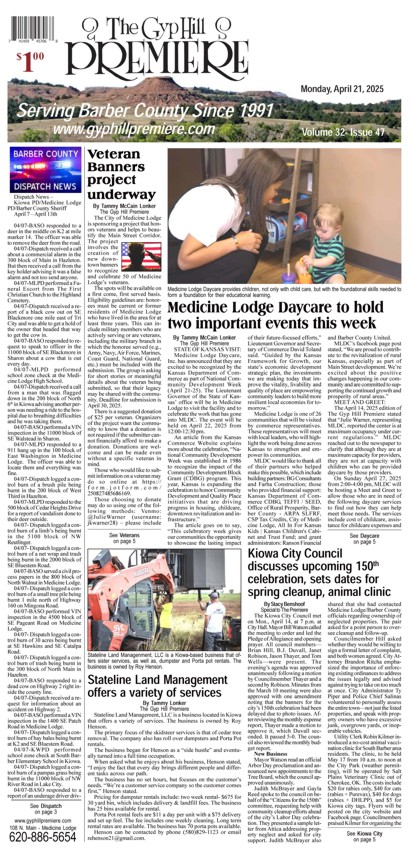 Warp Your Favorite Local Person. A Different Victim Each Week!!
Premiere letter policy
Due to the volume of letters to the editor and limited space available, The Gyp Hill Premiere has revised its letter policy effective immediately.
To be eligible for publication in this paper, a letterís content must meet the following criteria: 1) contain information of interest to the community that directly affects the City of Medicine Lodge, Barber County or its citizens; 2) contain information on local public policy; or 3) contain a response or correction of content published in this paper for purposes of clarification.
Letters in response to items published on the opinion pages may or may not be published, depending on their relevance to the community or content involved. Viewpoints expressed on these pages are the opinions of the authors, and do not reflect the viewpoints of The Gyp Hill Premiere or its staff.
Letters to the editor must be typed or neatly handwritten, contain a signature, return address and telephone number for verification purposes. Letters submitted via e-mail are also welcome, provided that they contain a valid reply-to address.
Letters will be published exactly as written, however The Gyp Hill Premiere reserves the right to edit letters for length, spelling, context or clarity as deemed necessary.
All letters are subject to review and will be published at the discretion of our editorial staff. Letters that contain offensive or defamatory language, libelous statements or content that is generally intended to defame will not be published.
Letters that contain obvious factual errors will not be published, however The Gyp Hill Premiere is not responsible for validating the content of letters.
We also reserve the right not to publish letters that do not meet our publication deadline of noon on Friday.
A copy of this policy is available at The Gyp Hill Premiere office at 110 N. Main Street during normal business hours.