Opinion / Religion - July 25, 2016
---
Dear Editor,
On Tuesday, July 12th, the community came out to see Medicine Lodge's famous home-town crusader who came back to see what we've been up to. Carry A. Nation, who was being portrayed by Ellie of Ellie Presents from Chicago, did just that.
Some of you came to see if she was that loving, caring mother and grandmother who cared deeply about the evils of intoxication and tobacco. Some of you may have been transported to a time so different from our own when Demon Rum was an evil that could be fought with a hatchet because the ballot box was not an option. Whatever reason you came for, you certainly came and shared a good time. Both bars, Ryno's and Finnigan's, were packed, and even with the extreme heat, we had a great turnout to watch Carry being placed in the old county jail at the Stockade. The temperance rally and speech on the corner by The Grand Hotel, before marching down to Finnigan's Bar & Grill, grabbed the attention of all ages as well.
Your outpouring of monetary sponsorship, great coverage in our local Gyp Hill Premiere newspaper, the water bottles and ice that were donated by EcoWater Systems and Sonic Drive-In, volunteers, and certainly our local sheriff, Justin Rugg, was greatly appreciated. Certainly, everyone who took part, or just came and observed, deserve a HUGE 'Thank You."
Sincerely,
Mariann Jarboe
We are always amazed and humbled to see our community passion and response to the mission of FGBR. With our auction so soon after our residence remodel with the help of World Mission Builders, we had only a few weeks to advertise and gather items donated for the auction. With our local economy still recovering from the dramatic drop in oil price, the drop in wheat price, and the Anderson Creek Fire there was uncertainty of whether this years auction would be successful. But God shows us again that his blessings are not affected by our economy. With the hamburgers being donated, bread and condiments donated, cooks donating their time, and auctioneer donating his time the evening was a great success. We had over 115 people show up, over 120 items donated, and raised over $9,300!
We had everything from pies that sold for $90 to bracelets that sold for $900. The most touching thing I saw that evening was a $200 gift certificate to our local meat store that was bought for over $200 and then donated to FGBR. We would like to thank everyone for their continued prayers and support in helping us give the tools to young men that they can use to shape a God honoring character of a man.
God Bless,
Michael Simpson
Freedom Gates Boys Ranch
Premiere Inside
School
Sports
Record
Local
Deaths
Opinion
KWIBS
Classifieds
Business Dir.
Subscribe
Ad Information
Staff
Contact Us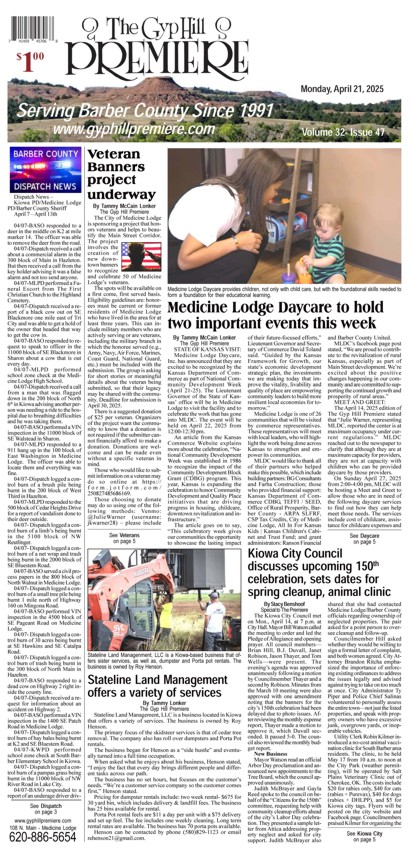 Warp Your Favorite Local Person. A Different Victim Each Week!!
Premiere letter policy
Due to the volume of letters to the editor and limited space available, The Gyp Hill Premiere has revised its letter policy effective immediately.
To be eligible for publication in this paper, a letter's content must meet the following criteria: 1) contain information of interest to the community that directly affects the City of Medicine Lodge, Barber County or its citizens; 2) contain information on local public policy; or 3) contain a response or correction of content published in this paper for purposes of clarification.
Letters in response to items published on the opinion pages may or may not be published, depending on their relevance to the community or content involved. Viewpoints expressed on these pages are the opinions of the authors, and do not reflect the viewpoints of The Gyp Hill Premiere or its staff.
Letters to the editor must be typed or neatly handwritten, contain a signature, return address and telephone number for verification purposes. Letters submitted via e-mail are also welcome, provided that they contain a valid reply-to address.
Letters will be published exactly as written, however The Gyp Hill Premiere reserves the right to edit letters for length, spelling, context or clarity as deemed necessary.
All letters are subject to review and will be published at the discretion of our editorial staff. Letters that contain offensive or defamatory language, libelous statements or content that is generally intended to defame will not be published.
Letters that contain obvious factual errors will not be published, however The Gyp Hill Premiere is not responsible for validating the content of letters.
We also reserve the right not to publish letters that do not meet our publication deadline of noon on Friday.
A copy of this policy is available at The Gyp Hill Premiere office at 110 N. Main Street during normal business hours.