Opinion / Religion - August 25, 2014
---
Dear Editor,
CID Project and "what it means to me..."
I see this as being a HUGE opportunity for the town of Medicine Lodge.
Medicine Lodge was started with one building and John Nixon has that picture. You know the old saying, "If you build it, they will come." well...it is true. If no one would have stepped forward to add another building..would we now have a Medicine Lodge, Kansas!?!
I am not on Chamber time right now! I am at my shop. I take my $364.00 every two weeks and am able to put it back into Medicine Lodge. After a lot of hard work and raising my family, I opened a shop called "My Happy Place." Everyone needs their own happy place.
I love going to towns with antique shops, refurbished stores, pickers, crafters and yes, junker stores! And I am not the only one, we have several people here that love these shops, too!
The CID Program is a beautification project at the tune of one penny on the dollar! One penny...who can argue that or call it "crap".
Winfield has beautiful planters hanging from their light poles. St. John, Lyons, and Jetmore are a few of the small towns that I have traveled to, to see their downtowns once they worked to make some improvements. Old fashioned light poles, flags, flower pots and trees have made nice curb appeals.
We here in Medicine Lodge need that, too! Something that says we are here and we are proud and that we are not going anywhere else!
I was not born and raised here but my daughter Rachael was born and raised here and Jennifer was 9 months old when we moved here.
I want this CID Project for us, for our children and grandchildren.
I am here to stay!! And yes, maybe if "we build it they will come." We need other retail businesses and maybe more pickers, crafters and yes, junkers."
Love it. Love Medicine Lodge!
Thank you,
Cindy Brungardt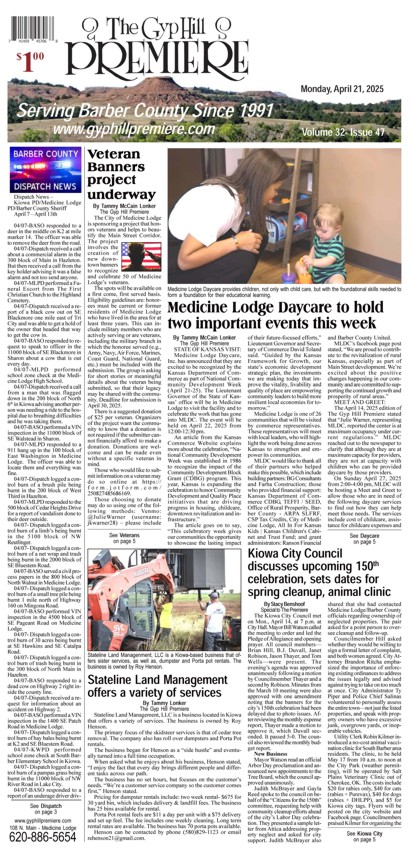 Premiere Inside
School
Sports
Record
Local
Deaths
Opinion
KWIBS
Classifieds
Business Dir.
Subscribe
Ad Information
Staff
Contact Us

Warp Your Favorite Local Person. A Different Victim Each Week!!
Premiere letter policy
Due to the volume of letters to the editor and limited space available, The Gyp Hill Premiere has revised its letter policy effective immediately.
To be eligible for publication in this paper, a letter's content must meet the following criteria: 1) contain information of interest to the community that directly affects the City of Medicine Lodge, Barber County or its citizens; 2) contain information on local public policy; or 3) contain a response or correction of content published in this paper for purposes of clarification.
Letters in response to items published on the opinion pages may or may not be published, depending on their relevance to the community or content involved. Viewpoints expressed on these pages are the opinions of the authors, and do not reflect the viewpoints of The Gyp Hill Premiere or its staff.
Letters to the editor must be typed or neatly handwritten, contain a signature, return address and telephone number for verification purposes. Letters submitted via e-mail are also welcome, provided that they contain a valid reply-to address.
Letters will be published exactly as written, however The Gyp Hill Premiere reserves the right to edit letters for length, spelling, context or clarity as deemed necessary.
All letters are subject to review and will be published at the discretion of our editorial staff. Letters that contain offensive or defamatory language, libelous statements or content that is generally intended to defame will not be published.
Letters that contain obvious factual errors will not be published, however The Gyp Hill Premiere is not responsible for validating the content of letters.
We also reserve the right not to publish letters that do not meet our publication deadline of noon on Friday.
A copy of this policy is available at The Gyp Hill Premiere office at 110 N. Main Street during normal business hours.