Opinion / Religion - November 29, 2021
---
Mike's World View by Mike Henry
I've not been a big fan of Aaron Rodgers until recently. He had the brains and the guts (something he shows on the field) to challenge the liberal elites and their cancel culture.
And spare me the moral outrage over his little deception (a trick play) by saying that he had been immunized. These liberal elites make a living on deception and half-truths. They were warning against taking the vaccine back when Trump was fast-tracking it; now they're mandating it. Wrong on both counts. These people aren't simply wrong some of the time; they are wrong all the time.
The coronavirus is not a serious threat to the young and healthy, especially highly conditioned athletes. Forcing them to take the vaccine is both medically and morally wrong, not to mention a violation of constitutional rights. "Let's go, Brandon" is the response of many Americans to this pathetic president. Moderate Democrats, if there are any, need to take back control of their party.
So, I say to Aaron Rodgers, "Keep speaking out; you're giving courage to many others to denounce and even defy these authoritarian leaders. And I'll really be a fan when you beat Tom Brady in the playoffs."

Premiere Inside
School
Sports
Record
Local
Deaths
Opinion
KWIBS
Classifieds
Business Dir.
Subscribe
Ad Information
Staff
Contact Us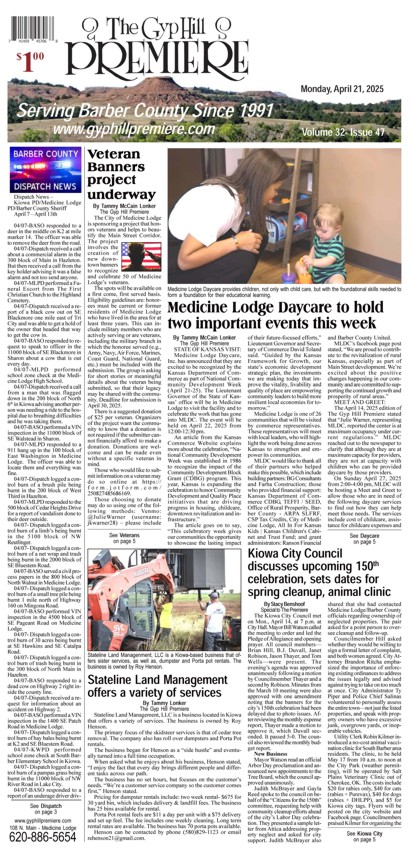 Premiere letter policy
To be eligible for publication in this paper, a letter's content must meet the following criteria: 1) contain information of interest to the community that directly affects the area of Barber County or its citizens; 2) contain information on local public policy; or 3) contain a response or correction of content published in this paper for purposes of clarification.
Letters in response to items published on the opinion pages may or may not be published, depending on their relevance to the community or content involved. Viewpoints expressed on these pages are the opinions of the authors, and do not reflect the viewpoints of The Gyp Hill Premiere or its staff.
Letters to the editor must be typed or neatly handwritten, contain a signature, return address and telephone number for verification purposes. Letters submitted via e-mail are also welcome, provided that they contain a valid reply-to address.
Letters will be published exactly as written, however The Gyp Hill Premiere reserves the right to edit letters for length, spelling, context or clarity as deemed necessary.
All letters are subject to review and will be published at the discretion of our editorial staff. Letters that contain offensive or defamatory language, libelous statements or content that is generally intended to defame will not be published.
Letters that contain obvious factual errors will not be published, however The Gyp Hill Premiere is not responsible for validating the content of letters.
We also reserve the right not to publish letters that do not meet our publication deadline of noon on Thursday.
A copy of this policy is available at The Gyp Hill Premiere office at 108 N. Main Street during normal business hours.