Opinion / Religion - May 20, 2019
---
Mike's World Views
by Mike Henry
Iím not a big fan of cremation. I know, Iím probably stuck in tradition, but thatís not always a bad thing. As Christians we believe in the resurrection of the body as described in I Cor. 15: 51-53 and I Thess. 4: 16-17. We are not destined to be disembodied spirits; thatís only a temporary state and probably only a blip in Godís eternal time zone. We are destined at Christís return to receive new perfected bodies, no longer subject to decay, suited for eternal habitation. Hallelujah!
I fail to see how burning the body and scattering the ashes supports a Christian belief in the resurrection. Itís been a pagan practice for centuries. The question is: Can it be Christianized? Some apparently think so. I know the Bible says, "dust to dust," and does not expressly forbid such. God certainly can raise cremated remains to life because he has the power and the genetic code for everyone, but why make extra work for him?
Paul likened burial to the planting of a seed. You certainly donít destroy the seed before planting it. Our Lordís body was lovingly handled and prepared for burial, and He serves as our great example in everything. In Christian burial the body is buried facing East in anticipation of the resurrection.
I agree that funerals are way too expensive, but cost should be secondary in matters of faith and conscience.
Check out Doug Enickís answer to this question on Ask the Pastor, posted at the end of this article on our website krejksns.org.
Premiere Inside
School
Sports
Record
Local
Deaths
Opinion
KWIBS
Classifieds
Business Dir.
Subscribe
Ad Information
Staff
Contact Us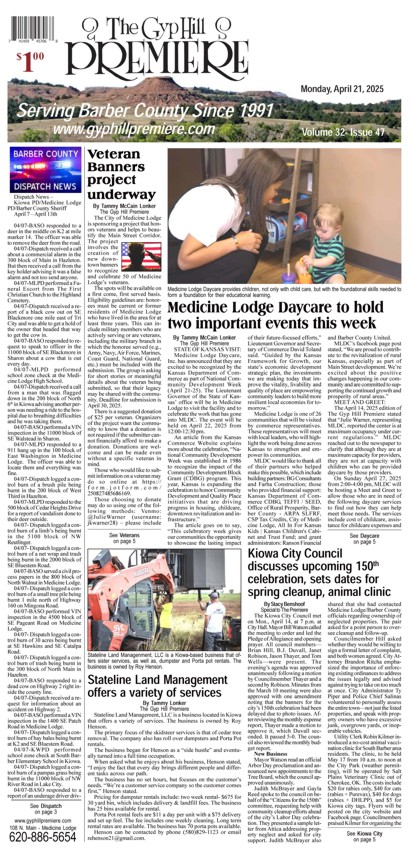 Warp Your Favorite Local Person. A Different Victim Each Week!!
Premiere letter policy
Due to the volume of letters to the editor and limited space available, The Gyp Hill Premiere has revised its letter policy effective immediately.
To be eligible for publication in this paper, a letterís content must meet the following criteria: 1) contain information of interest to the community that directly affects the City of Medicine Lodge, Barber County or its citizens; 2) contain information on local public policy; or 3) contain a response or correction of content published in this paper for purposes of clarification.
Letters in response to items published on the opinion pages may or may not be published, depending on their relevance to the community or content involved. Viewpoints expressed on these pages are the opinions of the authors, and do not reflect the viewpoints of The Gyp Hill Premiere or its staff.
Letters to the editor must be typed or neatly handwritten, contain a signature, return address and telephone number for verification purposes. Letters submitted via e-mail are also welcome, provided that they contain a valid reply-to address.
Letters will be published exactly as written, however The Gyp Hill Premiere reserves the right to edit letters for length, spelling, context or clarity as deemed necessary.
All letters are subject to review and will be published at the discretion of our editorial staff. Letters that contain offensive or defamatory language, libelous statements or content that is generally intended to defame will not be published.
Letters that contain obvious factual errors will not be published, however The Gyp Hill Premiere is not responsible for validating the content of letters.
We also reserve the right not to publish letters that do not meet our publication deadline of noon on Friday.
A copy of this policy is available at The Gyp Hill Premiere office at 110 N. Main Street during normal business hours.