Opinion / Religion - September 16, 2019
---
Mike's World Views
by Mike Henry
Two high-profile Christian leaders have publicly renounced their faith. Itís sad, but not surprising, especially when you consider what Jesus said about discipleship. Faith must be tested and proven.
Jesus taught in the parable of the sower (Matt. 13) that not everyone who starts will finish. Some will fall victim to tribulation, persecution, the deceitfulness of riches, and the cares of this world. This usually happens before the person reaches ministry level, but not always.
In the parable of the dragnet (same chapter), we learn that the gospel net catches all kinds that must be sorted out later. I remember seining for minnow bait with my uncle in Crane Creek. We would catch all kinds of things, sometimes snakes.
Perhaps instead of our modern manipulation tactics for soul winning, we should warn people about the cost of following Christ. The good news of the Gospel also includes the bad news. The world may not like you very much. If you canít bear that, donít start.
Jesus said about one of His greatest evangelist right after conversion in Acts 9:16, ďI will show him how many things he must suffer for My nameís sake.Ē Christians around the world understand this; we in America are beginning to.
It may not be over for these two deserters. They may yet call upon the name of the Lord and experience genuine salvation. John Wesley was an unsaved minister for years until the day he cried out to God and was born again.

Premiere Inside
School
Sports
Record
Local
Deaths
Opinion
KWIBS
Classifieds
Business Dir.
Subscribe
Ad Information
Staff
Contact Us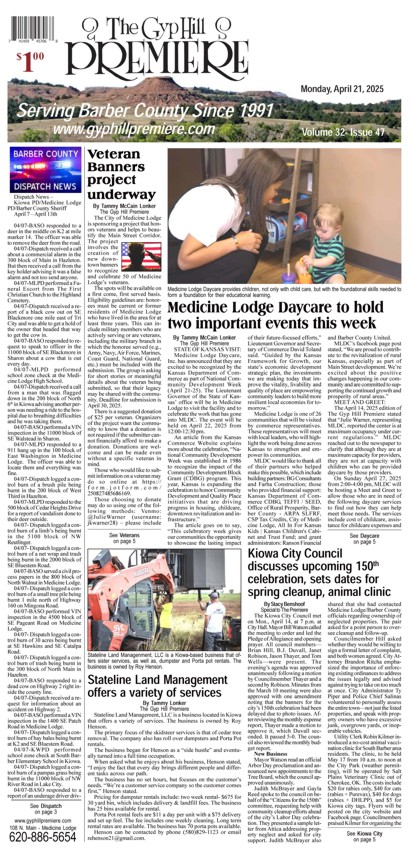 Warp Your Favorite Local Person. A Different Victim Each Week!!
Premiere letter policy
To be eligible for publication in this paper, a letterís content must meet the following criteria: 1) contain information of interest to the community that directly affects the area of Barber County or its citizens; 2) contain information on local public policy; or 3) contain a response or correction of content published in this paper for purposes of clarification.
Letters in response to items published on the opinion pages may or may not be published, depending on their relevance to the community or content involved. Viewpoints expressed on these pages are the opinions of the authors, and do not reflect the viewpoints of The Gyp Hill Premiere or its staff.
Letters to the editor must be typed or neatly handwritten, contain a signature, return address and telephone number for verification purposes. Letters submitted via e-mail are also welcome, provided that they contain a valid reply-to address.
Letters will be published exactly as written, however The Gyp Hill Premiere reserves the right to edit letters for length, spelling, context or clarity as deemed necessary.
All letters are subject to review and will be published at the discretion of our editorial staff. Letters that contain offensive or defamatory language, libelous statements or content that is generally intended to defame will not be published.
Letters that contain obvious factual errors will not be published, however The Gyp Hill Premiere is not responsible for validating the content of letters.
We also reserve the right not to publish letters that do not meet our publication deadline of noon on Thursday.
A copy of this policy is available at The Gyp Hill Premiere office at 108 N. Main Street during normal business hours.