Opinion / Religion - December 11, 2017
---
Letter to Medicine Lodge Veterans, Citizens and USD 254
Dear Kevin and Ronda,
I would like this to be an open letter to veterans, citizens and to USD 254 students, staff and Board members. I know you will appreciate the Veterans Day ceremonies more and more as Nick spends time in the service. You have already come to recognize the courage and sacrifice of both servicemen and women as well as the families they leave behind, no doubt. The recognition I received at the Ceremony this year should pale in comparison to the honor and recognition they deserve! I guess that is why I am writing this letter of thanks so late….I wanted the celebration to be about them and that their sacrifices for our freedoms be pondered even through this holiday season of Thanksgiving and Christmas.
So……
Dear patrons of our freedoms,
While emotionally revisiting this past Veterans Day Ceremony without my favorite veteran, I was surprised and humbled with a special honor. A rush of stories and events flooded my mind while walking to the front of the auditorium. I was touched most by the Vietnam coin I was presented in memory of Sam. The stories of his fellow "grunts" came as a reminder as to why these ceremonies were so inspirational. Our servicemen and women have sacrificed so much more than we know—as well as their families. My thoughts skipped to "this should be for them—not me!" Looking at these groups of "heroes", I remembered some words of past speakers…."They make the best dads", "This is my Grandpa, my Hero", "a brotherhood and camaraderie like no other", "Hate the war, love the warrior," and "Freedom isn't free". It seemed that their faces reflected memories of their service long ago.
So many special "thank yous" are necessary. The committee who carries on the ceremony planning, the student involvement and community who are incredibly supportive of our veteran population and dedicated to spend the time to honor them. The music was amazing! To the teachers, organizations and businesses who invested time and money, kudos to your persistence and patience! To those of you who are "behind the scenes" and engage in making a smooth and meaningful day for our veterans, thank you!
Recognizing the Vietnam veterans was especially dear to my heart as Sam served in Vietnam. He would have done it all again if asked, even though those returning home did not receive the thanks for their service and support of previous veterans. Thank you, Bud Moore, for the appropriate words and presentation of our local "heroes". I shall cherish the crystal block commemorating the veterans' memorials and the Vietnam coin in honor and memory of Sam.
Though I was stunned and humbled, I can say how appreciative I am that the Veterans Day Ceremony is still honoring the veterans in our community. I feel that involving our youth not only builds character but teaches them that others have sacrificed for their freedoms. Sharing this celebration with our citizens brings the recognition to a personal level. I hope remembering and honoring that courage and sacrifice of our servicemen and women and their families will always be a part of life's curriculum here in Medicine Lodge and throughout America. It seems we can all learn something from them about ourselves.
Thank you all for this recognition that I share with soooo many others. Thank you, veterans and families, for your service and sacrifice. God bless you all and may God bless the USA! (I think I said once that He already has…He gave us these men and women who fought for our freedoms.)
Yours for world peace,
Linda Hartley
Premiere Inside
School
Sports
Record
Local
Deaths
Opinion
KWIBS
Classifieds
Business Dir.
Subscribe
Ad Information
Staff
Contact Us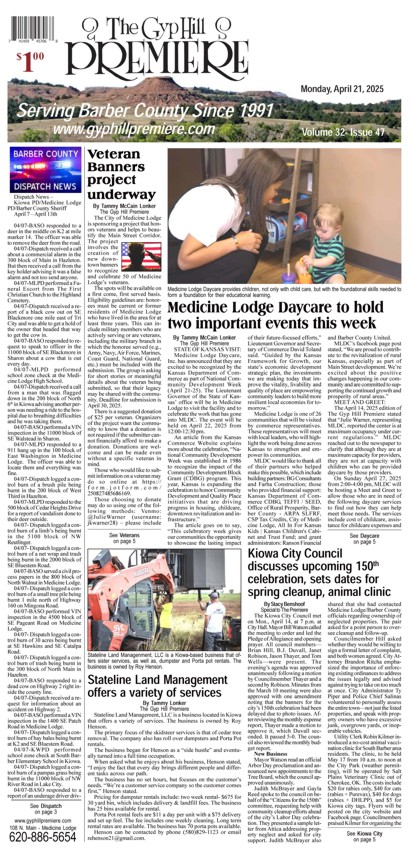 Warp Your Favorite Local Person. A Different Victim Each Week!!
Premiere letter policy
Due to the volume of letters to the editor and limited space available, The Gyp Hill Premiere has revised its letter policy effective immediately.
To be eligible for publication in this paper, a letter's content must meet the following criteria: 1) contain information of interest to the community that directly affects the City of Medicine Lodge, Barber County or its citizens; 2) contain information on local public policy; or 3) contain a response or correction of content published in this paper for purposes of clarification.
Letters in response to items published on the opinion pages may or may not be published, depending on their relevance to the community or content involved. Viewpoints expressed on these pages are the opinions of the authors, and do not reflect the viewpoints of The Gyp Hill Premiere or its staff.
Letters to the editor must be typed or neatly handwritten, contain a signature, return address and telephone number for verification purposes. Letters submitted via e-mail are also welcome, provided that they contain a valid reply-to address.
Letters will be published exactly as written, however The Gyp Hill Premiere reserves the right to edit letters for length, spelling, context or clarity as deemed necessary.
All letters are subject to review and will be published at the discretion of our editorial staff. Letters that contain offensive or defamatory language, libelous statements or content that is generally intended to defame will not be published.
Letters that contain obvious factual errors will not be published, however The Gyp Hill Premiere is not responsible for validating the content of letters.
We also reserve the right not to publish letters that do not meet our publication deadline of noon on Friday.
A copy of this policy is available at The Gyp Hill Premiere office at 110 N. Main Street during normal business hours.