Opinion / Religion - June 26, 2017
---
Ch-ch-ch-changes!!!
By Jessica Wright
The Gyp Hill Premiere
Life is an always evolving, ever changing thing. The earth itself is always changing. So why are we so afraid of something that is so natural? Change by definition is making a difference in the state or condition of a thing or to substitute another state or condition. Change can go either way, bad or good. In my life experience, which is limited, I have found that when one responds to change in a positive way, the outcome is much more desirable than if one reacts in a negative way.
Progression is the act of forward or onward movement. As long as youíre moving forward, I feel as though you are succeeding. In this day and age, with technology advances happening every day, progression has never been more important. Our evolution as a species depends upon it. Any process of formation, growth, or development is evolution.
Not only are we changing, progressing, and evolving as a species, our own lives have such instances of evolution. Change can be positive. Your mindset is what makes it. Instead of dwelling on things that you canít change or bemoaning things that you donít want to change, embrace it. Roll with the waves and see where they take you. Change opens new doors for us around every turn. Granted, some doors should have stayed closed. That is the joy of life. We are forever learning and growing and experiencing more and more every day. We keep evolving our consciousness to understand more about the world we live in. Our bodies change and evolve. Carrying a child is a huge example of that. Plants go through cycles as well, growing and flowering and dying.
When I first started my job at the Premiere, I was apprehensive. This is something I had never done before. Having social anxiety, I was scared of social situations. I still have trepidation calling people. It was a huge change from any other job I had ever had in my life. However, it was the best decision I could have made. Iím 25 years old and I have the kind of dream job that people work years for all because I decided to embrace the change and the fear and open my mind to new experiences and a new schedule. I have made connections with people that go so far beyond the day to day. I would have never been able to make those connections as a waitress or as a teller. This change has also given me the ability to be more present in my childrenís lives. I donít have to worry about missing an activity that theyíre having at school, I donít have to worry about being told that I cannot attend something for my children. The best change is that, seeing as I love my job, thereís much less stress and I can go home and truly relax. Also, my bosses are pretty fabulous and who doesnít love working with fun, amazing people? They challenge me and teach me day by day.
So donít be afraid of change. Donít be afraid of the new item in your schedule, donít fear the new job. Everything goes through their changes. Embrace them and allow them to carry you to places and experiences you could never imagine. Change is scary because itís new. No one can tell what the future holds, but the longer you fight against it the longer you miss out on what life has in store for you.
Premiere Inside
School
Sports
Record
Local
Deaths
Opinion
KWIBS
Classifieds
Business Dir.
Subscribe
Ad Information
Staff
Contact Us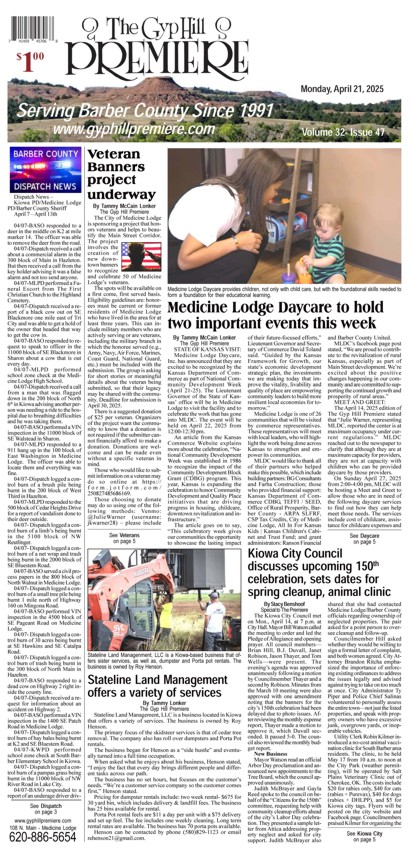 Warp Your Favorite Local Person. A Different Victim Each Week!!
Premiere letter policy
Due to the volume of letters to the editor and limited space available, The Gyp Hill Premiere has revised its letter policy effective immediately.
To be eligible for publication in this paper, a letterís content must meet the following criteria: 1) contain information of interest to the community that directly affects the City of Medicine Lodge, Barber County or its citizens; 2) contain information on local public policy; or 3) contain a response or correction of content published in this paper for purposes of clarification.
Letters in response to items published on the opinion pages may or may not be published, depending on their relevance to the community or content involved. Viewpoints expressed on these pages are the opinions of the authors, and do not reflect the viewpoints of The Gyp Hill Premiere or its staff.
Letters to the editor must be typed or neatly handwritten, contain a signature, return address and telephone number for verification purposes. Letters submitted via e-mail are also welcome, provided that they contain a valid reply-to address.
Letters will be published exactly as written, however The Gyp Hill Premiere reserves the right to edit letters for length, spelling, context or clarity as deemed necessary.
All letters are subject to review and will be published at the discretion of our editorial staff. Letters that contain offensive or defamatory language, libelous statements or content that is generally intended to defame will not be published.
Letters that contain obvious factual errors will not be published, however The Gyp Hill Premiere is not responsible for validating the content of letters.
We also reserve the right not to publish letters that do not meet our publication deadline of noon on Friday.
A copy of this policy is available at The Gyp Hill Premiere office at 110 N. Main Street during normal business hours.