Opinion / Religion - June 29, 2015
---
Minister's Minutes:
"Not goodbye….Just See You Later."
It has been bittersweet for me. I did not say "goodbye" to a great friend but "see you later." My friend Billie "Baki" Ricke passed away. Billie was a spitfire. She was full of life, joy, and love for others. She was a great member to have as part of our church congregation because she loved worship, the Word of God, fellowship, prayer time, and just being in the presence of God. While I am sad to see Billie leave this world. I am also happy for her. The Word of God says: "To be absent from the body is to be present with the Lord" and "O death where is thy sting, O grave where is thy victory."
Billie loved God and all God's people. It did not matter if you were the mayor of Medicine Lodge or the bum on the street, she treated all equal. She loved like Christ. Billie helped anyone and everyone in need. The poor, the hungry, the stranger. Jesus said, Whatever you did for the least of these, you did for me." (Matthew 25:40).
Billie Ricke left this world knowing that she was loved and we are left knowing that she loved us. What a gift! Not everyone gets that. Billy was special. She was famous for her hugs before and after church. Billie was not perfect….none of us are on this planet. But she admitted, and believed, and confessed to her perfect Savior, Jesus Christ and now Billie is receiving her eternal reward!
I will really miss Billie "Baki" Ricke. But I have hope. I have faith that I will see her again. I want to see her when I get to heaven and I want to see you too! Life is short. Life is uncertain. Please make sure you are ready. Have your spiritual affairs in order. Death is real. But so is eternity in one place or the other. Make the most important decision of your life today. Accept Christ at your Lord and Savior. Ask Him to forgive you of your sins. In the end you will be glad you did!
I know Billie will be waiting for us with a smile and a hug! See you later Billie. You were a good one!
Pastor Rodney Worsham
Medicine Lodge Assembly of God Church



Premiere Inside
School
Sports
Record
Local
Deaths
Opinion
KWIBS
Classifieds
Business Dir.
Subscribe
Ad Information
Staff
Contact Us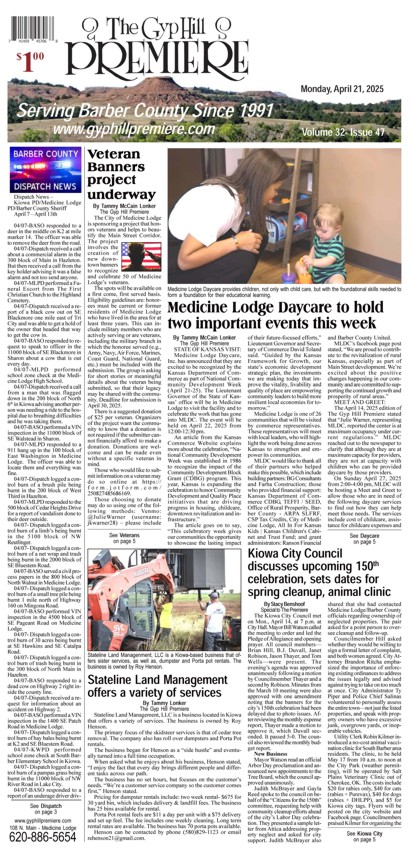 Warp Your Favorite Local Person. A Different Victim Each Week!!
Premiere letter policy
Due to the volume of letters to the editor and limited space available, The Gyp Hill Premiere has revised its letter policy effective immediately.
To be eligible for publication in this paper, a letter's content must meet the following criteria: 1) contain information of interest to the community that directly affects the City of Medicine Lodge, Barber County or its citizens; 2) contain information on local public policy; or 3) contain a response or correction of content published in this paper for purposes of clarification.
Letters in response to items published on the opinion pages may or may not be published, depending on their relevance to the community or content involved. Viewpoints expressed on these pages are the opinions of the authors, and do not reflect the viewpoints of The Gyp Hill Premiere or its staff.
Letters to the editor must be typed or neatly handwritten, contain a signature, return address and telephone number for verification purposes. Letters submitted via e-mail are also welcome, provided that they contain a valid reply-to address.
Letters will be published exactly as written, however The Gyp Hill Premiere reserves the right to edit letters for length, spelling, context or clarity as deemed necessary.
All letters are subject to review and will be published at the discretion of our editorial staff. Letters that contain offensive or defamatory language, libelous statements or content that is generally intended to defame will not be published.
Letters that contain obvious factual errors will not be published, however The Gyp Hill Premiere is not responsible for validating the content of letters.
We also reserve the right not to publish letters that do not meet our publication deadline of noon on Friday.
A copy of this policy is available at The Gyp Hill Premiere office at 110 N. Main Street during normal business hours.