Opinion / Religion - June 12, 2023
---
View From The Hills: Look Back and Smile
"LOOK BACK AND SMILE AT PERILS PAST." Walter Scott
There is just so much going on in the world that you can be in a bad mood all the time. Amazing how many people actually are. If you keep watching the news you are going to be.
For my readers and others who do not know me personally I thought I would tell you a few things and why I have been smiling a lot.
Last year at this time I had a heart stent put in and then in August had a new heart valve installed. Not exactly the bionic man, most including my doctors thought I should be feeling a lot better. They all get an odd look when I say no. After the first of the year I have been getting short of breath but all the labs and signs are good. In February I really got sick and when I finally went to see my doctor she took one look and frowned. She had never seen me this way. Like it or not I was put an megadose of water pills and my frequent trips to the facilities have turn into the need to just put the bed in there. The first thing lost when things start going wrong is your dignity. I have no dignity anymore.
As I write this I have been homebound since February. I see my cardiologist in the morning.
One thing that has bothered me is my standing complaint with television. The empty universe. I like to be informed, entertained, interested, and have some control over what I spend hours doing. I have been delighted with one form of social media and that is You Tube. There is also a universe of junk but I have found channels that I enjoy over a wide number of subjects. One of those channels is called The Appalachian Channel. There are still some old fashion general stores still open back in the hills and the current subject brought back a lot of smiles and memories.
The latest show they were in a farm butcher shop making sausage, panhause, and liver sausage. I sold my kettles when we moved down here to the hills and I miss using them. I had to smile. I do that a lot lately.
When you get to the point that you are the elder you get a lot of those moments that make you sad and smile. I hope that when this is all over I will be able to laugh with my guardian angel about all of his stories about getting me through all the dumb stuff I did and would not have survived without his shielding, nudging, or just plane shoving me out of harms way. Wonder if there are tailgates in Heaven? Or pot belly stoves? Will there be Johnson Century reels?

By Roger Ringer
Premiere Inside
School
Sports
Record
Local
Deaths
Opinion
KWIBS
Classifieds
Business Dir.
Subscribe
Ad Information
Staff
Contact Us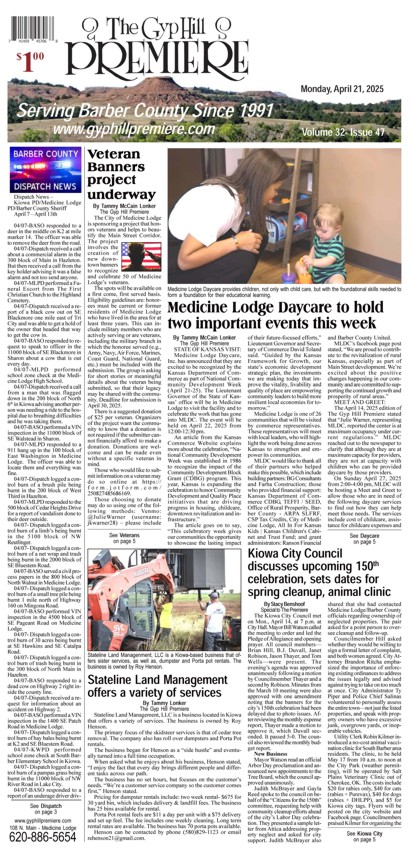 Premiere letter policy
To be eligible for publication in this paper, a letter's content must meet the following criteria: 1) contain information of interest to the community that directly affects the area of Barber County or its citizens; 2) contain information on local public policy; or 3) contain a response or correction of content published in this paper for purposes of clarification.
Letters in response to items published on the opinion pages may or may not be published, depending on their relevance to the community or content involved. Viewpoints expressed on these pages are the opinions of the authors, and do not reflect the viewpoints of The Gyp Hill Premiere or its staff.
Letters to the editor must be typed or neatly handwritten, contain a signature, return address and telephone number for verification purposes. Letters submitted via e-mail are also welcome, provided that they contain a valid reply-to address.
Letters will be published exactly as written, however The Gyp Hill Premiere reserves the right to edit letters for length, spelling, context or clarity as deemed necessary.
All letters are subject to review and will be published at the discretion of our editorial staff. Letters that contain offensive or defamatory language, libelous statements or content that is generally intended to defame will not be published.
Letters that contain obvious factual errors will not be published, however The Gyp Hill Premiere is not responsible for validating the content of letters.
We also reserve the right not to publish letters that do not meet our publication deadline of noon on Thursday.
A copy of this policy is available at The Gyp Hill Premiere office at 108 N. Main Street during normal business hours.