Opinion / Religion - November 12, 2018
---
To Kevin and the Premiere Staff:
Coming back to my hometown of Medicine Lodge for the Peace Treaty has always brought back fond memories past and present. Being a history buff, I saw a stack of newspapers on Main Street and for a dollar I had history in my hands, "The Gyp Hill Premiere 2018 Peace Treaty" edition.
When arriving back in Norton, Kansas I settled in my favorite chair to read the special edition. My evenings were spent in complete enjoyment (took a week) as I relived the history of Medicine Lodge and the signing of the Peace Treaty.
I want to say thank you to Kevin and his staff for the time, effort, and research that went into preparing all the articles that brought history back to life.
I agree with "Sticky" Beginnings on page 16 when the rough weather-beaten cowboy ambled into the Cresset and expressed his view and also my same sentiments for the Gyp Hill Premiere 2018 Peace Treaty edition. "Damned fitten' name I would say. This here is a hell of a paper, isn't it?"
Thanks again for a job well done.
Fonda (Ricke) Lawrence
Norton, Kansas
10-30-2018
Premiere Inside
School
Sports
Record
Local
Deaths
Opinion
KWIBS
Classifieds
Business Dir.
Subscribe
Ad Information
Staff
Contact Us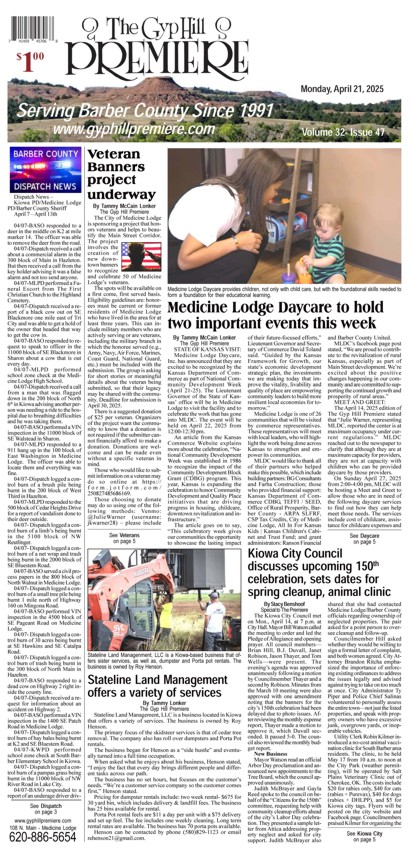 Warp Your Favorite Local Person. A Different Victim Each Week!!
Premiere letter policy
Due to the volume of letters to the editor and limited space available, The Gyp Hill Premiere has revised its letter policy effective immediately.
To be eligible for publication in this paper, a letter's content must meet the following criteria: 1) contain information of interest to the community that directly affects the City of Medicine Lodge, Barber County or its citizens; 2) contain information on local public policy; or 3) contain a response or correction of content published in this paper for purposes of clarification.
Letters in response to items published on the opinion pages may or may not be published, depending on their relevance to the community or content involved. Viewpoints expressed on these pages are the opinions of the authors, and do not reflect the viewpoints of The Gyp Hill Premiere or its staff.
Letters to the editor must be typed or neatly handwritten, contain a signature, return address and telephone number for verification purposes. Letters submitted via e-mail are also welcome, provided that they contain a valid reply-to address.
Letters will be published exactly as written, however The Gyp Hill Premiere reserves the right to edit letters for length, spelling, context or clarity as deemed necessary.
All letters are subject to review and will be published at the discretion of our editorial staff. Letters that contain offensive or defamatory language, libelous statements or content that is generally intended to defame will not be published.
Letters that contain obvious factual errors will not be published, however The Gyp Hill Premiere is not responsible for validating the content of letters.
We also reserve the right not to publish letters that do not meet our publication deadline of noon on Friday.
A copy of this policy is available at The Gyp Hill Premiere office at 110 N. Main Street during normal business hours.