Opinion / Religion - March 3, 2014
---
Although it is perfectly legal in Kansas, and some kids clearly need it, I can understand why most school districts do not use corporal punishment as a form of discipline. The risks simply outweigh the benefits in this modern age. That was certainly not the case in my generation. I was spanked and my kids were spanked; it wasnít fun, but I think that weíre all the better for it.
Spanking should not be the first or only method used to discipline children, but it does need to be a tool in your parenting bag. When called for, we used a 4" by 16" by ľ" plywood paddle called the "Fanny Whacker," which left a nice red mark, but never any bruises. The wise parent knows where the line is. It should be hard enough that the kid knows heís been spanked, but not so hard that you cause injury. The goal is to break the will, not the spirit. This requires a little common sense, something uncommon today.
The Bible describes it perfectly in Heb. 12: 9-10, "Furthermore, we have had human fathers who corrected us, and we paid them respect. Shall we not much more readily be in subjection to the Father of spirits and live? For they indeed for a few days chastened us as seemed best to them, but He for our profit, that we may be partakers of His holiness."
I love the story about the little boy that was being pressured to do something wrong. His friend said to him, "Youíre just afraid of what your dad will do to you." The boy replied, "No, Iím not afraid of what he will do to me, Iím afraid of what I will do to him."
There are no perfect parents, but if you discipline your child (even spanking) in love, you will earn that vital respect and most likely have good success. Have you seen the alternative?
Mike Henry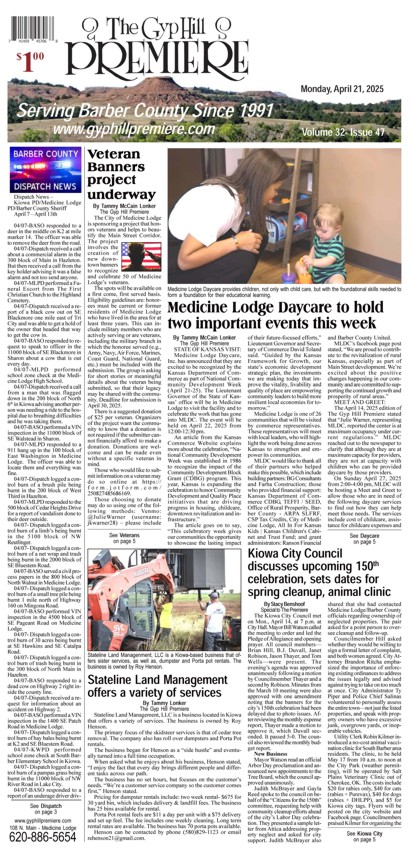 Premiere Inside
School
Sports
Record
Local
Deaths
Opinion
KWIBS
Classifieds
Business Dir.
Subscribe
Ad Information
Staff
Contact Us

Warp Your Favorite Local Person. A Different Victim Each Week!!
Premiere letter policy
Due to the volume of letters to the editor and limited space available, The Gyp Hill Premiere has revised its letter policy effective immediately.
To be eligible for publication in this paper, a letterís content must meet the following criteria: 1) contain information of interest to the community that directly affects the City of Medicine Lodge, Barber County or its citizens; 2) contain information on local public policy; or 3) contain a response or correction of content published in this paper for purposes of clarification.
Letters in response to items published on the opinion pages may or may not be published, depending on their relevance to the community or content involved. Viewpoints expressed on these pages are the opinions of the authors, and do not reflect the viewpoints of The Gyp Hill Premiere or its staff.
Letters to the editor must be typed or neatly handwritten, contain a signature, return address and telephone number for verification purposes. Letters submitted via e-mail are also welcome, provided that they contain a valid reply-to address.
Letters will be published exactly as written, however The Gyp Hill Premiere reserves the right to edit letters for length, spelling, context or clarity as deemed necessary.
All letters are subject to review and will be published at the discretion of our editorial staff. Letters that contain offensive or defamatory language, libelous statements or content that is generally intended to defame will not be published.
Letters that contain obvious factual errors will not be published, however The Gyp Hill Premiere is not responsible for validating the content of letters.
We also reserve the right not to publish letters that do not meet our publication deadline of noon on Friday.
A copy of this policy is available at The Gyp Hill Premiere office at 110 N. Main Street during normal business hours.