Opinion / Religion - August 8, 2022
---
View From The Hills:
Yearning to Fly
"YEARNING FOR THE SEEMING IMPOSSIBLE IS THE PATH TO HUMAN PROGRESS."
Bryant H. McGill

In my writing about Kansas and Kansans, I discover many stories of flying. One of my personal sayings is, "that those farm boys spending hours doing hard work said there is a better way to do this, and did it, and looked to the clouds, and went there". This 'yearning' that seems to drive the American spirit has been the seed that took us to be the Bread Basket of the World and the Air Capital of the World.
Since I was thirteen years old and wanted to join the Civil Air Patrol I have been looking to the clouds. I had a secret desire to do what many have done before me and wanted to design and build my own airplane. I fell in love with helicopters and remember the fenced in area beside the railroad tracks in Wichita downtown where the bodies of the recalled Cessna Helicopters sat derelict for years. How I wanted to haul one out of there to just save it. As it is, Cessna only allowed one to remain and it is in the Air and Space Museum back east. Like didn't they think that one should be in a museum locally?
The history of aircraft in Kansas is fascinating. In the 1920's and early 30's there were seventy two aircraft or aircraft component companies in Wichita alone. But I never wanted to work in the factories. The short time I spent in a factory was miserable. And besides, I have too many interests.
I have been waiting for a couple of envelopes to come in the mail so I can finish up the last stories for my next manuscript. So I have indulged in something that I have wanted to attend for years. I have been watching the live feed of the Experimental Aircraft Association Fly In, in Oshkosh, Wisconsin.
Talk about a living history lesson, watching planes that I have been reading about in my research, planes that I have never seen in real life, and all flying in one place at the same time. The banner on the control tower reads THE BUSIEST CONTROL TOWER IN THE WORLD. No kidding! Just listening to the controllers running two runways is just crazy. One controller sounds like he is on the verge of a nervous breakdown. Then a lady controller comes on cool as a cucumber. Their speed of tongue sounds like an auction chant; they are so fast.
What is so cool is that a Beach Bonanza, F-35, gyrocopter, A-10 Wart Hog, a Navy Tomcat, Navy Trainer, and German Messerschmitt are all seen within a few minutes and then a DC-3 and a U-2 Spyplane are thrown in the mix. Not to mention the thousands of brands, variants, and military planes that all come in.
We know here in Medicine Lodge what it takes to put on a major event. It takes 5000 volunteers to put on one Peace Treaty every three years. In Oshkosh it takes 5000 volunteers to put on the EAA fly in every year. WOW!
One of my old fire captains always took his vacation and went to Oshkosh and worked on their fire department. He was an airplane fanatic. It was a great way to go and help out, get free room and board, and overdose on airplanes.
I have always wanted to go myself but again there were too many interests and now my health would not allow me to go up and enjoy it.
But I will always have a yearning.

By Roger Ringer
Premiere Inside
School
Sports
Record
Local
Deaths
Opinion
KWIBS
Classifieds
Business Dir.
Subscribe
Ad Information
Staff
Contact Us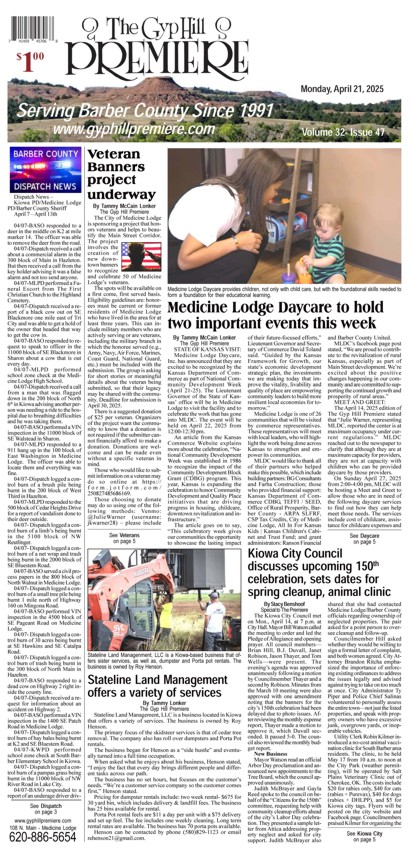 Premiere letter policy
To be eligible for publication in this paper, a letter's content must meet the following criteria: 1) contain information of interest to the community that directly affects the area of Barber County or its citizens; 2) contain information on local public policy; or 3) contain a response or correction of content published in this paper for purposes of clarification.
Letters in response to items published on the opinion pages may or may not be published, depending on their relevance to the community or content involved. Viewpoints expressed on these pages are the opinions of the authors, and do not reflect the viewpoints of The Gyp Hill Premiere or its staff.
Letters to the editor must be typed or neatly handwritten, contain a signature, return address and telephone number for verification purposes. Letters submitted via e-mail are also welcome, provided that they contain a valid reply-to address.
Letters will be published exactly as written, however The Gyp Hill Premiere reserves the right to edit letters for length, spelling, context or clarity as deemed necessary.
All letters are subject to review and will be published at the discretion of our editorial staff. Letters that contain offensive or defamatory language, libelous statements or content that is generally intended to defame will not be published.
Letters that contain obvious factual errors will not be published, however The Gyp Hill Premiere is not responsible for validating the content of letters.
We also reserve the right not to publish letters that do not meet our publication deadline of noon on Thursday.
A copy of this policy is available at The Gyp Hill Premiere office at 108 N. Main Street during normal business hours.