Opinion / Religion - May 22, 2017
---
Wright at Home
By Jessica Wright
The Gyp Hill Premiere
Summer is just around the corner with Memorial Day coming up soon. Late nights filled with laughter and memories will soon be an every day thing for many of you. Summer has the potential for growth and infinite possibilities. That wondrous time of year when responsibility seems to fade into the background and anything seems possible.
The nights become more complex with less worries and more fun. You actually taste life, you donít just merely exist. Creativity and curiosity blooms as we take off the shackles of responsibility and the day-to-day status quo. We open our minds to the possibility of new experiences. We talk about everything and nothing until the early hours of the morning with a sea of stars as our ceiling and soft grass as our bed.
Youíll experience sunrises, because you just happen to still be awake. Shake of inhibitions with karaoke and a cold one. Open your eyes to the world around you. Listen to the chirp of crickets in the evening. Watch for the flash of lightning bugs. Hear the quiet in the early morning hours, when everyone else is asleep and the world is at rest. Grow into yourself. Have a coming of age summer. Grab life by the horns and donít dare waste one moment worrying over the same day-to-day things. Theyíll still be there tomorrow. Live life freely, drinking up every experience that comes your way with an open heart and an open mind.
This sounds very hippie-bohemian of me. Iíve had a special coming of age summer myself and I try year after year to capture that infinite feeling again. Itís cathartic. That summer allowed me to feel and experience things in sharp relief. I found myself and grew into myself. That summer gave me coping mechanisms that I still use quite frequently today. It wasnít necessarily an easy summer. There were a lot of mountains that stood in my way. I trekked on despite those obstacles. If I couldnít climb over them, I found a way around or through them. At the end of that summer I found myself looking at a woman in the mirror everyday, instead of a scared little girl. I had found a way to stay true to myself and my morals and learned to never let anyone compromise them. I was stronger than when I started.
Summer is a magical time where life seems to slow down a bit. It has always been a special season for me. Life is majestic, if you can look past the black and white. Your worries will be there. They never go away. Life is right here, right now. The moments that you experience are precious. Bad things happen, no matter what season. Live them. Feel them. Life will pass you by if youíre not careful. So go on that walk. Stop to smell the flowers. Donít shy away from something because it scares you, thatís what makes it worth it. Make the most of every second you have on this earth. Summer is the time where we can escape the confines of normal life, even if it is just for a second. Take a deep breath and dive in.
Premiere Inside
School
Sports
Record
Local
Deaths
Opinion
KWIBS
Classifieds
Business Dir.
Subscribe
Ad Information
Staff
Contact Us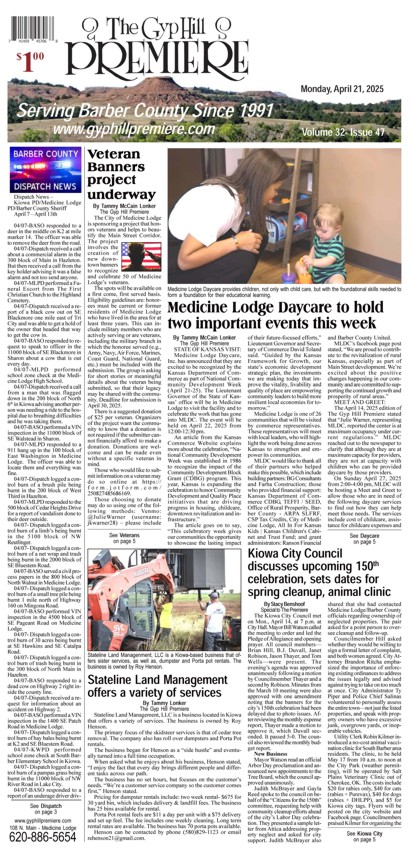 Warp Your Favorite Local Person. A Different Victim Each Week!!
Premiere letter policy
Due to the volume of letters to the editor and limited space available, The Gyp Hill Premiere has revised its letter policy effective immediately.
To be eligible for publication in this paper, a letterís content must meet the following criteria: 1) contain information of interest to the community that directly affects the City of Medicine Lodge, Barber County or its citizens; 2) contain information on local public policy; or 3) contain a response or correction of content published in this paper for purposes of clarification.
Letters in response to items published on the opinion pages may or may not be published, depending on their relevance to the community or content involved. Viewpoints expressed on these pages are the opinions of the authors, and do not reflect the viewpoints of The Gyp Hill Premiere or its staff.
Letters to the editor must be typed or neatly handwritten, contain a signature, return address and telephone number for verification purposes. Letters submitted via e-mail are also welcome, provided that they contain a valid reply-to address.
Letters will be published exactly as written, however The Gyp Hill Premiere reserves the right to edit letters for length, spelling, context or clarity as deemed necessary.
All letters are subject to review and will be published at the discretion of our editorial staff. Letters that contain offensive or defamatory language, libelous statements or content that is generally intended to defame will not be published.
Letters that contain obvious factual errors will not be published, however The Gyp Hill Premiere is not responsible for validating the content of letters.
We also reserve the right not to publish letters that do not meet our publication deadline of noon on Friday.
A copy of this policy is available at The Gyp Hill Premiere office at 110 N. Main Street during normal business hours.