Opinion / Religion - October 17, 2016
---
The Book Edge
By April Hernandez
Lincoln Library Fact: We have a section in the Library called Inspirastation. It contains items such as Learning to Tie Knots, Yo-Yo Tricks, and Snap Circuits. We will be adding items to this section when we can. You must check the items out before use and use them in the Library.
Story Hour: The theme this week was Spiders. Robin read One, Two, Poohís Looking For You. Judy read A Spiderling Grow Up, The Eensy-Weensy Spider, The Very Busy Spider, and There Was an Old Lady Who Swallowed a Fly. The children performed two action songs: The Eensy-Weensy Spider and Put Your Spider on Your Nose (using spider rings). Keep an eye out for funny looking spiders as the craft was making spiders out of Tootsie Pops and pipe cleaners.
Janís Time for Trivia: Which 1908 novel by Lucy Maud Montgomery is considered a childrenís novel?
New at the Library:
Adult Fiction:
Two by Two by Nicholas Sparks. Russell Green has the perfect life until it all falls apart. Suddenly he is a jobless, single father trying to navigate a new and baffling world that will test his strength and emotional resources.
Young Adult Fiction:
Black Flowers, White Lies by Yvonne Ventresca. It has been just Ella and her mother for as long as Ella can remember. Ellaís dad supposedly died in a car accident but new information points to him dying in a psychiatric hospital. Scary things begin to happen to Ella and she is not sure who she should be afraid of, or is Ella the one losing touch with reality?
Juvenile Fiction:
The Hammer of Thor by Rick Riordan. Second book in Magnus Chase and the Gods of Asgard series. Thorís hammer has disappeared again though this time it has fallen into enemy hands. The only one who can broker a deal for the return of the hammer is Loki. Will Lokiís price for retrieving the hammer be too high?
Library Happenings: Adult Coloring Club, October 17, 5:30 to 7:00pm. We will be giving out Fall coloring bookmarks. Bring your own coloring books or use our books and colored pencils. Book Club, October 27, 7:00pm. We are reading The Readers of Broken Wheel Recommend. Deconstruction Program October 28, 11am-1pm. Come take apart our old computers, keyboards, printers, etc.
Visit us @ www.medicinelodgelibrary.com
View our catalog @ www.medicinelodgelibrary.follettdestiny.com
Like us on Facebook @ Lincoln Library
Support the Lincoln Library Foundation when you shop at Amazon @ smile.amazon.com/ch/31-1768336
Premiere Inside
School
Sports
Record
Local
Deaths
Opinion
KWIBS
Classifieds
Business Dir.
Subscribe
Ad Information
Staff
Contact Us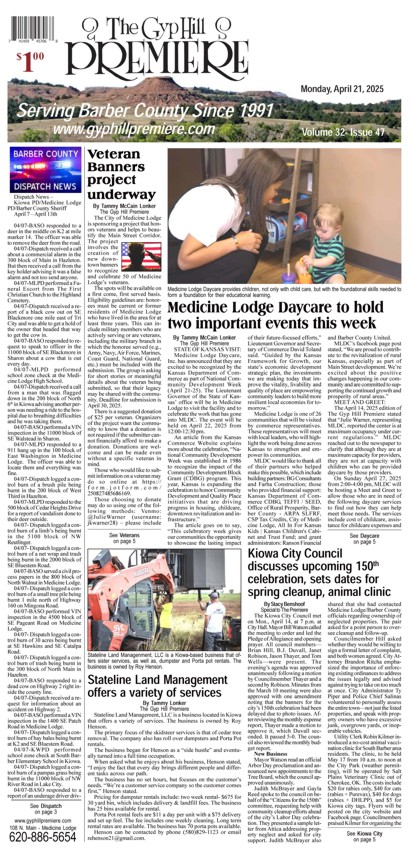 Warp Your Favorite Local Person. A Different Victim Each Week!!
Premiere letter policy
Due to the volume of letters to the editor and limited space available, The Gyp Hill Premiere has revised its letter policy effective immediately.
To be eligible for publication in this paper, a letterís content must meet the following criteria: 1) contain information of interest to the community that directly affects the City of Medicine Lodge, Barber County or its citizens; 2) contain information on local public policy; or 3) contain a response or correction of content published in this paper for purposes of clarification.
Letters in response to items published on the opinion pages may or may not be published, depending on their relevance to the community or content involved. Viewpoints expressed on these pages are the opinions of the authors, and do not reflect the viewpoints of The Gyp Hill Premiere or its staff.
Letters to the editor must be typed or neatly handwritten, contain a signature, return address and telephone number for verification purposes. Letters submitted via e-mail are also welcome, provided that they contain a valid reply-to address.
Letters will be published exactly as written, however The Gyp Hill Premiere reserves the right to edit letters for length, spelling, context or clarity as deemed necessary.
All letters are subject to review and will be published at the discretion of our editorial staff. Letters that contain offensive or defamatory language, libelous statements or content that is generally intended to defame will not be published.
Letters that contain obvious factual errors will not be published, however The Gyp Hill Premiere is not responsible for validating the content of letters.
We also reserve the right not to publish letters that do not meet our publication deadline of noon on Friday.
A copy of this policy is available at The Gyp Hill Premiere office at 110 N. Main Street during normal business hours.