Opinion / Religion - May 2, 2016
---
Dear Editor,
Kansans Overwhelmingly Support a Unique Kansas Solution to Expanding KanCare
Republicans, Independents and Democrats strongly favor The Bridge to a Healthy Kansas legislation
Kansas voters continue to support expanding the Kansas Medicaid program that would extend health care coverage under KanCare to include approximately 150,000 individuals earning less than 138 percent of the federal poverty level. This support (62 percent) has remained consistent over the last two years.
The February 2016 statewide public opinion poll shows majority support for expanding KanCare across all four congressional districts in Kansas, and among both men and women in all age groups. This recent poll found that support for expanding KanCare grew to as much as 76 percent as Kansans learned of new legislation that proposes a budget-neutral program, The Bridge to a Healthy Kansas.
After learning that a new budget-neutral program would require beneficiaries to meet legal residency and work-status requirements and pay a portion of their own health care costs, there was a 14-point increase in support and a nine-point decrease in opposition: 76 percent expressed support, 20 percent were not supportive, and four percent were not sure. Among Republicans, support ranged from 74 to 77 percent when eligibility requirements were explained; among Independents, support reached 82 percent; and among Democrats, support was 71-74 percent.
Similarly, 72 percent of the Kansas residents surveyed expressed support after learning The Bridge to a Healthy Kansas program is not Obamacare, but rather, a unique, budget-neutral solution that will not require the use of State General Funds and will likely produce a net financial gain for Kansas.
This statewide public opinion poll was conducted by Public Opinion Strategies from February 18-21, 2016. Polling results and supplementary graphs can be found on the KHA website at www.kha-net.org. The survey was administered by phone to a stratified random sample of 500 likely voters in Kansas, including 200 cell phone respondents. The overall results of the survey have a margin of error of +/- 4.38 percent.
Cindy Samuelson
Vice President, Public Relations and Political Fundraising
Kansas Hospital Association
215 S.E. Eighth Ave.
Topeka, KS 66603-3906
(785) 233-7436 ext. 117
(785) 249-1727 (cell)
www.kha-net.org
csamuelson@kha-net.org
Dear Editor,
It was standing room only Anthony Livestock Sales Co. last Tuesday at the special cow sale. But one special cow stood out over the 1200 sold that day.
She and her baby raised over $50,000 to be donated to Barber County Cattlemen's fire relief fund. But what was most impressive, was not the dollar amount, but the care and support, and how our community came together to help those in time of need. This devastating fire made national news, but the real headlines should have been the overwhelming generosity, from our rural small-town communities, to help our neighbors.
After the sale, Jay made the comment that he had never been so proud to be part of it. This money wasn't raised by large outside corporations, but by our local and surrounding business and individuals who gave so generously, in a time when our agriculture economy is suffering tremendous losses.
Also there has been an enormous amount of hay and other money that was donated earlier from this area to help the cause. We have to be proud to live in small-town rural communities. Quoting one of the Barber County ranchers " it is overwhelming the love and support that has been shown to us."
A big heart-felt Thank You from all those who participated at the sale and helped with hay and other donations to help our neighbors to the west. Also a big Thanks to Sandy and Coyote Country 98.3 radio station for all the air time and the live coverage.
Harper County; BancCentral of Anthony and Alva, OK; Marvin, Jason and Justin Jelinek of Mulvane; Hay Grinderman (Jeremiah and Hannah Pence) of Enid, OK; Bill Starks of Anthony; Kanza Bank of Anthony and Kingman; Anthony Farmer's COOP of Anthony; State Farm Agents: Brandon Hazel of Anthony, Alison Rusk of Wellington, Dan Gillig of Pratt, Jon Wollen of Kingman, Terry Johnson of Wichita and Hazels Sheet Metal of Anthony; Dick Nenness of Shawnee; DewEze/Harper Industries of Harper; Prarieland Partners of Anthony and Kingman; Cattleman Connection & Cleland Cattle Co.; Rocky Gregory (Gregory Cattle Co.) of Cheney; Cox Farms Inc. (Jerry & Lee and John & Connie) of Anthony, Celco (Steve & Kenny Bellesine); Freeport State Bank of Harper; Hostetler Farm Supply of Harper; Hostetler Supply of Harper; Wayne & Teresa Youngers of Viola; Jeff Parsons of Anthony; Darrin Cox of Wichita, Jim Ireland of Anthony and Greg Thurman of Burlington, OK; Dennis Perry of Anthony; H20 Drilling (Mitch Hall) of Anthony; Carl Shaum of Manchester, OK; Idle Hour (Jim Ireland) of Anthony; Jim Bergman of Anthony; Pence Farms (Matthew Pence) of Anthony; Jason and Jennifer Wolff of Anthony; KanOkla of Caldwell; Randy Lanie of Manchester, OK' Rick Nafziger of Freeport; Dustin & Jordan Focht of Stafford; GKA Cattle (Bill Gumma and Bill Arnold) of Anthony; Benjean Browning of Anthony; Shep Shepard; Rick Randolph of Anthony; Dennis Hayes of Parsons; Leon Nikkel of Lehigh; David Botkin of Harper; Anthony Liquor Store (Mike and Jan Lanie) of Anthony; Schrate Ranch (Jarrid Herrmann) of Dodge City; Clay Spicer of Anthony; Donny and Audra Elliott of Anthony; Home Lumber of Anthony; Charley Gipple of Anthony; Dazzling Doo's of Anthony; Carl & Cindy Acheson of Paclo; D&D Farms of Covington, OK; Walt Lee of Anthony; Phil Wacker of Argonia; James Davis of Anthony; Larry Driskell of Wellington and Paige Green of Anthony
Jay, Maria and Rex Gates
Dear Editor,
Recently there has been a spate of information that has had the tone of being accusatory and ill-informed about the "facts." This aptly illustrates why the education debate has raged in Kansas since the 1970's, under governors and legislative majorities of both parties, with still no finality in sight. Offering ideas that challenge the status quo, for even a modicum of discussion, is met with derision – particularly if there is even a mere suggestion that schools might 1) run more efficiently; 2) focus resources more intently on student achievement; or 3) try new methods of operation or instruction to keep pace with the modern needs of students, employers and our communities.
At various points over the past many decades of wrangling over this issue, the legislature has asked the education industry to put forth a dollar figure and expected outcomes to be achieved. The response remains a moving target. The legislature has on multiple occasions increased funding, only to later be met with more litigation, and demands for even more money. So, we must ask for a definitive and final answer to the question "Kansas families have finite resources, how much more of their wages do you require?"
But, even more imperative, why it is that the education bureaucracy believes tax dollars are the only measure of an education, rather than employing a measure of what is actually being learned and how well students are prepared to either enter the workforce or pursue higher education?
I would suggest that a successful education puts a high school graduate on the path to at least being in the middle class – eventually able to buy a home, provide for family, pay taxes, and to buy and enjoy a few extras. Typically, that means a student should be planning on a technical certificate (welding, machinist, health professions, etc.) or a college degree. Being on a path to achieve those credentials for each student should be our target.
Appropriate funding, to be sure, is necessary to provide a robust mechanism for academic achievement. In fact, Kansas K-12 spending now stands at $6 billion, or more than $13,000 per student on average. Before increasing the allocation of our limited resources, is it not reasonable to discuss the desired achievement for our investment? Before building a skyscraper, the builder first determines the cost to build it. When we talk about education, the education industry only talks of more funding, but never are we told how tall the education skyscraper will be at any given level of funding – in other words, we are asked to fund a quest with no defined goals, and without goals, there is no accountability – and that, not academic achievement – has been the effect of the education funding litigation. No amount will ever be sufficient, because without definitive goals, there are no definitive measures of success. In the resulting gray area, litigation abounds.
Many in the education bureaucracy take issue with the education bill that I filed with my counterpart in the House, Rep. Highland. This was no "hasty" piece of legislation, as has been stated. It is the product of countless hours of hearings in the education interim committee, analysis, historical and contemporary research, interaction with colleagues, discussions with many superintendents, and an expression of many ideas that have long been discussed on the sidelines, with many aspects coming from members of both political parties over the years. The bill is not intended to be the final word. On the contrary, it is intended as a beginning point. The thought is to put a myriad of options on the table and have an open and broad discussion of ideas to finally reach consensus to addresses not just funding, but put the emphasis back on classroom learning and preparing students for a productive and rewarding future.
We are spending an all-time record amount of funds on K-12 education, yet 40% of our high school graduates who enter community college, and nearly 15% of those entering our state universities will have to enroll in remedial courses because they fail to meet the basic standards for entry level courses. The amount of funding clearly doesn't matter if our efforts are not properly focused and priorities clearly defined. It's time for a frank discussion about education. Let us do so without petty derision and false hysterics. Our kids deserve better; let's refocus our energies on achieving success in the classroom, rather than litigation in the courtroom.
Sincerely,
Sen. Steve Abrams
District 32
Premiere Inside
School
Sports
Record
Local
Deaths
Opinion
KWIBS
Classifieds
Business Dir.
Subscribe
Ad Information
Staff
Contact Us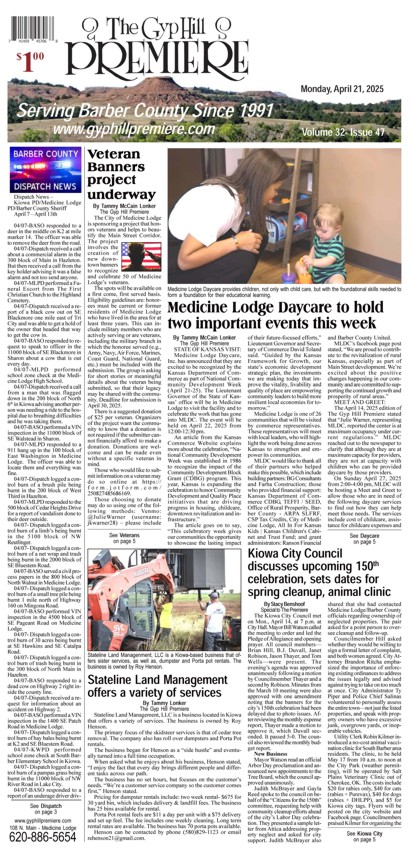 Warp Your Favorite Local Person. A Different Victim Each Week!!
Premiere letter policy
Due to the volume of letters to the editor and limited space available, The Gyp Hill Premiere has revised its letter policy effective immediately.
To be eligible for publication in this paper, a letter's content must meet the following criteria: 1) contain information of interest to the community that directly affects the City of Medicine Lodge, Barber County or its citizens; 2) contain information on local public policy; or 3) contain a response or correction of content published in this paper for purposes of clarification.
Letters in response to items published on the opinion pages may or may not be published, depending on their relevance to the community or content involved. Viewpoints expressed on these pages are the opinions of the authors, and do not reflect the viewpoints of The Gyp Hill Premiere or its staff.
Letters to the editor must be typed or neatly handwritten, contain a signature, return address and telephone number for verification purposes. Letters submitted via e-mail are also welcome, provided that they contain a valid reply-to address.
Letters will be published exactly as written, however The Gyp Hill Premiere reserves the right to edit letters for length, spelling, context or clarity as deemed necessary.
All letters are subject to review and will be published at the discretion of our editorial staff. Letters that contain offensive or defamatory language, libelous statements or content that is generally intended to defame will not be published.
Letters that contain obvious factual errors will not be published, however The Gyp Hill Premiere is not responsible for validating the content of letters.
We also reserve the right not to publish letters that do not meet our publication deadline of noon on Friday.
A copy of this policy is available at The Gyp Hill Premiere office at 110 N. Main Street during normal business hours.