Opinion / Religion - September 15, 2014
---
Pastor Chuck Swindoll tells the story of a man that accidentally sideswiped a parked car. As he got out to survey the damage (mostly to the parked car) he noticed a neighbor on his front porch across the street, observing the whole thing. The man promptly took out a pencil and paper, wrote a note, placed it on the windshield of the damaged car, waved at the neighbor, got in his car, and drove off. The note read, "Sorry about hitting your car. Your neighbor thinks that Iím leaving my name and address, but Iím not. Good luck." As my dad used to say, "Funny, but it ainít funny."
KAKE TV recently did a story about a wheelchair handicapped young lady that received a very nasty note on her windshield for taking up two parking spaces. The critic failed to observe that it was a handicapped vehicle and that all of the official handicapped parking spaces were taken (probably by people that didnít really need them). Anonymous writers often do not have their facts straight.
Iíve had a few anonymous notes (sometimes pages) through the years. Ruth Montgomery, who used to teach a writing class in Medicine Lodge, offered some good advice; she said, "An anonymous letter is from nobody; ignore it." It might actually be a good sign. Spurgeon used to say, "Satan doesnít kick a dead horse." If I never offend anyone, Iím probably not doing anything.
Anonymous letter writing is cowardly. Iím glad Kevin doesnít allow such in the newspaper, although it might make for some interesting reading. There are exceptions, but generally if you donít have enough guts to put your name to what you write, you need to "shizuka ni shiro."
Mike Henry
Premiere Inside
School
Sports
Record
Local
Deaths
Opinion
KWIBS
Classifieds
Business Dir.
Subscribe
Ad Information
Staff
Contact Us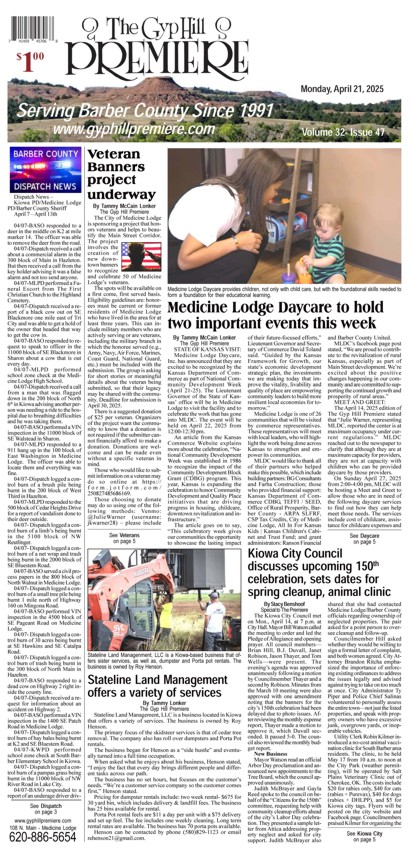 Warp Your Favorite Local Person. A Different Victim Each Week!!
Premiere letter policy
Due to the volume of letters to the editor and limited space available, The Gyp Hill Premiere has revised its letter policy effective immediately.
To be eligible for publication in this paper, a letterís content must meet the following criteria: 1) contain information of interest to the community that directly affects the City of Medicine Lodge, Barber County or its citizens; 2) contain information on local public policy; or 3) contain a response or correction of content published in this paper for purposes of clarification.
Letters in response to items published on the opinion pages may or may not be published, depending on their relevance to the community or content involved. Viewpoints expressed on these pages are the opinions of the authors, and do not reflect the viewpoints of The Gyp Hill Premiere or its staff.
Letters to the editor must be typed or neatly handwritten, contain a signature, return address and telephone number for verification purposes. Letters submitted via e-mail are also welcome, provided that they contain a valid reply-to address.
Letters will be published exactly as written, however The Gyp Hill Premiere reserves the right to edit letters for length, spelling, context or clarity as deemed necessary.
All letters are subject to review and will be published at the discretion of our editorial staff. Letters that contain offensive or defamatory language, libelous statements or content that is generally intended to defame will not be published.
Letters that contain obvious factual errors will not be published, however The Gyp Hill Premiere is not responsible for validating the content of letters.
We also reserve the right not to publish letters that do not meet our publication deadline of noon on Friday.
A copy of this policy is available at The Gyp Hill Premiere office at 110 N. Main Street during normal business hours.