Opinion / Religion - August 29, 2016
---
The Book Edge
By April Hernandez
Lincoln Library Fact: We are looking for a new library board member to finish out another memberís term. If you are a male citizen of Medicine Lodge, live within the city limits and are interested in making a positive impact on your library, please come by the library and submit your name for consideration.
Story Hour: No Story Hour during August. Story Hours will begin for Fall on September 6.
Janís Time for Trivia: Edgar Allan Poe originally wanted a _____________ to repeat the word "nevermore".
New at the Library:
Adult Fiction:
Insidious by Catherine Coulter. Twelfth book in the FBI series. FBI agents Savich and Sherlock must discover who is trying to murder Venus Rasmussen, a powerful, wealthy society icon. They soon find out that the danger may be closer than expected. - Amazon
Young Adult Fiction:
P. S. I Like You by Kasie West. While spacing out in Chemistry class, Lily scribbles some of her favorite song lyrics onto her desk. The next day, she finds that someone has continued the lyrics on the desk, and added a message to her. Intrigue!
Soon, Lily and her anonymous pen pal are exchanging full-on letters ó sharing secrets, recommending bands, and opening up to each other. Lily realizes sheís kind of falling for this letter writer. Only who is he? - Amazon
Juvenile Fiction:
The Iron Trial by Holly Black. Magisterium, Book 1. All his life, Call has been warned by his father to stay away from magic. If he succeeds at the Iron Trial and is admitted into the Magisterium, he is sure it can only mean bad things for him. So he tries his best to do his worst ó and fails at failing. Now the Magisterium awaits him. Itís a place thatís both sensational and sinister, with dark ties to his past and a twisty path to his future. - Amazon
Library Happenings: Keep an eye on this column, our website and our Facebook page this Fall. We will be conducting several new programs, including Adult Coloring and a Deconstruction project. We will be sharing dates and times soon.
Visit is @ medicinelodgelibrary.com
View our catalog @ medicinelodgelibrary.follettdestiny.com
Like us on Facebook @ Lincoln Library
Premiere Inside
School
Sports
Record
Local
Deaths
Opinion
KWIBS
Classifieds
Business Dir.
Subscribe
Ad Information
Staff
Contact Us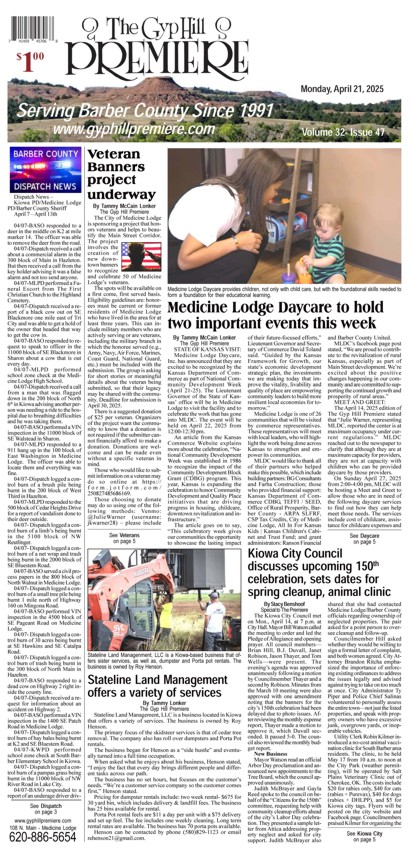 Warp Your Favorite Local Person. A Different Victim Each Week!!
Premiere letter policy
Due to the volume of letters to the editor and limited space available, The Gyp Hill Premiere has revised its letter policy effective immediately.
To be eligible for publication in this paper, a letterís content must meet the following criteria: 1) contain information of interest to the community that directly affects the City of Medicine Lodge, Barber County or its citizens; 2) contain information on local public policy; or 3) contain a response or correction of content published in this paper for purposes of clarification.
Letters in response to items published on the opinion pages may or may not be published, depending on their relevance to the community or content involved. Viewpoints expressed on these pages are the opinions of the authors, and do not reflect the viewpoints of The Gyp Hill Premiere or its staff.
Letters to the editor must be typed or neatly handwritten, contain a signature, return address and telephone number for verification purposes. Letters submitted via e-mail are also welcome, provided that they contain a valid reply-to address.
Letters will be published exactly as written, however The Gyp Hill Premiere reserves the right to edit letters for length, spelling, context or clarity as deemed necessary.
All letters are subject to review and will be published at the discretion of our editorial staff. Letters that contain offensive or defamatory language, libelous statements or content that is generally intended to defame will not be published.
Letters that contain obvious factual errors will not be published, however The Gyp Hill Premiere is not responsible for validating the content of letters.
We also reserve the right not to publish letters that do not meet our publication deadline of noon on Friday.
A copy of this policy is available at The Gyp Hill Premiere office at 110 N. Main Street during normal business hours.