CBK to Host Solar Eclipse Watch Party: Banking is often perceived as dull, dry, and humorless. So Citizens Bank of Kansas is putting some fun into banking with a Solar Eclipse Watch Party on Monday, August 21, 2017. Drop in at any of the Bank's six locations between 12:30 and 1:30 pm on August 21, 2017, and you'll be treated to a free pair of solar eclipse glasses (while supplies last) to witness the alignment of the sun and the moon. Refreshments include Sun Tea and Moon Pies! Don't miss this event – there won't be another one until at least 2024!
ICE CREAM SOCIAL: Ministerial Alliance School Supply Drive and FREE Ice Cream Social-Sunday, August 20 @ 6:00 PM at the Community Park. (First Christian Church if raining). Everyone is welcome! Help a local student, family, teacher, and our local community. Matthew 25:40 "Truly I tell you, whatever you did for one of the least of these brothers and sisters of mine, you did for me Please bring at least one school supply item-pencils, glue, markers, copy paper, notebooks, Kleenex, crayons, or anything listed on the Medicine Lodge School Supply list for students to the Ice Cream Social.
STOCKADE HOURS: Medicine Lodge Stockade Summer Hours Beginning on June 1 st. 10:30 A.M. – 5:00 P.M. Monday – Saturday. Sundays 1:00-5:00 P.M. Closed on all Major Holidays.
CELEBRATE RECOVERY: You are invited to Celebrate Recovery, a Christ-centered recovery program, Thursday evenings from 6:30 to 9:00 p.m. at First Christian Church, 300 South Main Street, Medicine Lodge. Celebrate Recovery may help you become free from addictive, compulsive, and dysfunctional behaviors. Women and men are invited. For more information, call (620) 886-3743.
IRS SCAM: is one of the scams now prevalent in the area. Please remember to never give out any important information or numbers over the phone, ever. Ask for a call-back number and seek advice from a trusted individual before answering any questions. If the caller is threatening or pushy in any way, just hang-up. Hanging up is not bad manners; it is protecting yourself against scams.
FOOD DRIVE: All six locations of Farmers Co-op Equity Co. are conducting a food drive and are collecting items for the benefit of local food banks. All community members are urged to do their part and donate food items to help local friends and neighbors in need.
FLAGS AVAILABLE: The VFW Post #7625 have flags available in three different sizes: 3'x5', 4'x6', and 5'x8'. For more information, contact John Peirson at (620) 388-1459.
NOTICE: To obtain a burn permit, go to the City Office before burning. There is no charge and it is good for 30 days. Also, please remember to call the Sheriff's Office and let them know the address of where the burning will take place.
BUSINESS HOURS: Medicine Lodge Memorial Hospital and Physicians Clinic Admissions Office. Monday - Thursday, 6:30 a.m. to 5:30 p.m. Friday 6:30 a.m. - 2 :00 p.m. Patients can call to make appointments, make payments or general inquiries. Providers continue to see patients Monday - Thursday, 9:30 a.m. to 12:00 p.m. and 1:30 p.m. to 5:00 p.m., and Friday 9:30 a.m. to 12:00 p.m.
NOTICE: The Barber County Sheriff's Office is asking that if you need fingerprinted for Concealed Carry, Teacher, or for any other reason, please do not fill out the fingerprint card. With our new machine we will enter all information needed to fill the card out. The Sheriff's Office does not charge for fingerprinting and the hours for this are 12:00 pm-1:00pm and 4:30pm-5:30pm.
VFW POST #7625: Meetings are on the first Thursday of every month at 6:30 p.m. at the American Legion building in Medicine Lodge.
PLEASE HELP! MLGS is collecting Boxtops for Education. Please help! Boxtops can be dropped off at the collection box at White's Foodliner or The Grade School office. The school gets 10 cents per label so that really adds up! These labels are on products you already buy every day! Thank you for supporting MLGS! Friendly reminder to cut on lines. They have to be that way when redeemed.
NOTICE: AA meetings are Tuesday nights at 8PM at the Presbyterian Church.
SUPPORT THE INDIANS - Medicine Lodge Indian car tags now available. Being sold as fundraiser for MLHS Booster Club. To get yours call or text Shawn Liebst at 620-213-2094. These tags are $8. Tags also available at Booster table at home games.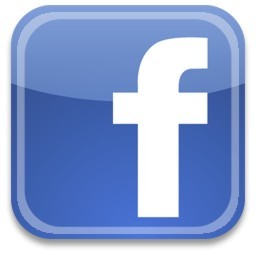 Like us on Facebook for more photos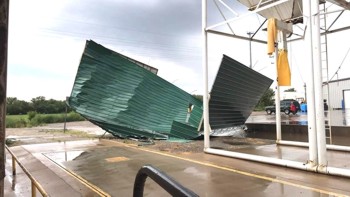 Severe weather rips through Barber County

By Jessica Wright

The Gyp Hill Premiere

The past two weeks have been quite interesting in terms of severe weather in our county. Saturday, August 5

th, the southern part of the county was pummeled by a strong storm which resulted in several homes and businesses receiving substantial damage in Kiowa. The storm also ripped the recently renovated grandstand across the football field nearly all the way to the visitor's section. Electricity was out in Kiowa until 1 a.m. Monday morning. The cause of this damage is hazy, some say it was a tornado, some say a microburst. This storm ripped roofs from homes and even crushed a garage like a can.

Wednesday August 9

th, there was a large super cell passed through Kiowa around 7:50 p.m. which caused the highway to look like winter with the amount of hail the storm produced. Earlier that day, a strong storm passed through Medicine Lodge causing a downed power line, downed tree limbs, and quite notably caused a metal shed behind the Farmer's Co-op being blown nearly to the parking lot at White's Foodliner.